A luxury dining room is an elegant space that provides comfort and sophistication for those who use it. From high-end furniture to luxurious accents, there are many ways to create a beautiful and inviting luxurious dining room.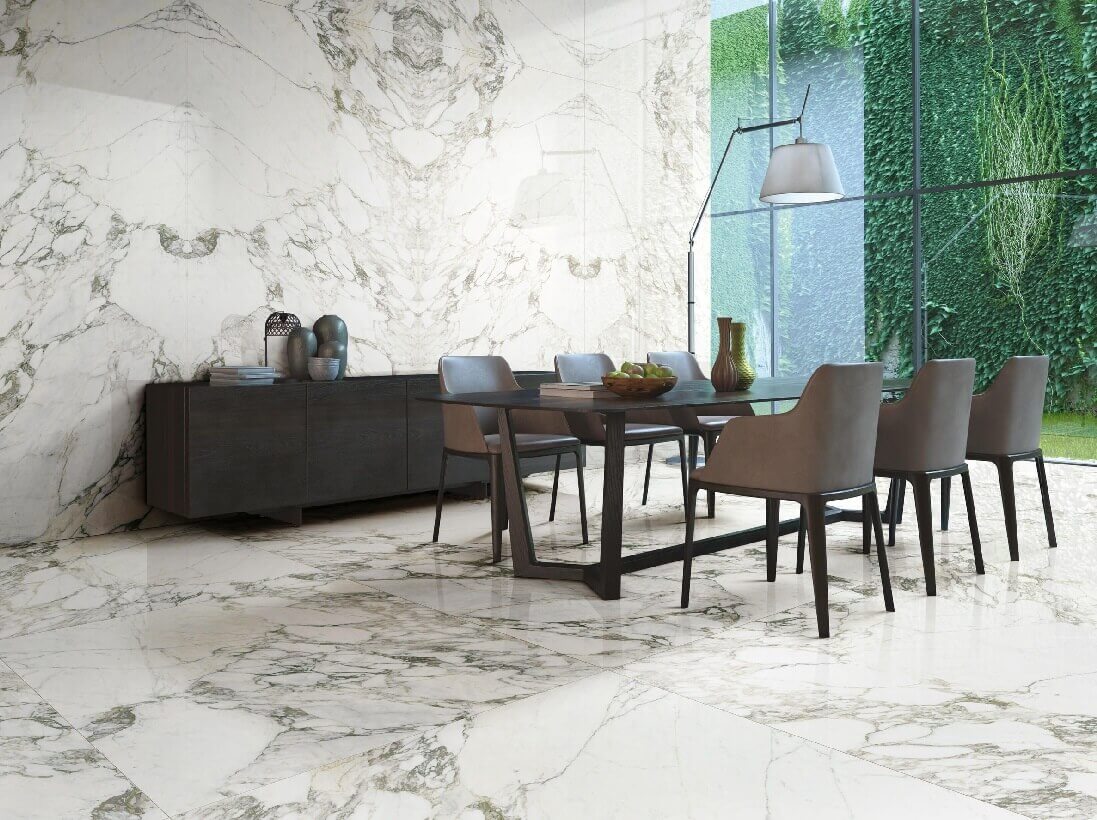 No matter the style of decor or the size of the space, luxury dining rooms have certain elements that set them apart from more casual spaces. It is important to combine the perfect blend of both style and function when creating a luxurious dining room. In this article, we will explore what makes a dining room, luxurious along with some tips that will help you to design one in your home.
Tips to Make a Luxurious Dining Room
1. Consider Your Space
Start by considering the size of your space and ensure that there is enough room for everyone to move around comfortably without feeling too cramped or crowded. Choose furniture pieces that will complement the size of your space, such as smaller tables and chairs if you have a small area or large statement furniture if you have more square footage to work with. Choose colours and materials that reflect luxury and elegance, like velvet, leather, wood, marble, etc. Be sure to consider any unique features in your route, such as a high ceiling, when designing the space.
2. Add Glam Quotient with Fancy Dining Set
A fancy dining set is an excellent choice for anyone wanting to make their dinner space look chic and elegant. Upscale materials such as glass or luxury marble for the table top offer a sophisticated appearance in your dining room. You can also add some glamour with mirrored surfaces and bold colours that bring out the shine in your furniture settings.
Upholstered chairs or velvet fabrics will add texture and softness to your space while adding extra seating comfort. If you're feeling extra daring, try incorporating crystal chandeliers for added sparkle and drama! Additionally, pick out furniture in light or neutral shades such as beige, grey or white, which blend well with any colour palette while making your luxury dining room look bigger than it is.
[id=13651,9166,8363]
3. Add Floral Arrangements
Fresh flowers are one of the easiest ways to add elegance and style to any dining room, so you must know how to choose them correctly. When selecting flowers for your table centrepiece, opt for varieties with long stems and lush blooms in muted colours like white or yellow. Choose an assortment of different sizes; too many of one variety will make your arrangement appear too uniform and boring. Place these flowers in an intricate vase or bowl along with seasonal foliage such as fern fronds or eucalyptus branches for added texture.
4. Get Eclectic Futuristic Furniture and Fixtures
Start by choosing furniture that has a contemporary design but also incorporates some traditional elements for balance. Select chairs and tables made from sleek stainless steel or marble for a modern feel, or opt for wood pieces with intricate carvings to add an elegant touch of sophistication. Add comfortable upholstery in colours like black or white for contrast, or choose vibrant colours like red to bring life into the space.
To complete your futuristic dining room, select fixtures that make a statement. Consider adding light fixtures suspended from the ceiling in unexpected shapes or sizes, like inverted cups and geometric forms. Hang a modern chandelier at the centre of the room to draw attention upwards while providing ample illumination when entertaining guests.
5. Consider Colour Palette
The colour palette is an important part of the design process because it can set the tone for the entire room. You must choose the colours that will best reflect your personal style while creating an inviting yet elegant atmosphere. Consider shades of white, grey, beige or blush pink, as they offer a light and airy backdrop that makes a space appear larger than it is. When mixing different shades together, ensure they complement each other without clashing too much; this will ensure the overall effect looks harmonious and pleasing to the eye.
6. Different Chair Patterns
Different chair patterns are an excellent choice when it comes to adding a touch of luxury to your dining room. Try using leather and wood chairs in contrasting colours for an eye-catching effect. If you want something more subtle yet still stylish, consider opting for two-tone designs in complementary hues such as grey and silver or brown and basswood. Consider purchasing chairs with intricate details, such as tufted backs or carved wood frames; these small touches can really elevate the look and feel of any space.
7. Sufficient Lighting
Developing a beautiful dining room includes selecting lighting that provides the right atmosphere. Select lighting fixtures that offer soft, romantic lighting, complementing the paint and colours in the space. Choose light bulbs in amber or gold to create a comfortable mood, or opt for lighting that makes a space feel bigger.
[id=441,440,439,435,380]
Final Thoughts
Luxury dining room interior design is an exciting and rewarding project for anyone interested in creating a unique and beautiful space. With an array of colours, materials, and styles to choose from, the possibilities are endless. It's important to think about how you want to use the space when selecting furniture, fabrics, and accessories. Investing in quality pieces will create a timeless look that will last for years to come.