Designing your home can be challenging. It requires choosing specific decorative and functional elements that suit your chosen interior design theme, and one feature that can enhance overall ambiance is window treatments.
Window treatments are a practical design element in your home interior. Aside from providing privacy, they can also soften the natural light coming through the windows, avoiding the glaring sunlight while bringing warmth.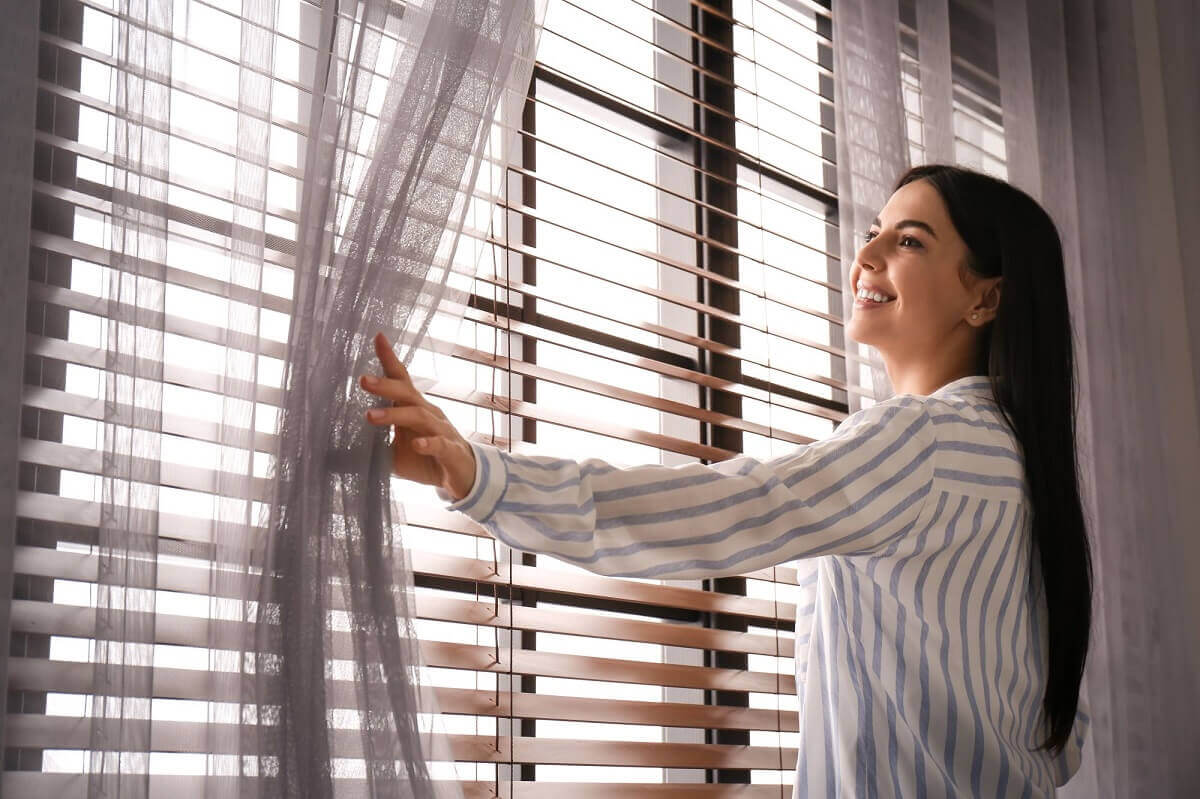 Whether for aesthetic purposes or functionality, a well-chosen window treatment can significantly enhance the look and feel of any room. Explore these seven budget-friendly window treatments that can transform your space without breaking the bank:
Faux Wood Blinds
Wooden elements can bring warmth to the interior. You can achieve this design goal by installing faux wood blinds. They offer the same warm, classic appeal as real wood blinds, but come at a fraction of the cost. Crafted from composite materials like PVC or vinyl, these blinds mimic the look of real wood and can withstand a variety of conditions that might warp or discolor real wood.
Cleaning and maintenance are also simple with faux wood blinds. They're dust-resistant, and any accumulated dirt can be easily wiped away with a damp cloth. As a result, they're an efficient and stylish window treatment that's great for households with children or pets.
Incorporating faux wood blinds in your home design strategy gives your space a timeless and elegant feel without straining your budget. The balance between their aesthetic appeal, practicality, and affordability makes them a smart choice for budget-conscious homeowners.
Cellular Blinds
Cellular blinds, or honeycomb shades, are another cost-effective solution for your window treatment needs. They're known for their unique cellular construction, which offers superior insulation and energy efficiency.
These blinds provide an effective barrier between your window and the room, helping improve insulation by trapping air within their honeycomb-shaped cells. This feature can significantly reduce energy costs over time, making cellular blinds a worthy investment for those looking for a way to reduce their heating and cooling bills.
Easy to clean and maintain, cellular blinds are a practical and cost-effective window treatment option. They strike the right balance between functionality and style, providing an attractive and energy-efficient solution for homeowners on a budget.
Roman Shades
Roman shades are a classic window treatment choice that can be both stylish and budget-friendly. These shades offer a clean-lined, tailored look that can range from modern to traditional, depending on the fabric chosen.
Roman shades fold neatly into horizontal pleats when raised, adding a textural element to your room. When lowered, they present a smooth, flat face to the window, offering complete privacy and blocking out light. This ability to control light and privacy makes Roman shades a versatile window treatment for any room.
Another advantage of Roman shades is their wide variety of design options. They come in numerous colors, patterns, and fabrics, from sheer to opaque, allowing you to customize them to your style preferences. Whether you want a bold, patterned shade to serve as a focal point or a neutral shade to blend with your décor, the options are nearly endless.
Pleated Paper Blinds
Pleated paper blinds, also known as temporary blinds, are a practical, budget-friendly solution, especially for those who require an instant window treatment. These blinds are quick and easy to install—no tools or hardware are required.
These blinds come in standard sizes, but if your windows aren't the conventional size, these blinds can be easily cut to fit. You can customize them to any window shape or size, making them a versatile solution for all types of windows.
One of the key advantages of pleated paper blinds is their affordability. You can cover numerous windows at a meager cost, making them ideal for renters, new homeowners, or anyone on a tight budget. Despite their low price, they have a neat, clean look that can work with various décor styles.
Layered Curtains
Layered curtains combine two types of fabric, often a thicker, opaque curtain with a sheer, lightweight one. This window treatment creates a visually intriguing look while providing versatility. You can use the sheer curtain for diffused light during the day and the thicker curtain for privacy and insulation at night.
Curtains don't have to be expensive. You can look for budget-friendly alternatives at discount home goods stores or get creative and DIY. Remember, the secret to a good-looking layered curtain setup is how you hang them. The sheer layer should hang closest to the window, with the heavier curtain on top.
Bamboo Shades
Bamboo shades bring a touch of the outdoors inside, creating a natural, relaxed ambiance in your space. These shades are made from eco-friendly, renewable materials such as bamboo, jute, reeds, and grasses, adding texture and warmth to your windows.
Bamboo shades come in various styles, colors, and woven patterns, allowing you to control the amount of light and privacy you want. Lighter, more open weaves let in more light and give a better view of the outdoors while tighter weaves offer more privacy and light control.
[id=16369,9463,8818,11451,14947]
Easy to install and maintain, bamboo shades are a cost-effective, eco-friendly option that brings a natural, organic aesthetic to your windows. Whether your style is modern or rustic, these shades can enhance your decor while staying within your budget.
Burlap Sack Window Treatments
If you're keen on achieving a rustic, farmhouse vibe in your home, then burlap sack window treatments might be the perfect fit. Burlap, a coarse fabric made from jute, flax, or hemp fibers, is typically used to make sacks for storing and transporting goods. However, this inexpensive material can also serve as an innovative and budget-friendly window treatment.
Burlap sack window treatments can create a relaxed, casual atmosphere in your space. They're perfect for rooms where you want a laid-back, natural aesthetic. Due to the fabric's coarse weave, burlap allows diffused light to enter the room while maintaining a level of privacy.
Using burlap sack window treatments is an innovative way to add texture and character to your space without spending much. It's a testament to the fact that with a bit of creativity, even the humblest materials can be transformed into something beautiful.
Conclusion
These practical yet stylish window treatment options can help spruce up your home, even with a limited budget, or get help from a pro. With a bit of creativity and a suitable window treatment type, you can transform any room and make it more functional and visually appealing.