The most important decision for home decor is the window treatments you choose, usually determining all the other details of the space.
Window blinds are a cost-effective option; they offer exact control over how much light is reflected entering the room. They are also much simpler to maintain and cleaner than curtains. On the other hand, window curtains can be more striking in appearance than blinds.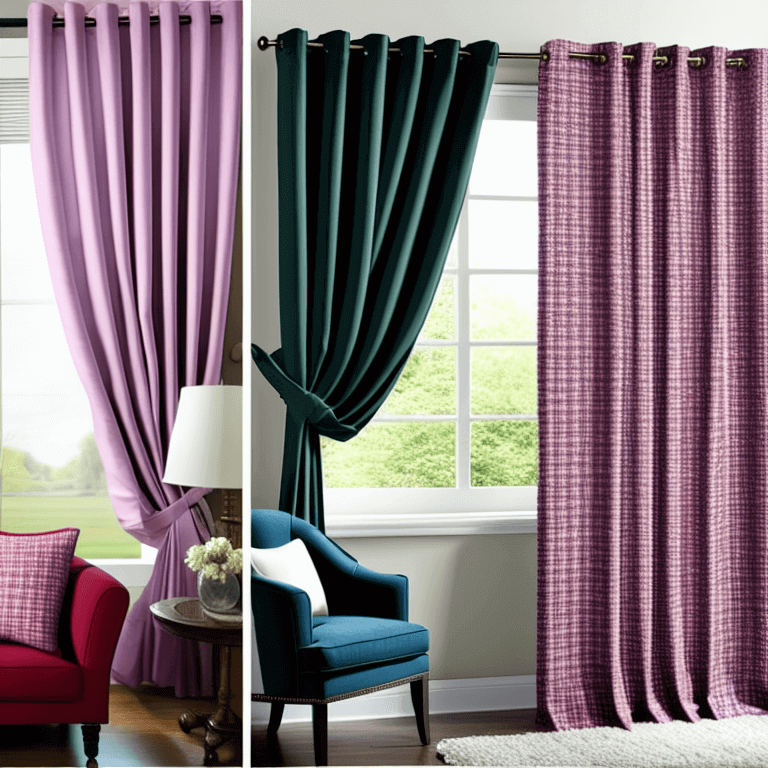 Let's look at the comparison "Window Blinds vs. Window curtains" that will help you select the best choice for your windows.
Comparing Window Blinds and Window Curtains: Which is Right for Your Home?
Cost
Blinds are more affordable than curtains. Curtains can be pricey, depending on the design you choose.
Material usage
Blinds fit in the window and utilize less material. Layers of curtains are frequently fitted and extend beyond the window frame, frequently from the ceiling to the floor.
Appearance
Blind appearances are easy and trendy while curtains are conventional and maybe ornate.
Light quality
Blinds: You can adjust louvers to permit light in or close them to totally block out the light.
Curtains: Light can pass through lined curtains, but not through sheer ones.
Privacy
Transparent blinds provide total secrecy when completely closed. Half-curtains or sheer curtains provide some privacy.
Availability
Blinds are available in a few colors. Curtains are available in a huge selection of hues, designs, and textures.
Maintenance
Blinds are very simple to clean. In curtains, vacuuming will be required because it will collect dust.
What's the difference between Window Blinds and Window Curtains?
Durability
The majority of blinds will last less than 10 years. Some blinds will last for five years, while others last ten years without having a replacement.
The life span of curtains relies on the material. Curtains made of thin fabric will probably not last three years before becoming too damaged. Other drapes, such as heavy ones, might last for 10 years.
Usefulness and Function
Window Curtains are mostly used in residential applications, i.e., kitchen, Bedroom, Living Room, etc.
On the other hand, window Blinds are usually employed in commercial structures such as hospitals, offices, schools, etc.
Visual Appeal and Variety
Window curtains are available in a variety of colors and patterns. They provide a classy and stylish look to your home.
Window blinds are available in both vertical and horizontal directions. They come in an easy, plain design that will make your space feel tidier. If you are from Nashville and want to select the custom design, blinds Nashville can give you the best ideas.
Control
You can open the blinds to completely cover the windows. Blinds can also be bent to let the light shine through them. This is the whole extent of what blinds can accomplish without buying top-quality blinds.
The kind of curtain you choose will affect the degree of control you are able to exert over them. This is an additional level of security. Selecting the right curtain provides some degree of control.
Cost
Window blinds require fewer materials and take less time to set up. Within 10 to 20 minutes, professionals can install brackets into the window frame, then mount the blind, and connect the mechanisms to move the blind's slats. This will result in a cost of $43-$94 for a window.
Window curtains are generally more expensive, from $50 to $250 for a window and between $400 and $2,000 for eight windows. This is because they require more materials to create and take longer to set up.
Pros & Cons: Window Blinds Vs. Window Curtains
Window Blinds
Pros
a) Window Blinds styles and designs will make your space warmer and more comfortable
b) Many designs and colors are available
c) Different sizes and thickness choices
d) Offers energy-efficient windows
e) More affordable than custom-made curtains
f) Cleaner and minimal interior design feel
g) Better than curtain material
h) It can be used in any room of your home
i) Easy to maintain and clean
Cons
a) Not as effective in completely blocking light
b) There aren't as many textures to choose from
c) Window blinds with slats aren't as effective energy-saving options
Window Curtains
Pros
a) Window curtains are more comfortable to use when compared with blinds.
b) They are available in a range of colors, types, and styles.
c) It is easy to keep when compared to blinds for windows.
d) If they are done in a clever and creative manner, they can greatly improve the overall look of the room.
e) More affordable than window blinds
f) They can be easily cleaned and repaired
Cons
a) Window curtains are easily soiled and dried because they collect dust.
b) They consume more space than blinds, and so it creates the illusion of a room being smaller than it really is!
Window Blinds Vs. Window Curtains: Do I Have To Choose?
Set up the blinds first before adding curtains. This will bring together all the advantages of each kind of window covering and minimize the negatives. It will result in an ideal win-win situation.
On the other hand, select the most appropriate curtain for your space and surroundings. Blinds are tolerant, and curtains have an emotional sensitivity that links them to the space they are placed in on a deeper level.
With that said, a company like Bumble Bee Blinds offers a free consultation to guide you in deciding on the perfect window treatment that can suit your home beautifully.
FAQs
1. Which is cheaper: Window Blinds or Window curtains?
Window curtains are typically higher priced than blinds. Blinds aren't just cheap, but they can also be installed quickly.
2. Window Blinds or curtains thought to be more modern?
Most curtains provide an array of styles than blinds. In comparison to blinds, curtains are more refined and appealing to the eye. Additionally, curtains add textures and intriguing color, help reduce light and provide privacy.
Curtains can also be varied in terms of length, pattern, and shape and can lead to endless decorating ideas, especially in kitchens and living rooms. However, the moment you decide to go with blinds, they are more of a durable and practical solution.
Wrapping up
We've covered in detail the main factors that contribute to the huge argument about Window blinds vs. Window curtains. It's difficult to decide if blinds are superior to curtains in general since it all comes to what you want in your house.
Window curtains provide an airy, flowing appearance with a wide range of choices to match your personal style. In comparison, window blinds are more contemporary, sleek, slim, and functional.