Incorporating vintage pieces into a modern interior may seem like an impossible task. This may seem difficult because some eras or pieces clash with a modern style. However, with the right color scheme, pieces, and ideas, you can incorporate your beautiful, vintage pieces into any room with a modern feel.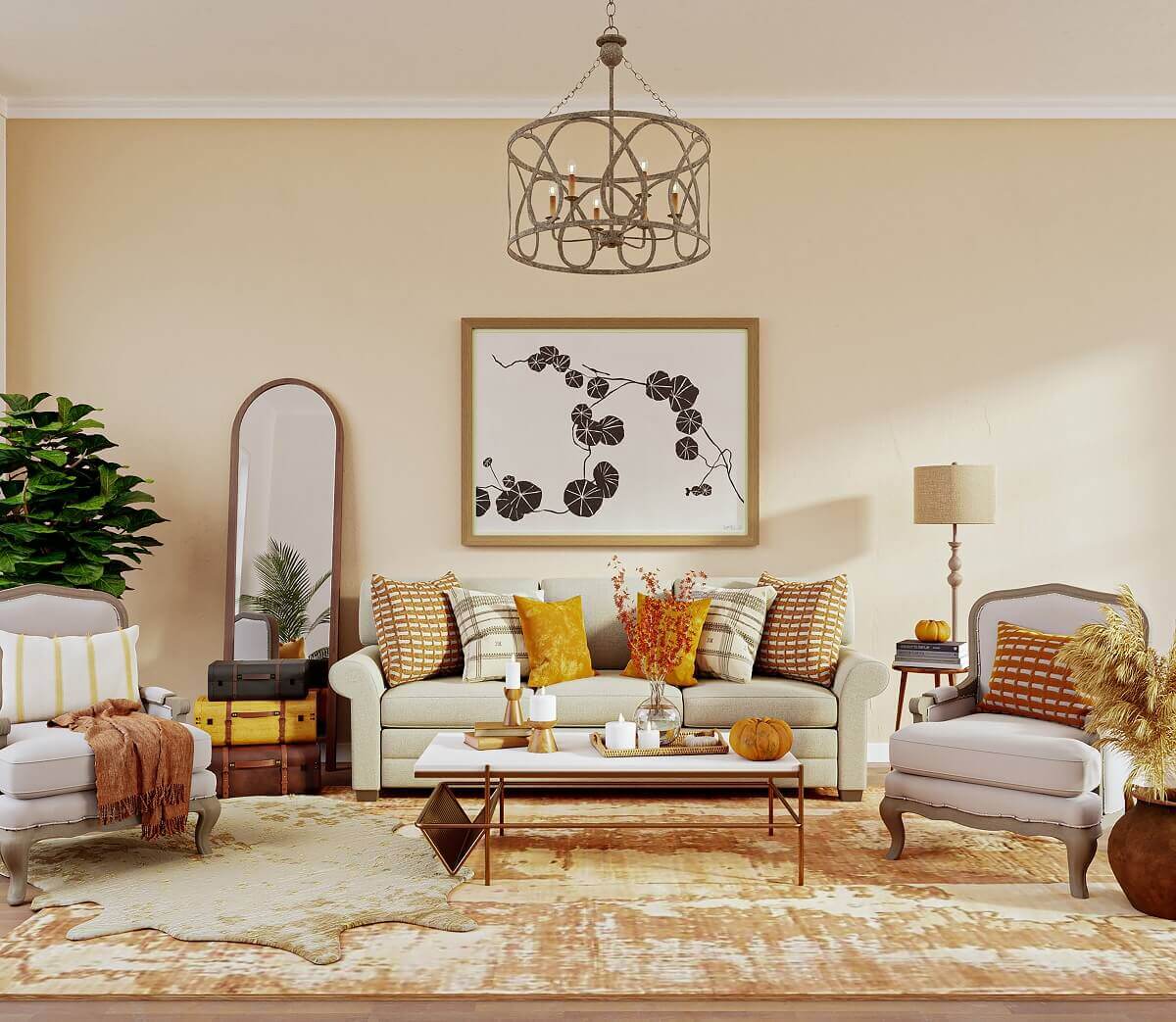 Placing your vintage pieces into a modern interior is as simple as pairing your vintage pieces with the right color palette. Some ideas on how to incorporate vintage pieces into your modern space:
Color Schemes
If your vintage pieces follow a specific color palette, try including those pieces into a modern-styled room with similar colors.
Basic Rules for Matching Colors
The most important rule for matching the colors is to make sure the colors are complementary.
The colors you choose to pair should be opposite on the color wheel. For example, if you painted the walls in your modern space blue, try pairing that room with orange vintage pieces. Perhaps a rustic orange couch with velvet fabric and sky blue walls with a modern twist.
When combining your vintage pieces into your modern interior, ensure that you follow this classic decor rule when pairing colors.
Sixty percent of your modern room should be one color. For example, a shade of blue on the walls. The other forty percent should be split; thirty percent should be dedicated to your second color option or the main color of your vintage pieces.
The last ten percent should be an accent color that can either bring the room together, marrying vintage and modern, or a color that sticks out and makes the room pop.
Incorporating Your Vintage Pieces
Incorporating vintage pieces into a modern interior is as simple as matching and making sense of each piece.
If you have an antique headboard, incorporate it into your modern bedroom by choosing the right bedding and the perfect accessories, art or accents to give the room a beautiful blend of vintage and modern style.
If you have a vintage family heirloom, make it the centerpiece of the room, depending on the size, and incorporate your modern style around it.
Any vintage furniture you have, like an antique couch, loveseat, or bookcase will easily mesh with a modern style as long as you pick your color schemes precisely and ensure you take the fabric, the patterns on the furniture, or the color of the wood into consideration while mixing the two styles.
Antique Art
One of the easiest vintage pieces to incorporate into a modern design is antique art. As long as you unify the colors of the modern interior with the colors of the vintage artwork flawlessly, all will look stylish.
Pairing Various Vintage Styles with Modern Interior
When incorporating vintage pieces into a modern interior, it's important to take the various styles and colors from different eras into consideration.
First, consider the colors of the vintage pieces you'd like to incorporate into your modern room. Then consider patterns and textures, and see how you can include them.
[id=16516,16050,14942,14765]
Great styles that you can easily pair vintage pieces into modern interiors are eclectic, Victorian, and Rococo Revival.
Eclectic
The basis of the eclectic style in interior design is combining contrasting patterns, colors, textures, and pieces and bringing them together into a room.
Because the foundation of an eclectic style is mixing and matching different elements to make a room aesthetically pleasing, your vintage pieces can find a permanent home in a modern setting easily.
Three essential tips to follow when incorporating the eclectic style with your vintage pieces in your modern interior are;
a) The eclectic style mixes and pairs a fusion of traditional and modern style. For example, Rococo Revival wallpaper in a bathroom with a minimalistic design, vintage furniture and artwork in a modern-styled room, or accents from a specific era in a modern-style space.
b) Don't forget about the accents. The accents of a room are the most important pieces because they can marry the two different styles and tie the room together.
c) The connection of the modern interior and various vintage styles must be carefully curated. Unification is the most important key you must use to make this style work.
Victorian
The Victorian style originated between 1830 to 1910. The Victorian style was born in the United Kingdom during the era where Queen Victoria reigned.
The significant WORD above it this era is that it is widely used and easy to incorporate into a modern interior because of its corresponding color scheme.
Vintage Victorian pieces are easier to pair with a more modern style because of the color scheme. The Victorian style's color palette is;
a) Burgundy
b) Maroon
c) Dark reds
d) Chestnut
e) Dark browns
f) Dark greens
g) Dark blue
h) Royal blue
If you own a Victorian-style home and want to incorporate this style throughout your home's interior, the easiest route, if you haven't already added a fresh coat of paint, is to stick with the original wallpaper or paint color and include your vintage pieces around the room.
The important characteristics of the Victorian era to remember are this style heavily used rich, deep-colored fabrics, detailed, decorated woodwork, inspirational ornate rugs, and lush drapes and upholstery.
To further enhance your Victorian style, consider a landscape design from the era and make the necessary additions to the exterior of your home.
The best plants that best represent the Victorian style are:
a) Red roses
b) Delphiniums
c) Geraniums
d) Hollyhocks
e) Sedums
f) Phlox
Decorate your garden with sundials, gazing orbs, ornate birdbaths, decorative urns, and iron work to enhance your Victorian style to your lawn.
Rococo Revival
The Rococo Revival style gained popularity between 1773 to 1850 during the time Louis-Philippe reigned in France.
This style is characterized by its luxurious fabrics, floral motifs, curvaceous architecture, and asymmetrical lines. Sensuality and nature best represent the Rococo Revival style. This style is also identified by its theatrical, ornamental, and rebellious characteristics.
The Rococo Revival color palette is represented by the following colors:
a) Pastels
b) Cream
c) Periwinkle
d) Canary
e) Lavender
f) Lovat
g) Light blue
h) Gold
Grouping similar styles will help you incorporate your vintage pieces into your modern interior easier.
Rule Of Design
When incorporating your vintage pieces into a modern style, remember to follow this rule; keep 80 percent of your interior modern and decorate 20 percent of the room with vintage pieces.