Photographic prints—by which we mean high-quality printed photographs that you buy from a gallery or from the photographer themselves—are a great way to make your home look classy and artistic and to add to the atmosphere of every room.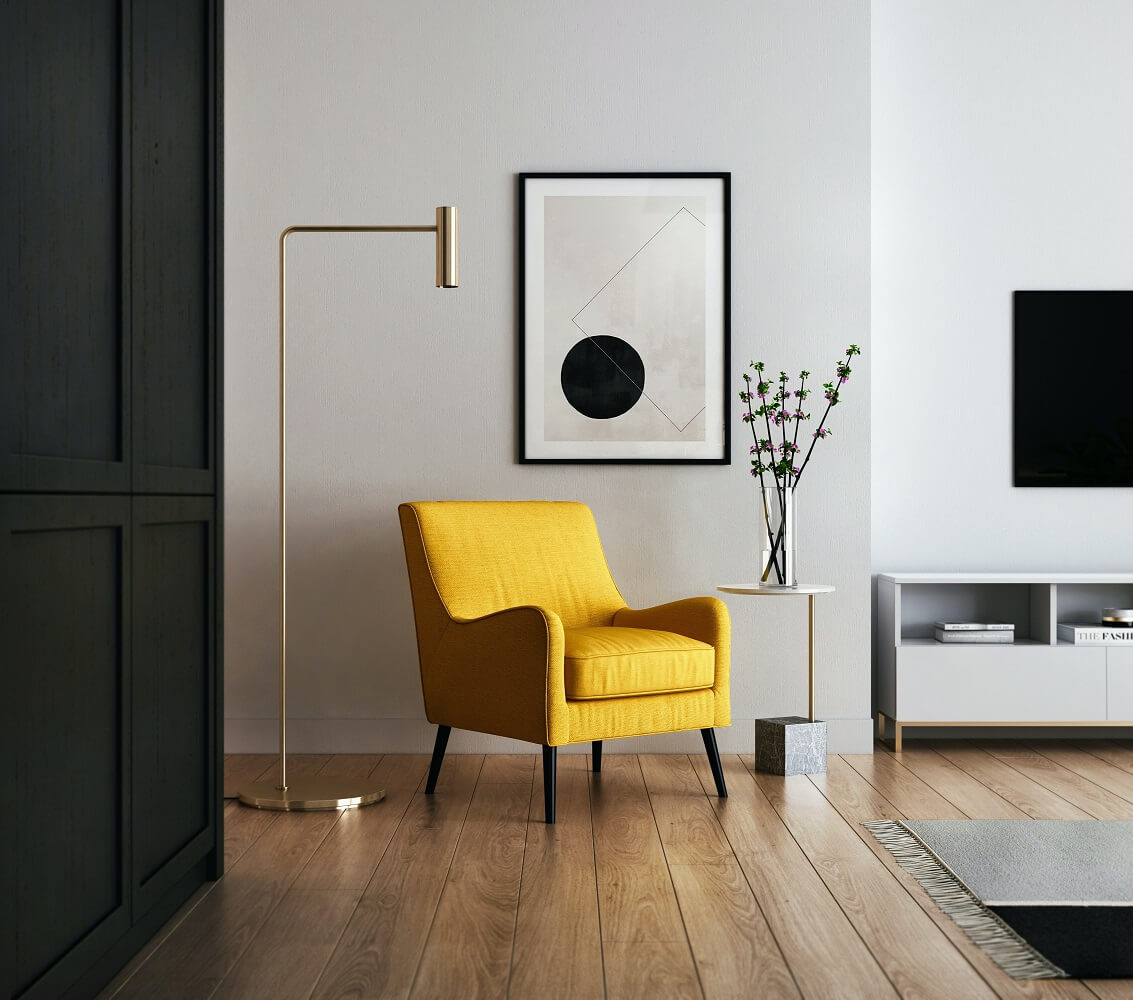 Choosing which prints to hang up where, however, can be a bit of a challenge, given that there are so many good photographers out there! Here are some different approaches you could use to choose the perfect photographs to hang up in your home.
1. By color
Perhaps one of the most intuitive ways to choose a photograph to decorate a certain room is to find a photograph with colors that go well with the room's overall décor, such as the colors of the walls, floor, ceiling, furnishings, or other decorations.
The photograph doesn't have to be in the same color or colors that are already used in the room, although it may well be. You can use color theory to help you choose what type of color scheme you want to use in the room, such as:
a) analogous (colors that sit next to each other on the color wheel);
b) monochromatic (the same color in different tints, tones, and shades);
c) complementary (two colors that sit opposite each other on the color wheel, which makes them highly contrasting);
d) triadic (a set of three colors that sit equidistantly on the color wheel and are also highly contrasting);
e) split complementary (one main color and then two colors on either side of its opposite, which gives a very dramatic effect).
If you choose to use a monochromatic color scheme, remember to use plenty of variations of your chosen color, as well as whites, grays, and/or black; otherwise, the effect will be monotonous! Interiors magazine The Spruce has some excellent examples of well-executed monochromatic color schemes for bedrooms.
2. By function of the room
Some people like the décor of a room to reflect its function. Under this method, you might decorate:
a) your kitchen with photographs of food—either cooked or in the form of ingredients, such as bunches of herbs;
b) your living room with family portraits or pictures related to hobbies, such as an image of a chessboard;
c) your children's room with pictures of toys, such as a cute teddy bear or a vintage toy set.
There is nothing wrong with using decorations that reflect the function of the room, but don't go overboard—it might be overwhelming to have a kitchen full of pots and pans only to see even more pots and pans in 2D on the walls!
A good middle ground is to alternate photographs with reproductions of simple abstract art, such as Joan Miró's Bleu I, II, III triptych, so the room doesn't end up feeling suffocating.
[id=11493,6173,6170,6168]
3. By feeling
Sometimes, you want a room to evoke a particular feeling, such as relaxation in the bedroom—to help you get to sleep—or excitement and motivation if you have a home gym.
In this case, when choosing your wall art, you should probably keep in mind color psychology, which is the field that studies the effects that different colors have on our moods. Although experts' opinions on the subject can differ, here are some common associations that many have proposed between certain colors and the feelings they evoke:
a) red: energy, power, passion
b) green: harmony, freshness, calm
c) blue: serenity, compassion, peace
d) yellow: happiness, energy, warmth
Another aspect you will need to consider is, quite obviously, the subject of the photographs you are choosing. Take a good look at each image and notice how it makes you feel and what it makes you think about.
This can be subjective; for example, the striking landscapes of Envison Galleries' sky aesthetic collection could be awe-inspiring and stirring for one person and calming for another. If you live with other people, therefore, you should always check that they're not going to find your choice of images jarring!
4. By shapes
Although this may sound strange, you could choose photographic prints for your home based on the shapes in them. This is a useful thing to do if you are trying to create the impression that the room is larger or taller than it actually is.
For instance, painters and decorators know that vertical stripes will make the ceiling of a room look higher, so why not obtain the same effect by hanging up photographs that contain lots of vertical lines, such as a large picture of a forest?
Alternatively, you might also want to choose photographs that contain a particular shape if you are trying to emulate or complement existing shapes in the room. For example, a photograph with lots of curves might go well in a bathroom with a round bathtub or sink.
Just like design and psychology experts have theorized that different colors produce different associations in our minds, they have also developed the field of the psychology of shapes, which studies the mental associations created by different shapes. Here are some examples:
a) squares and rectangles evoke feelings of strength, discipline, and reliability;
b) triangles evoke feelings of energy, excitement, and danger;
c) circles, ovals, and ellipses evoke feelings of mystery, eternity, and protection.
5. By artist
Finally, if you are a fan of a particular photographer, there's nothing stopping you from creating a gallery wall in your home to display your favorite photographs from that artist. You could even have several gallery walls for different artists, one in each room!
When you are creating a gallery wall, you can use a picture hanging calculator to help you make sure that you leave enough space for all your pictures. Here are some tips for making your gallery wall more interesting:
a) vary the size and orientation of your pictures;
b) hang up the biggest picture first and build the rest of the gallery around it, keeping it as a focal point;
c) don't put your second biggest picture too close to the biggest one;
use different kinds of frames to add variety.