You want an air purifier to protect the health and well-being of your family. But with so many models to choose from, how can you be sure you're getting the best one?
Make sure your air purifier checks all the boxes by sticking with our list of the five most important things to look for when shopping for an air purifier: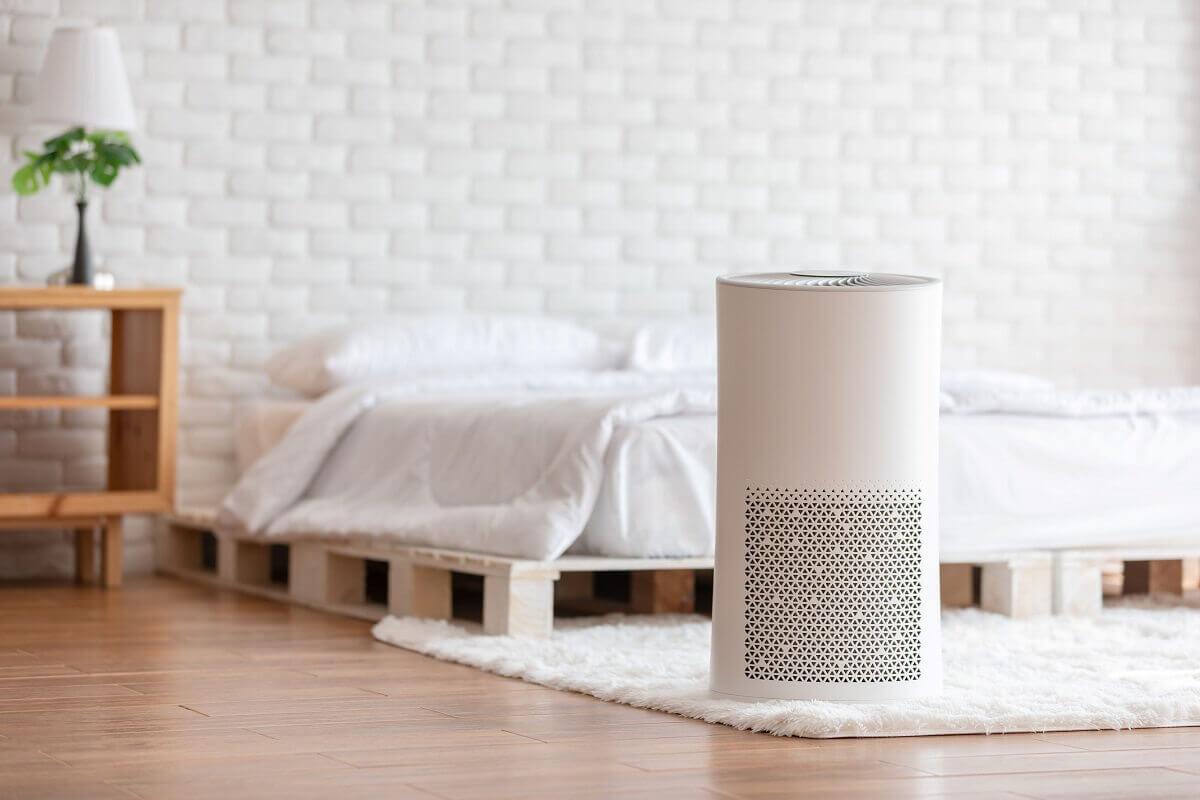 1. Multiple Filters
Air purifiers work by cycling air steadily through filters that trap the different types of particles it carries. Look for these types of filters as you explore air purifier features:
HEPA. High Efficiency Particulate Air (or HEPA) filters capture tiny particles floating in the air, such as pollen, dust mites and mold spores. These filters have a dense weave of fibers designed to snare more than 99 percent of particles that are smaller than 0.3 microns in diameter.
Activated carbon. A special kind of charcoal called activated carbon is used in some air purifier filters to remove volatile organic compounds (VOCs), which are the gases emitted by cleaning products, new carpeting and other chemicals that find their way into our homes. Activated carbon filters also pull out industrial and vehicle emissions that are in the air. You need an activated carbon filter air purifier to contain strong household odors, too.
Ozone removal. Ozone is important in the atmosphere to shade us from dangerous kinds of light, but too much ozone in your home can inflame and damage your airways, causing coughing, shortness of breath, chest pains and asthma attacks. An ozone removal filter in your air purifier can reduce ozone in your home to less than the EPA's household standards of 70 parts per billion. Be wary of air purifiers that actually release ozone to clean the air. The Environmental Protection Agency (EPA) warns that ozone generators have not been proven effective and can be damaging to your health.
Pre-filter. The first line of defense in an air purifier can be a pre-filter. It captures the largest particles of pollen, pet hair and other contaminants ,and prevents them from reaching and clogging the other filters. An air purifier with a washable and sturdy stainless-steel pre-filter minimizes how often you need to buy replacements for the other filters, saving you both money and time.
Complete combo. The right choice for you may be one that offers you the benefits of all these filters in one air purifier. The NuWave Oxypure Smart Air Purifier, for instance, comes with a HEPA filter, activated carbon, ozone removal and a washable pre-filter.
2. Noise Control
Our homes are often filled with machine-made sounds from computers and TVs to household appliances. The noise can become annoying or even distracting. Air purifiers have fans that force air through their filters and motors that power the fans. They may not be the loudest appliances in your home, but air purifiers may run for hours and their buzz can disrupt your concentration and sleep.
To find a quiet air purifier, look for models that blend the sound of the fan and motor so your ears are not battered by both noises. You also want fan settings that range from gentle breeze to full power, so you can adjust the power and sound to fit your needs. What's more, sounds that are constantly louder than 70 decibels can damage your hearing over time, according to the Centers for Disease Control and Prevention (CDC). You want an air purifier that puts out less than 70 decibels at its highest setting and, even better, comes in at about 30 decibels at its low setting. Some air purifiers come with multiple quiet fan settings, which can help with noise control. The NuWave Oxypure Smart Air Purifier, for example, includes six quiet fan settings, all powered by a motor designed to work while emitting little or no ambient noise.
3. Power Management
You want your air purifier to work when it's needed and to stop when it's not. An air purifier that never shuts off runs up your electricity usage, which is hard on your wallet and the environment. That's why a model with a timer or pre-set shut-off feature is a smart choice.
Even better is an energy-efficient air purifier that automatically turns on at the highest fan speed when it detects poor air quality and then gradually powers down as the air improves, until it is ready to shut itself off. An auto air purifier, such as the NuWave Oxypure Smart Air Purifier, has an odor detection system that alerts you when to activate the unit.
The EPA certifies appliances that meet strict energy efficiency criteria with an Energy Star rating. Look for the Energy Star seal on product packaging and Websites. It's a shortcut to knowing you've found an air purifier that will keep your energy use and costs to a minimum.
4. Wide Intake
The Clean Air Delivery Rate (known as CADR) measures the volume of filtered air that a purifier produces, with separate scores for tobacco smoke, pollen and dust. The higher the CADR number, the faster the unit filters the air. A good rule of thumb, according to the Association of Home Appliance Manufacturers, is to choose an air purifier with CADR scores equal to at least two-thirds of the area (in square feet) of the room where you will use it.
Many air purifier models take in air only from one side, so you must place them against a wall facing out. Air purifiers with a 360-degree intake can be placed anywhere that's convenient for you.
5. Simple Care
After pulling in all the contaminants, air purifiers need to be cleaned periodically. You'll save time and money if you choose an option that doesn't need replacement filters because they are washable, reusable or designed for years of use. Check to be sure that it's easy to access the filters and other areas inside the unit that need to be cleaned.
As you sift through top air purifiers like Nuwave, make sure to evaluate them on the features you need. In most cases, you want a model with filters that can trap different kinds of contaminants, works quietly and efficiently, gives you flexibility in where you use it, and is easy to maintain.