When it comes to DIY home decor, there are several ways to refresh your space without breaking the bank. Something as simple as introducing hanging frames or dressing your wall with faux wallpaper can help transform any home with minimal effort yet maximum effect!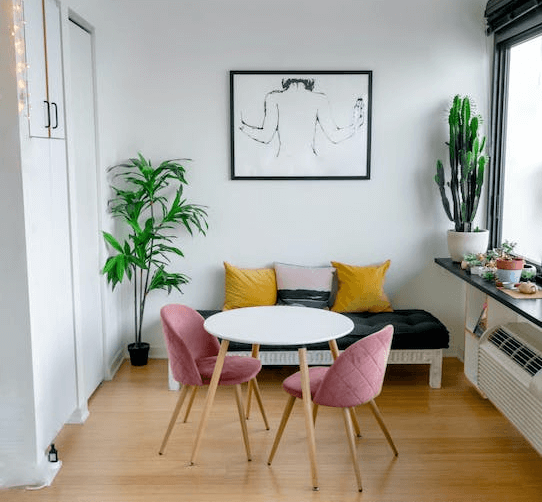 Whether you're looking forward to an upgrade or simply want to add some charm and character to your decor, this piece is for you. Read ahead for ten creative ideas you can borrow to give your space a refreshing treat.
1. Refresh Your Space with a Wall of Frames
One of the best ways to give your home a fresh new look is to create an eye-catching framed wall using prints, artwork, and photos. Whether it's the living room, your bedroom, or the hallway, photos can find a place just about anywhere in the house.
Choose an interesting backdrop color for impact and add candles, crystals, or small trinkets between frames for added depth. Let it become the focal point of your home and change it up as often as you'd like!
2. Add Personality to your Home Through Colorful Pillows and Rugs
Another simple yet stylish way to spruce up any room is with an assortment of colorful pillows and rugs. Choose plush velvet or cotton fabrics in bold hues that will bring life to the area, especially when paired with some intricate patterns.
You can mix and match playful designs with neutral tones for visual balance, adding softness with luxe throw blankets or cozy sheepskins scattered around the room. It's an incredibly easy way to give your home decor a new twist.
3. Elevate Any Area with Hanging Plants
Bring the outdoors in and make any room instantly more inviting by decorating with plants… hanging plants! Ask for advice at your local garden center and pick out one or two special specimens to delicately dance around any space you choose.
Group several together in an intricate pattern for a stunning, eye-catching display that will create an oasis of calm inside your home.
4. Have Fun with Faux Wallpaper Prints
If your walls are starting to look rather boring, this one's for you. There's no better way to give them some love than with removable wallpaper. As long as you get creative, you can pick anything from modern design prints to classic patterns.
Not feeling brave enough to go for patterns?
Mono-colored prints work too! Create an accent wall with a statement piece, or go ahead and add contrast by combining two different prints.
[id=2127,3409,6495,6496,13264]
5. Reinvent the Light Fixtures for a Facelift
Sometimes all it takes to improve your home décor is a quick light fixture refurbishment! To keep up with changing trends and tastes, consider working on those dated light fixtures to convert them into updated designs that don't call for costly replacements.
For example, basic pendant lights can be remodeled with a brighter coat of paint, new shades, and/or transformed into different shapes to complete the fresh look.
6. Bring Life to Windows: Coverings & Curtains
Add some personality to your windows using curtains and panels that express your style! Opt for bright colors or unique prints, pick the right fabric, and make sure it coordinates with surrounding wall coverings in tone and shade.
Hang them with statement rods for a glamorous, inviting atmosphere, or keep it simple and minimal with a set of neutral sheers.
Further Read: Designing On A Dime: 7 Budget-Friendly Window Treatments
7. Change up Furniture Arrangement for New Appeal
Oftentimes, you can create a whole new look in a room by shifting around your furniture pieces, and in just a few minutes. Try removing a few items to make space. Rearrange or switch them among various rooms and bring something new there.
Not only will it revive any area, but give you the power to experiment and craft beautiful settings with minimal effort.
8. Add a Touch of Nature to Your Home Decor with Flowers
Not so many things are as effective at elevating interior (and exterior) design as colorful, fragrant blooms. Bring life and beauty into the home with an array of flowers for stunning natural decor! Arrange hanging baskets of cascading floral displays or place single stems into vases throughout your living room, bedrooms, and hallways for a peaceful atmosphere.
Besides, flowers aren't as hard to procure as they were some time back. The likes of flower delivery services like the Bouqs even have customizable hand-picked peonies for your bouquet, or pretty much any flower type you prefer.
9. Curate Unique Wall Art Pieces from Nature
By using anything from vibrant flower petals to manipulated foliage, you can create one-of-a-kind art pieces that are totally unique and reminiscent of nature's own organic beauty.
Have fun playing around with the shapes, colors, and textures that each natural creation has to offer – whatever suits your environment best – to bring something fresh and truly original into your space.
10. Transform Floor Space with Stylish Area Rugs
Rugs are an easy way to instantly change the look of your flooring with very little effort. When choosing an area rug, pick a pattern and color scheme that best fits your style, whether subtle or bold. Using textured pieces, you can also add warmth and comfort to any room, while also bringing extra visual interest without needing to replace existing floorings!
Hopefully, the above ideas will inspire you to embark on a DIY home décor project that helps you elevate any area in the home's own unique way. Have fun with it!