Building your dream home may initially seem like building a castle in the sky until you put it on paper in the form of elaborate floor plans and design concepts.
Custom homes are generally considered to be far more creatively challenging builds since they have all manner of elements that are specific to a certain person or family and may not necessarily be found together in any other house.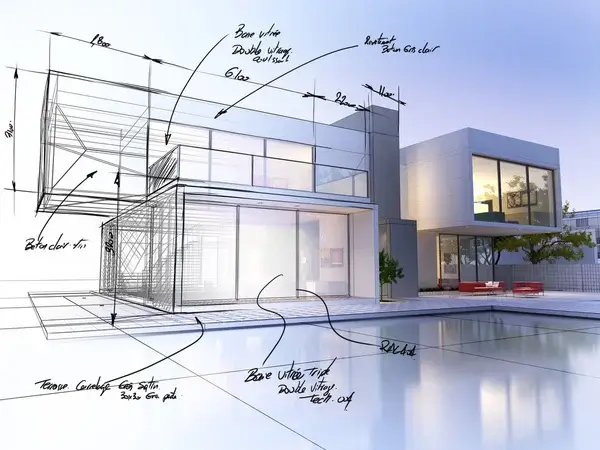 Here are some tips to customize the house of your dreams in the best way possible.
Be Future-Oriented
A major rookie mistake first-time custom homeowners make is that they approve a completely or partially impractical design for their home. When they lay down the plan with their architect and designer, they have larger-than-life concepts like a swimming pool in the basement or two different home theatres, but perhaps they miss out on the necessities of daily life like a sizable laundry room.
Whenever customizing your home design, make a detailed list of the needs of your daily life and then add hobbies, interests, and passions into the mix. Working from priorities to wants can ensure you are not leaving behind a design element of great importance simply because you are creating a dream home from the movies.
When working on your home design, ask questions pertaining to the future, such as how many children or pets, you are likely to have or whether or not your parents will move in with you once they are much older. Bringing the future into perspective allows you to make changes before the actual construction starts since making additions, later on, is costly and problematic.
Pay Attention to The Land
Custom homes are sometimes built overlooking a particularly scenic view or even in more remote locations away from regular suburban life. A mistake that many custom home builders make is not paying attention to the land.
The land can be rocky, slippery or even downright dangerous if it is on a cliff overlooking a body of water. A professional evaluation should be carried out to ascertain the foundational requirements of making the land level and good for construction.
Some aspects of the landscape such as proximity to water or dense wood factor into the home design as all manner of structural specifications need to be considered. For custom homes that are in remoter locations, design additions like a fence or gate might need to be considered in order to keep animals away or undesired trespassers.
Considerations like shatterproof windows or sloping roofs are also elements your designer will think about depending on the area's weather patterns.
Big Rocks and Small Rocks
A famous strategy for managing stress is to visualize big rocks as major priorities and small rocks as less important things. When you are building a custom home, you will already be dealing with immense costs that far surpass the building of a suburban home for example.
In this case, you will undoubtedly need to prioritize certain design concepts over others, and compromise within your own vision is essential to preserve finances. Write down the design elements you simply cannot do without like a gym room or a large, open kitchen and then make a 'B' list that includes concepts you'd like, but would be willing to leave if they cause you to massively exceed your set budget.
Big rocks can be ideological in nature as well, such as wanting your custom home to be as environmentally friendly and sustainable as possible or powered partially by solar power. Once you have decided your priorities, it will be much easier to direct the designer and the architect on how to incorporate your preferences into a workable model.
A Play on Light
Never underestimate the colossal role light plays in any home, regardless of climate and reigning weather conditions. Sunlight boosts serotonin and dopamine receptors and having as much natural light as you can in the home brings many significant advantages. In your custom home design, make sure you have an allowance for large windows and other inlets where light can come in such as skylights.
Research has shown that depressed individuals can benefit greatly from exposure to sunlight, so having streams of natural light in your home can impart a serene, relaxing, warm and cozy vibe.
Apart from windows, lighting fixtures and options in your custom home will contribute to the atmosphere and vibe during the evening and nighttime. If you want a master chandelier in the foyer, it is a detail you will need to add to the original plan as such a design element will require the ceiling to be at a certain height.
In a custom home every last detail is measured and approved as the designer and architect are not working off a set precedent or model and the home is meant to be quite unique.
The Flow & Layout
Your home needs to have a practical flow to it which can sometimes be lost in homes that are customized to a high degree. The flow needs to match the requirements of each of the inhabitants.
Perhaps a separate writing cabin or music studio needs to be made on the same property, but for obvious reasons, it will be kept away from the main crowded living area or the front of the house.
Similarly, the bedrooms (particularly the master bedroom) will be situated far from the main living spaces in the house.
Never approve of a floorplan in the early stages of designing simply on aesthetic grounds, but always think about form and function. Certain traditions such as a big Sunday dinner might be important to you and your family, so make sure your kitchen is large and airy along with cozy with plenty of space for seating and feasting.
When in doubt an open plan always goes down well since it makes use of higher ceilings and wide, open spaces which can then be utilized in a number of different ways. Open plan designs are amazing for smaller custom homes as well since they give the illusion of more space.