Every house enhances with effective floor planning. Whether it is living room, bedroom or kitchen, you must frame a good floor planning. The environment also plays a vital role in home.
If atmosphere is positive, you can work more efficiently. But sometimes, a inappropriate layout and design of room can destroy the appearance of your house. This write-up highlights common mistakes that can arise while making floor plan. You can avoid them by following some golden tips.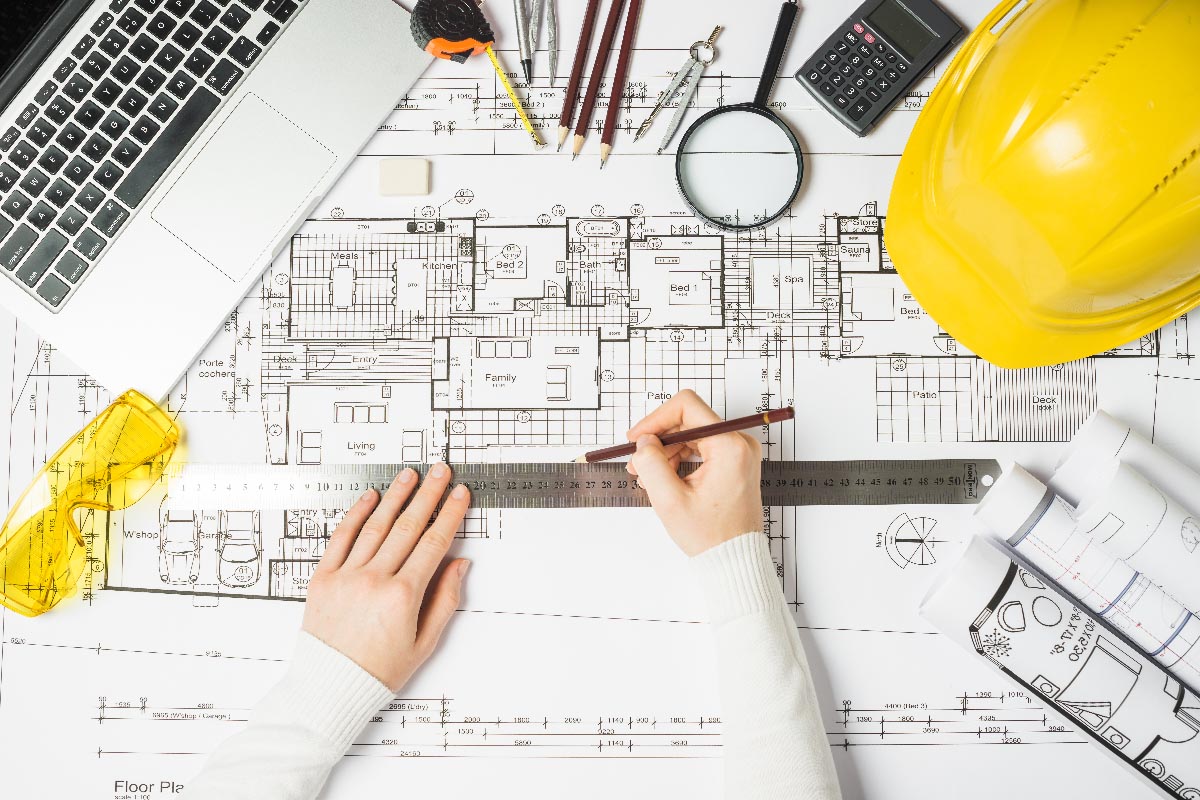 Common Mistakes in Designing House Floor Plans (& How to Avoid Them?)
Considering the Model
Most of home buyers consider model as final floor plan. But you need to know that it is just a sample house that you are watching and not actual one. Furthermore, you should see area without paint, finishes, and carpets.
Poor Sight-Lines
Sightline is another important factor to consider while making a floor plan. Living room, kitchen, wash area and all other rooms of house must be situated properly. This will further make your home look more elegant and beautiful.
Measure the Room Area
While room might look bigger on floor plan chart, it is not so in real one. You can get different sizes of room on chart and while buying actual house. So, the best way is to measure tables and furniture to get an idea of real floor plan.
Wrong Circulation Paths
If you have a large apartment, you must pay attention to arrangement of staircase and other paths. Besides that, you must also see whether kitchen is close to car garage. You can easily take grocery items tables from your car to kitchen. Apart from that, you must also place staircase in central part of home.
No Privacy in Bathrooms
You need to look for a convenient place to construct bathrooms and toilets. If you have big house, you can construct powder room on first floor. Furthermore, you must be able to view bathrooms from your halls and living areas.
Not Enough Storage Spaces
Ample things lay around your room making it look messy and dirty. So, it is necessary to keep free space for creating closets and cupboards. Moreover, you must construct storage closets depending on items you want to store inside them.
Lack of Natural Lighting
Imagine how disgusting it is to turn on lights during daytime? While making floor plan, you must allow natural light to enter all rooms. The best way is to set windows on walls to allow light to fall in all corners of rooms.
Setting up Features that Increase Energy Bills
Artistic ceiling lights, lamps, and skylights will go on increasing your electricity bills. So, you must consider power savers such as LEDs and cost-saving lights to fit in your homes. You can also go for assets that protect environment.
No Outdoor Space
Small apartments can't have this facility but lathe homeowners can definitely think of it. While making floor plan, you must create a plan to join indoor and outdoor spaces. This will help you to organize birthday parties and family gatherings.
[id=9463,11451,16703,16704,14947,12351]
Not Showing the Floor Plan to Your Family
You will stay with your family members in new house. So, it becomes necessary to know the opinions and ideas of your family while making floor plan. The different ideas will further help you to create a beautiful floor plan.
Wrong Arrangement of Fireplace
Fireplace adds charm in living room. So, the best place is central part of living space. Besides that, you must also see arrangement of your furniture while making the space of the fireplace.
Not Considering Extra Spaces
Do you love to entertain your friends, relative and neighbors? Then you cannot ignore good architectural elements in floor plan. You must keep space for dancing, partying and various other functions in your homes.
Assess your Needs
It is improper to make floor plan without looking at your needs and lifestyle. You may not need a large washing machine or dishwasher for your small space. It is necessary to first look at space and your needs to make a suitable floor plan.
Never Assume
Floor plans are never easy to understand for common man. So, it is important to understand first floor planning before finalizing it. If you cannot understand architectural layout, you can ask professional interior designer and architect.
Now Keeping the Space for Furniture
The cluttered living room irritates more than anything. You must keep a certain space between the furniture and TV and the couch. Apart from that, you must also consider the distance between windows, balcony and sofa set.
Not Considering Extra Costs
While going for home makeover, you may have to spend a lot of bucks. But it is not wise to spend money on unwanted stuff that you don't have to use in future. The best way to limit cost is to invest money in most important things.
No Safety for Kids
You might like many expensive things for your home but cannot take them. It is because they are not safe to use. Stairs without railings and sharp-edged furniture may harm your kids. The most proper way is to choose things which do not cause damage or injuries to your children.
Lack of Scale Elements
Many times, floor plans do not match with drawings. You should look at kitchen appliances, fixtures, and taps, and sinks to get precise idea.
Final Words
Floor plan leads to strong base of any house. So now, you can build your dream home with perfect floor planning as above.