Why is important to make a vertical garden? Because, a little bit greenery is compulsory in your life. The ways for the vertical garden are manifold. Just by using a bit of creativity, you can transform your boring space into a wonder land.
Here, we are introducing stunning ideas to set-up vertical garden by own. These tips can be applied in any space.
[id=15267,15458,7441,5609]
Creative Ways to Build Vertical Garden Design
Wood Pallets
Wood pallets will fill the life in boring front door and hallway. These pallets give you ample space both vertically and horizontally to grow herbs and plants which you love. They will give a cheerful and colorful look to your house front space.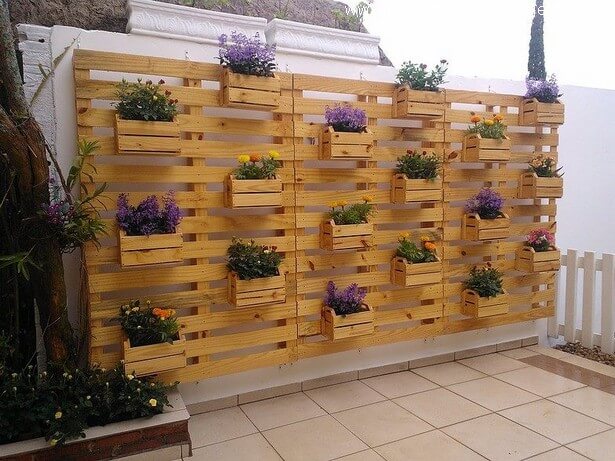 Metal Pipes
Using old things for decorating wall vertical garden is a wise idea. Apply a modern idea for kitchen balcony. You can take metal pipes of different colors and place the colorful plants in them. Metal pipes with stunning hues make your kitchen space more beautiful.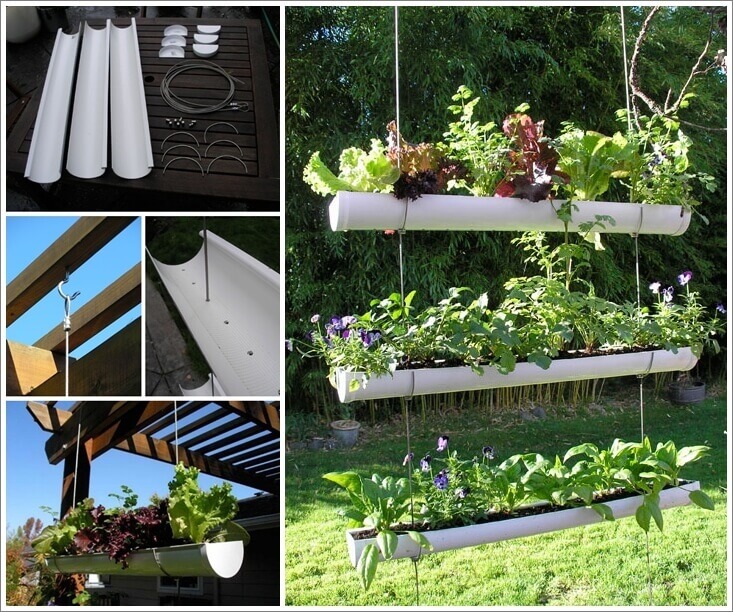 Cedar Planks
If you have extra cedar wood blocks at your home, use it for the vertical gardening idea. You can make a cedar staircase with an opening on the top to plant shrubs or herbs. Besides that, you can grow strawberries or cabbage.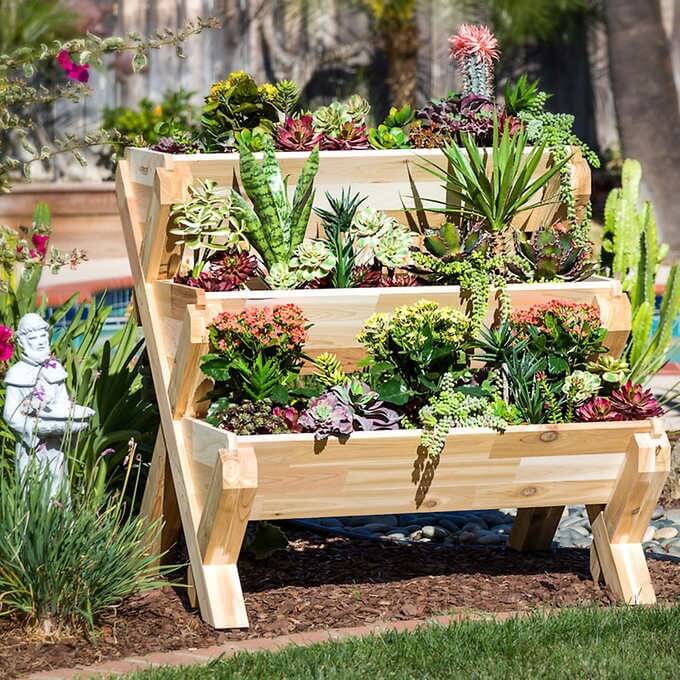 Wall Planter
This is a great idea for those who do not want to wait for the plants to grow. You can simply put a picture frame planter in your living room to add greenery.
[id=462,447,161]
This planter will not only give a classy look to your house but can work as a home décor item.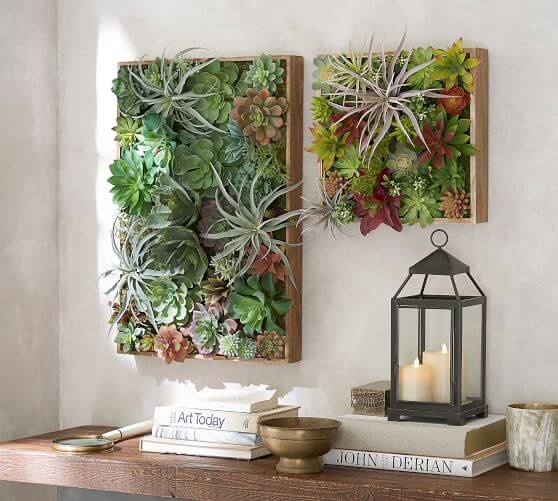 Wood Pyramid
You can create a wooden tower for your terrace or balcony. It is easy to gather the blocks of wood and create a tower out of them. You can beautify this planter with plants such as oregano, lettuce, strawberries, thyme, and chives. This is a simple DIY idea you can apply.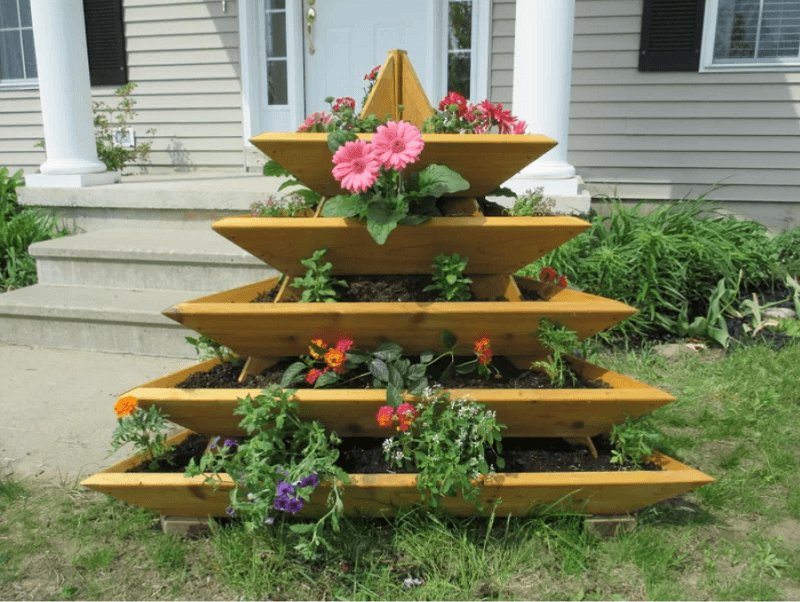 Plain Chicken Wire
The chicken wire might seem obsolete but it is a great way to decorate your vertical garden. You can then attach clay pots with different plants on this chicken wire. The plants which go well with this chicken wire include ivies, geraniums or ferns.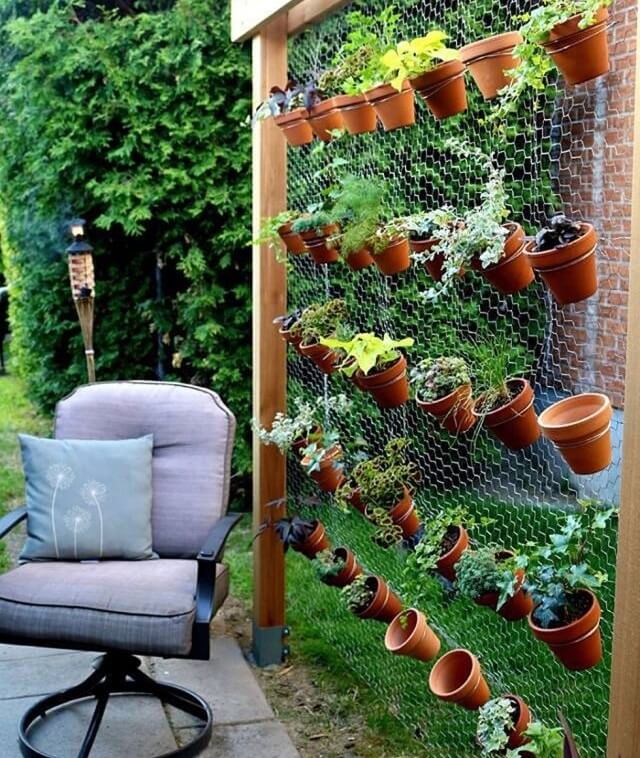 Put Plastic Sheets
The plastic sheet is a nice way to enhance the look of your vertical garden. This is one of the best ideas for living room and bedroom. Plastic stops the water to enter inside the home.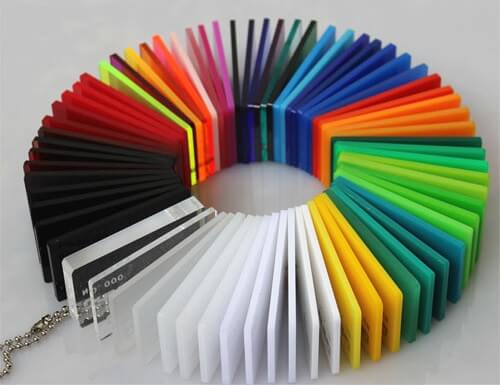 Place the Ladder
If you want to reuse the old ladder at any place, put it in your balcony. It serves as a great tool to decorate the vertical gardens. You can place simple clay pots or plastic bottles to grow small plants and shrubs.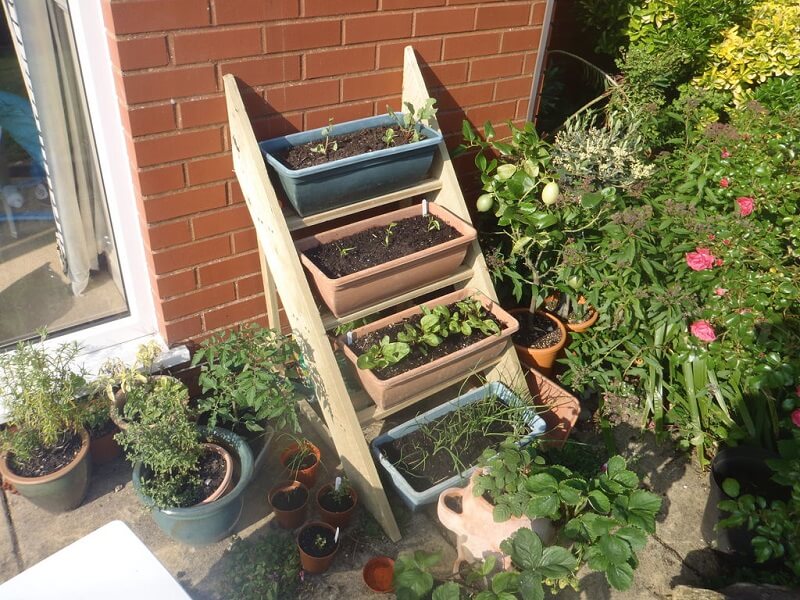 Use Old Stuff
You will generally get the unique vertical garden concepts from the old and outdated things at your home. A simple wooden box or nesting boxes for chicken beautify your porch and patio. Then plant the small shrubs like white lilies or hibiscus in them. These wooden boxes look simply amazing.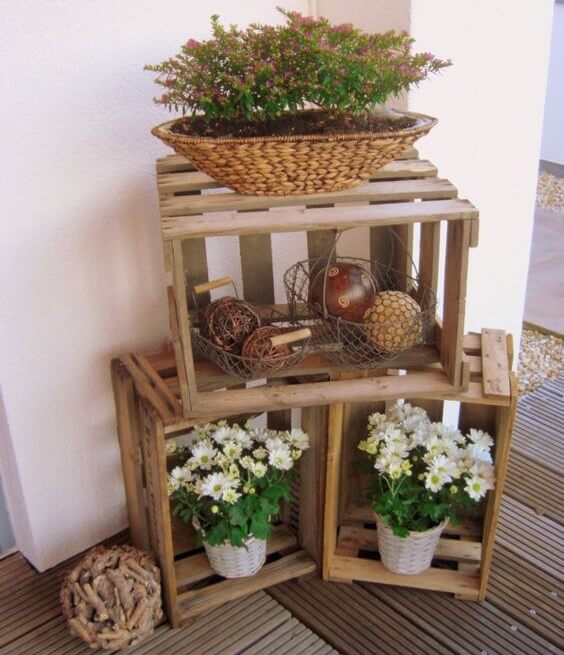 Trellis Work
Kids love to pluck flowers from the plants. If you really want to make the plain windows of your kid's room more interesting, attach trellis made from wood or metal. Creepers, herbs or shrubs will then turn the simple trellis into an amazing vertical garden.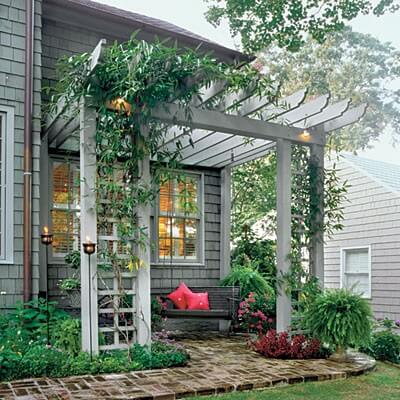 PVC Pipes
Do want to use those useless PVC pipes of your homes? Bring them to your patio and start planting plants like lettuce and oregano. This idea is wonderful as well as new to decorate your house.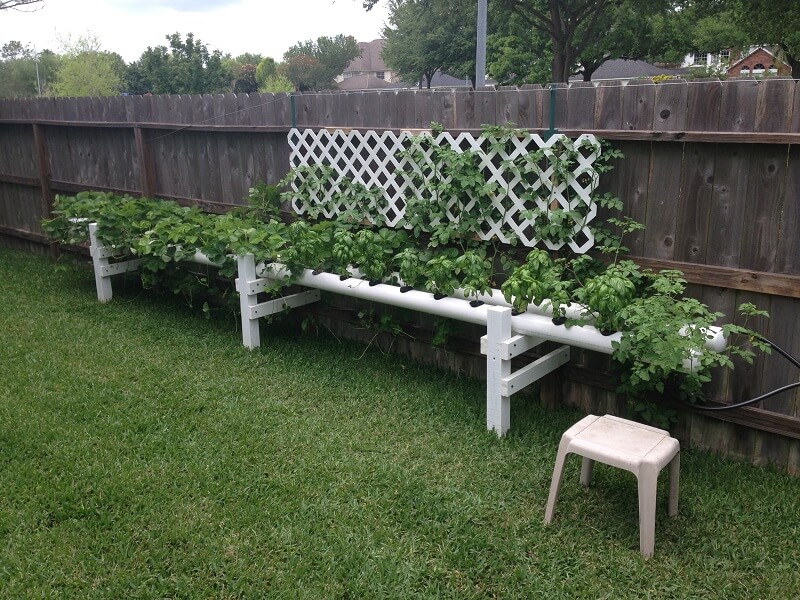 Fabrics
Wall mounted vertical garden can be made more rocking with the use of fabrics. All you have to do is to cut the fabric with a knife of a razor blade and put the soil into it. Cover the backside of the fabric wall with a cotton cloth for proper closing.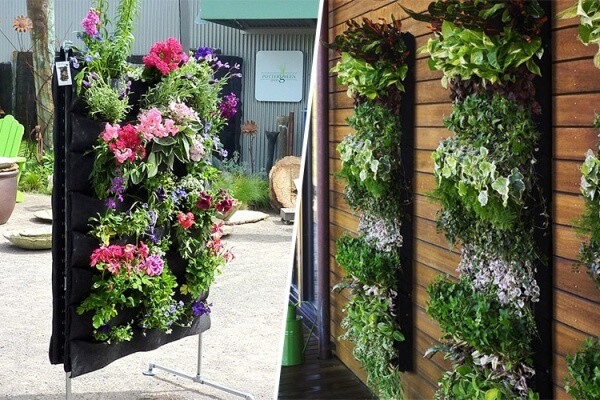 Terracotta Pots
The white wall can be accentuated with colorful terracotta pots. Then you can grow an array of different plants in these pots. This will give you more space for a vertical garden and vibrant appearance to the white walls.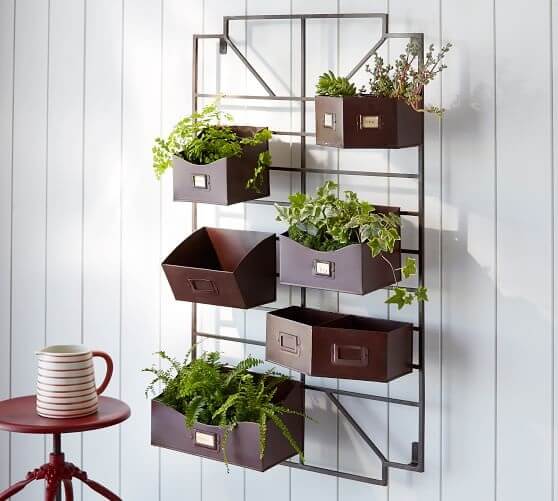 Take Mason Jars
DIY ideas for the freestanding vertical garden include using mason jars of your kitchen. This is a good idea for the kitchen. You should grow small plants in these mason jars such as oregano or chives.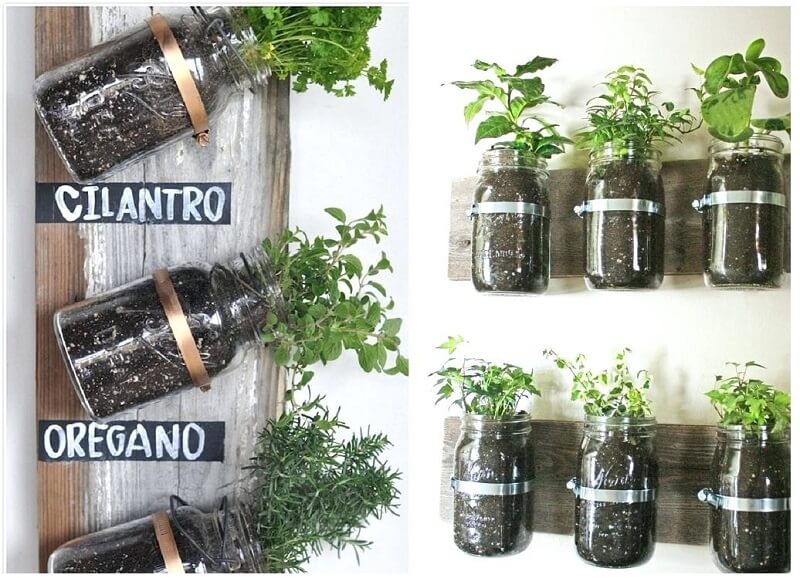 Hanging Garden
File organizers can now turn into the hanging pots for small plants. To enhance the look of your front door, put a file organizer on its wall. It looks in orderly form and gives a new look to the entrance space. Those who come to your place will be pleased with this vertical gardening idea.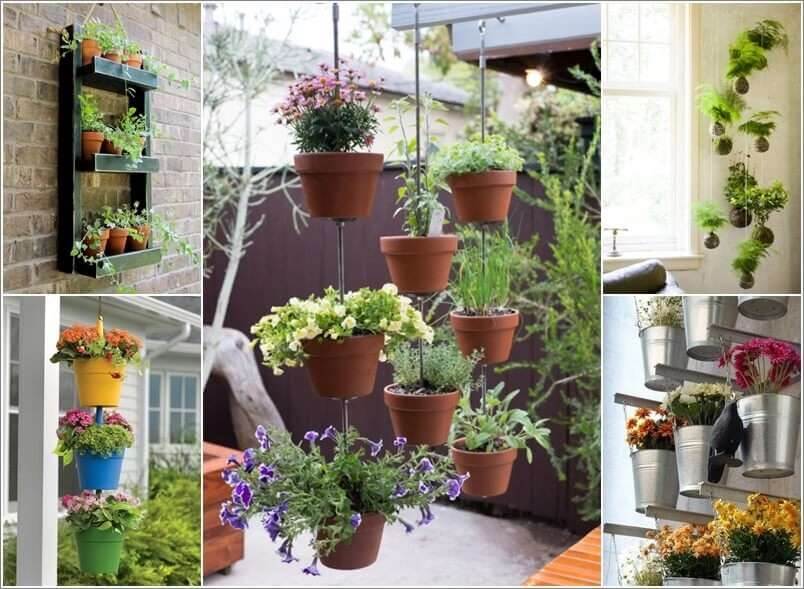 Put the Shelves into Use
You must have one or two empty shelves in your balcony or bedroom. Simply place the series of pots one after another. You can then grow indoor plants which make you feel relaxed at the end of the tiring day. It is one of the latest vertical garden design ideas you can try.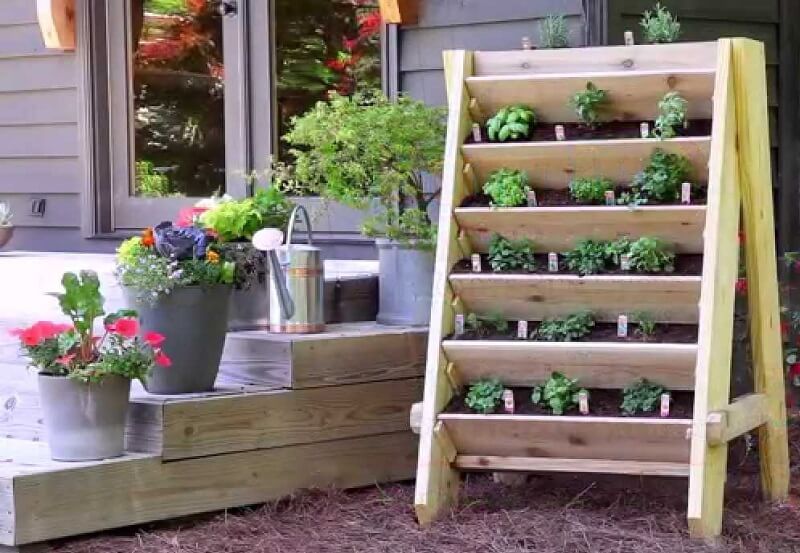 Drawers
For a minimalistic look, you can place the dresser drawers in your house front space. Color these drawers with the hues which suit your doors. You can grow different flowers and grass to finish the look. What is the better way than this to use old drawers for home décor?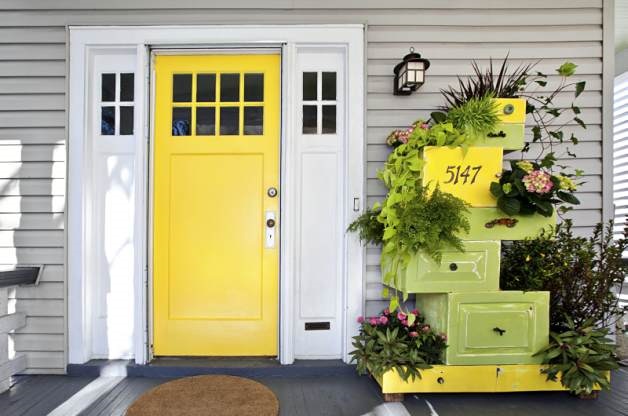 Metal Frames
Growing plants in modern homes is a bit challenging task. You can still do it with the help of metal frames. You can attach the metal frame to the wall of your dining room with abundant fern plants. It gives a royal and green look to the plain walls of your living room or dining room.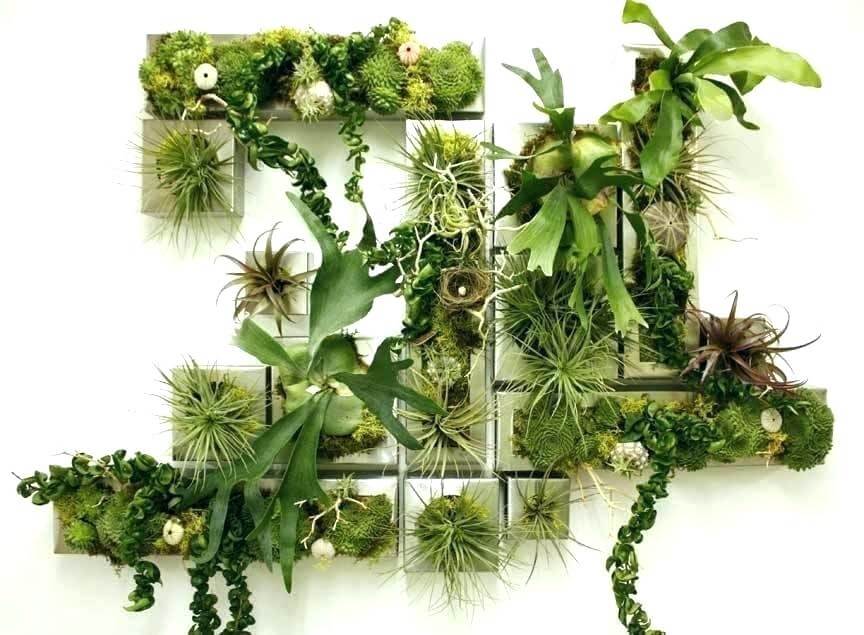 Iron Rod
Rusted iron rods make one of the best vertical garden plans. You can weld these iron rods against the walls of your porch or patio for growing small plants. Then you can choose the plants which grow well in the climatic conditions of your place. Moreover, you can create this grid with wood or stainless steel as well.