Flooring is the first thing people see when they enter a room, and décor draws them in.
While there are many different ways to create a beautiful home, you will want to consider your décor options before spending money on flooring.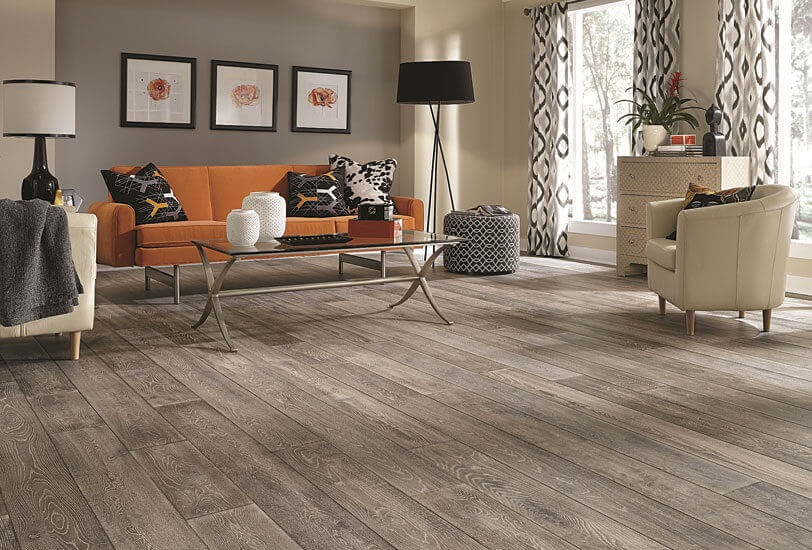 Pick wisely to make the most of your small space with these five interior flooring and décor tips:
Pick Neutral Colors
Color can make a space feel smaller or larger than it really is.
Pick neutral colors for your floors and walls if you're worried about the size of the room. You can also use whites or grays on smaller areas to give the illusion that they are bigger.
This works well in rooms where it feels like you have too much going on visually, and it just becomes confusing for people without giving up much style.
When selecting the color for floors or other elements, keep in mind that the lightest shade should be placed on the top level of your home and move darker as you work towards the bottom level.
That way, your walls will seem brighter, and any furniture won't compete with each other visually.
Best colors for interior flooring:
Light Gray – This color has the ability to calm and relax people. This is why some of the best bedroom, dining room, living room, and home office colors are gray. It also allows the natural light to come through your windows more than other colors allowing you to enjoy a spacious feeling in any small space.
White – This is by far the best color for tiny spaces because it is bright. Even if you decide to paint your room entirely white, you can always come back after a few years when your décor and style changes and make different choices then. This way, you won't have to worry about repainting everything every time you change things up in your home.
Beige – Not only will beige walls make a small room seem larger, but they also radiate warmth as most colors do, so avoid colder colors like navy or black unless you're explicitly trying to create the feeling of security or sadness.
Taupe – This color is the perfect balance between natural and modern. It does not feel too cold or warm, so it will match well with any style or décor you choose to put in your home.
Brown – While brown can be very warm, if used as an accent wall instead of all over a space, it can help showcase art pieces beautifully without competing for attention with them like other colors sometimes do.
Black – Dark floors are fantastic in kitchens, bathrooms, and entryways. Black is a great color when you want to make a statement or if absorbing light is an issue. If you have darker furniture pieces, this could give your room a more prominent appearance than it really is.
Pick the Right Type of Material for Your Space
Traditional wooden flooring is always a classic choice, but you should consider installing cheaper alternatives that look just like wood, such as vinyl, laminate, or tile.
This will save you money if you live in an area prone to flooding or moisture issues, and it will also make your home more affordable for any potential renters.
Best flooring materials:
Engineered Hardwood Flooring – This durable option will last for generations. They are also more cost-effective than other options because they are less expensive per square foot than solid hardwood. If you want something that feels more natural, consider asking your contractor about installing solid wood planks on top of the engineered wood planks. They will still be sturdy and easier on your pocket.
Carpeting – Using rugs for carpeting is very popular for a good reason. It is a lot softer than hard flooring options, offers more padding underfoot for those living in an apartment complex or condo where the floors tend to squeak easily, and can help cover stains if there is any accidental damage to the subfloor.
Laminated Flooring – This option has become much more cost-effective since it was first introduced years ago. This style makes it easy to change up your décor whenever you feel like getting a new look without paying all that money over again. It's also easy to install because it comes as a floating product that sits right on top of the subfloor, and you can even replace just one section at a time.
Tiles – If you're sick of covering your hardwood with carpeting or using laminate in place of tile, consider purchasing thin tiles that are soft to walk on but attractive enough to stand up to repeated cleanings. You'll be able to maintain the look of a hardwood floor without too much work.
Consider Your Floor Plans
Don't forget about ceiling levels when you're designing around space limitations. It could help save you from buying more than what you need or wasting money planning for something that won't fit appropriately down the road.
[id=15697,14199,14193,13725,2349,2306]
In general, shorter ceilings look better bare, while more extended ceilings look best decked out. Take note of the ceilings and the floor plans, and design your home to complement your space needs and style preferences.
Pick a Focal Point
As you're laying out your floors, place rugs in any room with furniture that can be used as a focal point. It will draw people into the center of the room.
Also;
Consider changing up pillows or other décor items to keep things exciting year-round.
Add a Mirror
Mirrors are all about creating the illusion of space, and they work in small rooms too!
Especially;
If you have hardwood throughout the first level of your home, placing a large mirror on any wall will make it appear lighter as well as larger than it actually is.
If you're short on area;
Hang a mirrored tray over an area rug in the center of both sides to create visual depth and add light bouncing into your room.
Final Note
We hope that these five interior flooring and décor tips will help you transform any small space in your home.
With a bit of creativity, some patience, and budget-friendly products and materials, we're confident that anyone can turn their living room into the perfect place for relaxation and entertaining guests.