One of the most important surfaces of a house is a floor which is always in use. Choosing the right combination of flooring is a difficult process to get better material that can give a beautiful look to your house and also fits into your budget. Spending extravagant amount on flooring is not a sensible decision, always take help of flooring experts.
Actually, there are many factors that influence the decision while choosing right flooring materials. But now you don't need to worry about this, as we have brought a checklist that will help you to choose the right combination of flooring for your house.
Durability for Long-lasting Use
If you have small kids or pets, you should be little careful about the durability of material you are going to buy for your floor area of your house. These guys cause scratches or drop heavyweight articles that can damage floor covering. Instead of tiles you can choose solid hardwood or vitrified tiles that are more durable and can be easily replaceable when damaged.
Budget or Costing of Floor Covering
Choosing the most durable material can disturb your budget or your cost of constructing a house could go beyond your expectations. Hence, compute the cost of entire flooring while choosing the flooring substances. There are different types of flooring range available with different attributes at various price range. You can choose from porcelain tile, wood flooring (i.e. Engineered OR Solid Hardwood), and low cost laminate flooring as per your budget.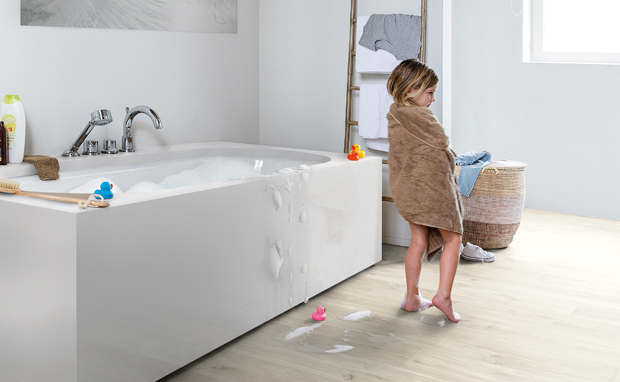 Living Area and Room Conditions
Room conditions and the area you are looking to install flooring is also important factors you need to consider while buying such things. Basement or bathroom is high moisture areas where a well-suited material is necessary to control moistness on floor or walls. Moisture-friendly or water-resistance flooring would be a suitable choice for such rooms in your house.
Convenience of Flooring Maintenance
After installation, maintenance of flooring also matters a lot, high maintenance cost or a cumbersome process to repair such materials can become a challenging task for you. Therefore, go for resilient and easy to repair or maintain floor covering for your house. Concrete made floors like marbles and mosaic are comparatively cold and requires low maintenance, wood laminates are also easy maintain. Vitrified or ceramic tiles are highly vulnerable and difficult to repair if damaged, and you may not find the matching shade material easily.