Planning to remodel your floor is a big deal, and opting for wood is an excellent choice. But there is much more to consider for your upcoming floor remodel than the selection of which color.
From types of wood to patterns, designs and future upkeep, there are plenty of options available. It's just up to you to decide what works best in your home.
Whether you install yourself or hire flooring professional to do it for you, installing wood flooring is a large undertaking, but this guide is here to walk you through all the necessary steps.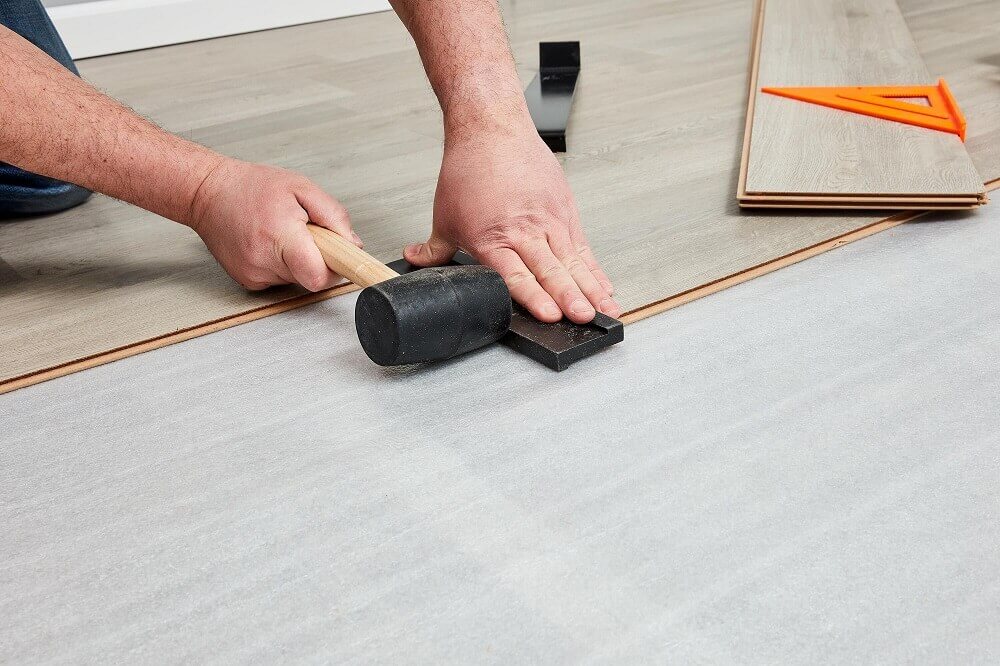 Selecting Your Style
If you have a set style in each room already, choosing your style of wood flooring is probably easy.
For instance, a classic, oak finish works well in many modern houses. The straight lines, even width, and neutral color are quietly impactful.
Perhaps, you're looking for a traditional style with a twist and are eyeing a herringbone pattern for your open kitchen. Or maybe you're eyeing a different parquet style?
Researching your style and your chosen designs can help you determine if the style you want works best in your space.
Solid or Engineered Flooring
Both engineered and solid flooring have lots of options and one may work better for your space than the other. The science behind engineered flooring is that wood moves in three directions, but with engineered flooring, the creation behind each piece works so the flooring is less likely to move.
In areas like a basement or a concrete floor, engineered flooring is an excellent choice as it can be glued to the cement or overtop a radiant heating system. Solid flooring would need to be installed over plywood and will raise the height of the floor.
So, which one is for you? Engineered flooring is less likely to move, but it may also not be able to be refinished, depending on the thickness of the top layer. Solid flooring offers more flexibility in this aspect, but it is more likely to warp in the future.
If you select a parquet style, your flooring will be more tedious to install, but the finished product will be stunning. Many parquet styles involve small pieces of wood, often meticulously cut to size with a CNC router, that then slot into their designed space upon installation. It's a time-consuming process from beginning to end, but the end result is worth it all.
Pre-finished Vs. Site Finished
You can have either pre-finished planks or site finished planks. Pre-finished ensures that you receive flooring that's ready to go; you know exactly how it's going to look. Additionally, you won't need to add any types of sealants or color. It's already done.

Site finished offers a bit more flexibility, but with that flexibility is a bit more risk. You can control the shade of the stain used better, although you're never going to be fully sure of the completed color. Additionally, site finished offers a smoother, complete product because the sanded, finished product ensures that the floor is completely smooth and even before applying stain.
Select Your Finish
The word of finishes is vast, but most fall into one of two categories: oil or polyurethane.
Oil finishes are soft and excellent for floors that may get scratched easily, as it hides the scratches. Additionally, it's well-suited for those looking for easy, but consistent upkeep.
Polyurethane is best suited for wood floors that will undergo a lot of activity, such as entryways, kitchens, and living rooms. When a floor is covered in polyurethane, it is covered in a sturdy topcoat that holds up better to activity.
While most choose their finish based off of the aforementioned oil or polyurethane, there is a third option that is still rare and less used. Enter, deep pour epoxy. For this finish, a translucent, thin layer of epoxy is poured over the floors and allowed to dry, giving a smooth, continuous shein. Deep pour epoxy floors give a very different look to the flooring, but for many, it offers the smooth, modern look that fits their house style.
Select Your Wood Type
The most popular wood type for flooring is oak, but it's followed quickly by walnut, maple, and ash. Softer woods like pine aren't as suitable because they will dent and scratch easily. When you select your wood type, you're looking not just for color, but also for strength and style.
For rooms that suit a darker floor, walnut is a better selection than oak, which in turn looks best in a lighter shade. Ash comes in a more neutral shade, where maple is warmer in tone.
Choose your wood width
With a wide variety of wood widths available, it only comes down to what width size you'd prefer for your space. Seven-inch planks are the normal, but wider widths are often seen as luxurious as they fit best in larger rooms. Thinner planks are easier to find and more cost effective.
Installing Your Hardwood Floor
You've selected all the details, from the wood type to finish. Now it's time to install. If you're installing the flooring yourself, here are some tips for installation:
i. Find the best installation method for your particular flooring. Did you choose solid or engineered? If you choose solid, you'll need to put down the subfloor. Follow the instructions given for your particular flooring
ii. Allow your flooring to acclimate to the room. Keep the flooring in the room for a few days to adjust to the temperature and humidity. This is imperative for both types of flooring, although engineered flooring may acclimate more quickly.
iii. Prepare the space. Empty the room out completely and remove any previous flooring that is already in the space. Ensure that your new flooring allows doors to open and close without difficulty
iv. Install your flooring. Moving left to right, install the flooring. Ensure that the small tongue faces you as you work and use spacers to keep the wood from warping.
v. Finish the job. Once the floor is completed you can remove the spacers and replace the trim. Clean the floor and replace the furniture, being careful not to scratch your newly installed floor.
Installing your own hardwood floor can be a challenging but fulfilling job. Following these guidelines as well as the manufacturer's instructions ensures that you will soon have a lovely, professional-looking wood floor in your home.