Themed pools and water playgrounds are gaining popularity among today's pool owners. It seems that children and parents are becoming more interested in having a unique or "cool" looking swimming pool versus the old standbys like the kidney-shaped, L-shaped, and circular designs.
Themed pool designs are becoming a fad as swimming pools become more popular additions to the home. Kids want to look cool, so why not design their own pool that matches the latest video game, cartoon, or movie character craze?
After all;
They spend many hours a day watching YouTube and playing games online these days, so why not incorporate the new characters into something that will be right in their backyard?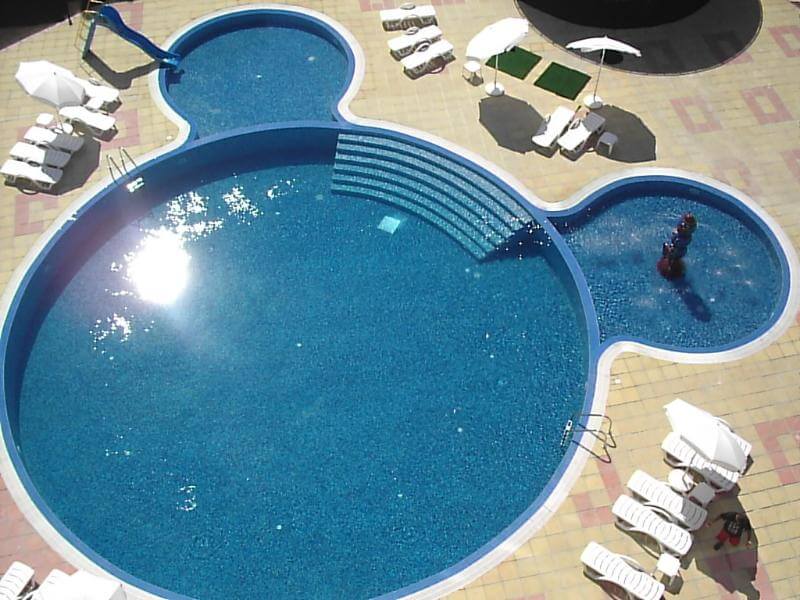 Maybe it is time we take our kids' suggestions seriously when designing a kid-friendly swimming pool. Here are some pool design ideas that kids and kids-at-heart will love:
Adding Water Features
When designing an outdoor pool, the water feature is always one of the first details to consider. It ties everything together nicely and makes for interesting conversation when friends come over to swim or tan by the new backyard oasis.
Cobra Sculpture Spout
A unique water feature will take your pool to a whole new level. Consider a cobra sculpture with 2 or 3 spouts coming out of its mouth and perhaps one on the side of its head, just enough to fill up the kid-sized basins.
Spa
If your swimming pool is relatively small, then you might want to consider adding a spa so the kids can play in it together with adults. There are tons of different design ideas for pool spas. Just make sure whatever one you choose is big enough to hold everyone at once.
A Bubbling Pool
A bubbling pool is fun for all ages because it creates bubbles as you move around it. It is essential to use special air bubblers to get the bubbles going. Some work better than others, but when installed correctly, you will enjoy many hours relaxing in your own personal "bubble spa" without having to spend tons of money getting one of those professionally installed. It's a great addition to your kid-friendly swimming pool because kids love bubbles.
Adding Water Slides or Splash Pads
A water slide or splash pad is a hit among kids and teens. It is by far one of the most favorite trends in outdoor swimming pool designs these days, especially for homes with more than one kid to entertain. When designing a water slide or splash pad, the possibilities are endless, so consider including a bathtub-style area complete with fountains. These few swirly tubes send you down an aqua tunnel before sending you out into the deep end again. It may sound scary, but your kids will enjoy this kind of adventure!
Incorporating Kids' Favorite Games in the Pool Design
Pool Obstacle Course
Add a mini water park obstacle course to the pool area. You can have a huge 3-5 feet high volcano-like tube that has lots of twists and turns inside that pops you out into the deep end again. You can also have a couple of small water slides made of old tires and plastic sheets or even something simple like two wavy side-to-side tubes with a giant inflatable raft holding them up. You can also put up a swing set or monkey bars for active kids.
Basketball Hoops
Install a full-size floating basketball hoop somewhere near or perhaps directly above your swimming pool. By that, you'll be able to play a game of 21. Many young kids love basketball, so if you have enough space for one, go ahead and add it to your swimming pool design project.
Castle Playhouse
This is a fun swimming pool design idea for kids who love castles. Draw up some plans on paper first, then build them with bricks or blocks. Add other accessories like plastic knights and princesses that can be moved around inside the castle.
Incorporating Kids' Favorite Animals and Cartoons
[id=16638,8710,8382,5015,3581]
Dinosaur Swimming Pool
Kids love dinosaurs, so why not create a swimming pool that looks like a dinosaur's mouth? Start by adding colorful tiles to the bottom of your pool, then gradually build up towards the middle and eventually on top. This will give it that sunken-in-mouth look. You can add some dinosaur figurines and lots of small white rocks for added visual effect. Keep in mind that most kids are drawn to bright and bold colors, so go splashing these colors when designing your dinosaur-themed pool.
Dolphin Theme Pool
Suppose your kids love cute sea creatures like dolphins. You should consider turning your backyard oasis into a dolphin-themed swimming pool. It's simple to create. All you need are some fun pool inflatables, colorful dolphin figures, and even colored lights, which will be attractive when swimming in the nighttime. To make the area resemble more of the tropics, you can add smooth rocks, bushes, and flowers around your swimming pool area.
Colorful World of Cartoons
If your kids love quirky characters from cartoon movies and TV shows, then you can incorporate their personal favorites into the swimming pool design. You can put up some colorful Disney figures like Mickey Mouse and Minnie Mouse.
Besides the cartoon characters, add some colored chairs, umbrellas, and tables in the pool area. Any kid will fall in love with the area, especially if they are filled with brightly colored beach balls. This is a simple kid-friendly pool design idea that even adults will love.
Keep Your Pool Fun Yet Safe
Now that you've chosen a theme, added some special pool toys and other attractive features to your swimming pool, make sure that kids can have fun but at the same time remain safe.
No matter the kid-friendly pool design you choose, having a pool cover is important for keeping kids safe and keeping the water warm and clean. Also, putting up fences around with a latch lock and keeping any chemicals out of reach are all easy ways you can keep kids safe while having fun in your swimming pool.
A kiddie pool is always fun because they come in all different shapes and sizes these days. These are just a few kid-friendly swimming pool design ideas that you may want to consider. Now that you're aware of some easy designs, remember when it comes to kids, be creative because it's their playground after all.