A home bar is one of the most exciting interior projects.
It's intended for relaxation, entertainment, and enjoyment. It also gives you a place to keep your favorite spirits, wines, and mixers.
There's a home bar setup for any interior. It doesn't have to be a full-fledged bar; you can even repurpose old furniture items.
Whether you live in a single room or a mansion, we'll show you how to incorporate this luxury.
So, pour yourself your favorite drink, get comfy, and read on to find the best home bar ideas.
Best Home Bar Designs to Setup in Home
Minibar Designs for Living Room
Setup and decorating living room as a minibar, is a fantastic choice, as it's somewhere comfortable and cozy. You just need a designated piece of furniture to serve as the bar.
One option is to invest in a cabinet that doubles up as a bar. Store all of your favorites inside and use the surface on top to mix your drinks. It also blends in with the surrounding room – great if you want to keep your liquor collection hidden apart from on special occasions!
If you want to make a feature of your minibar, consider a bar cart. It looks super classy and gives you space for bottles, glasses, ice, and any cocktail-making equipment you require.
Added advantage – it's moveable!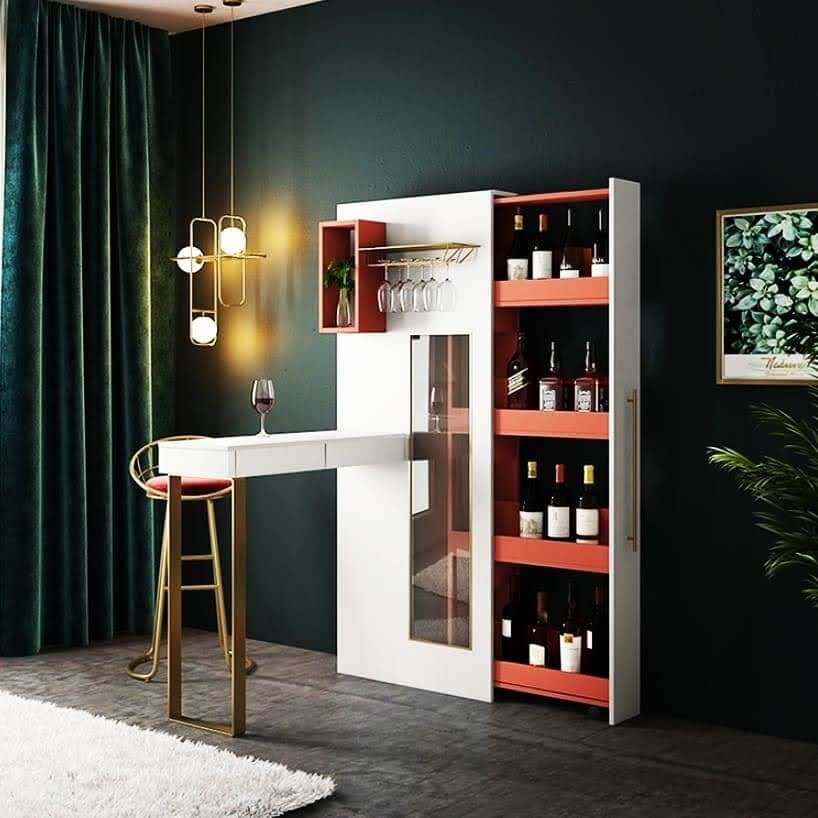 Luxury Home Bars
Want to build a home bar that will make you never want to go out again? A luxury home bar is the way to go. It needs to make you forget that you're at home, so go wild.
A built-in bar is an absolute must. It's no small undertaking, so choose materials that you love and that give an 'expensive' feel, whether that's sleek wood or luxurious marble.
It should be well-stocked with high-quality beverages – perhaps even in crystal decanters for the ultimate fancy touch!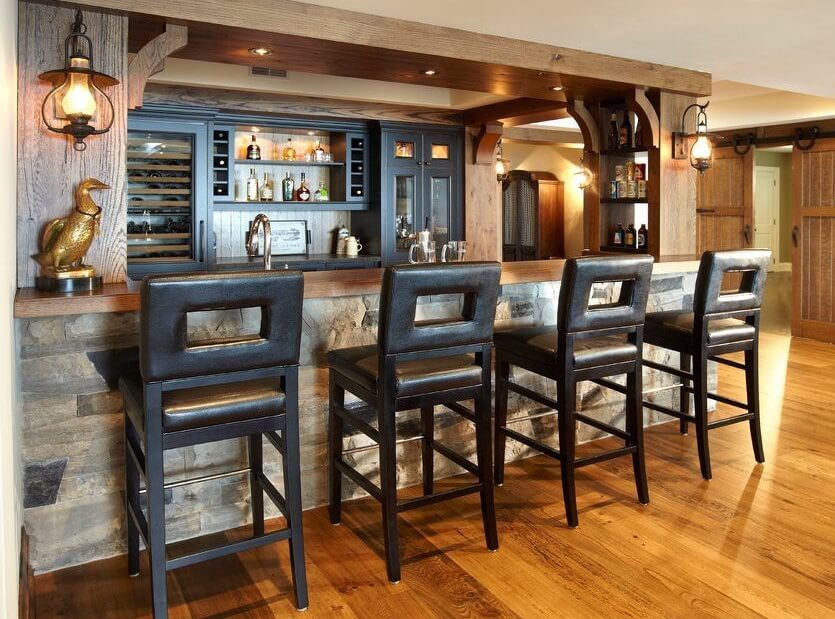 Corner Bar Ideas
Another way to save space is to put your home bar in the corner of your kitchen, dining room, or living room. As we always say about small areas, use the verticals! A tall cabinet in a corner can go a long way.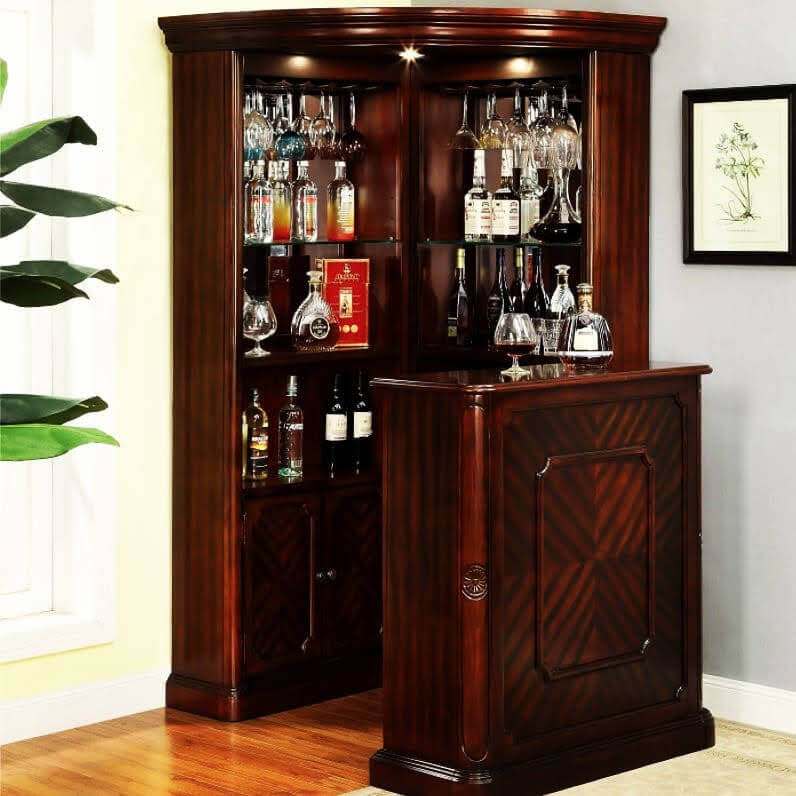 Back Bar Ideas
The back bar is the bar behind the front bar, naturally.
If you have a lot of room, you'll likely include a back bar against the wall. It should match your front bar, and it should be attractive, as it's one of the more visible parts of the bar.
It's an excellent place to show off what you have available.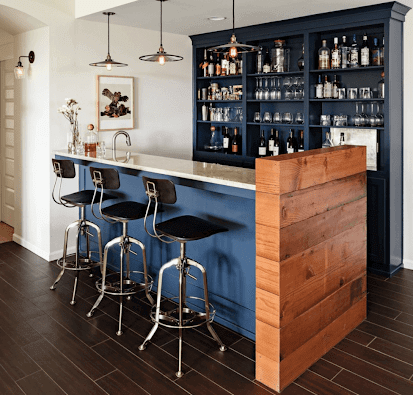 Wall Bar
If you're not ready to commit to a full bar, a wall bar is a great option. It's also suitable if you're on a budget (more on that later).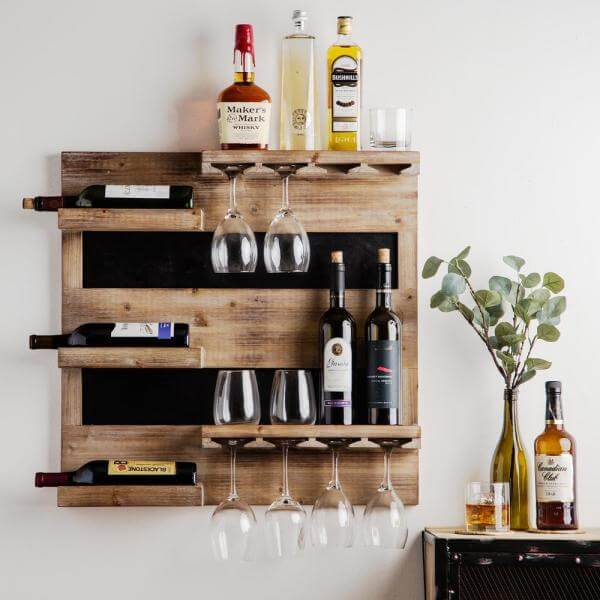 Rustic Home Bar
The best bars are the ones that make you feel cozy both inside and out. So, bring this into your own home!
If you're after an English country pub feel, dark wooden furniture and a wood-slab counter work well. Your bar stools should be wooden with a comfortable top. Install a beer pump for an authentic experience, and don't forget the pint glasses!
For decoration, you could include a blackboard and write today's options on it, or hang a dartboard for an extra activity.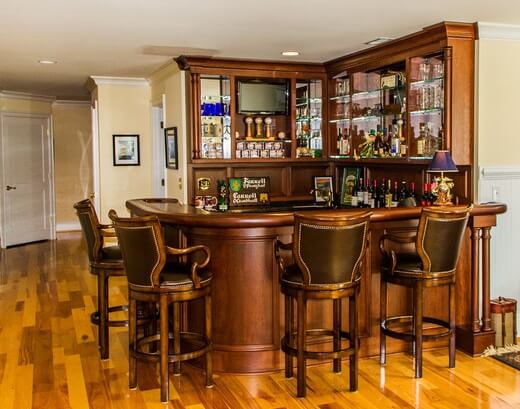 Ideas on a Budget
A home bar doesn't have to be an expensive undertaking. Perhaps you don't have the money or space for a large bar – that's OK.
Here are some ideas for if you're strapped for cash or living in a small room. Hint: all you need is a cabinet!
Do you own any old items that could receive a new life?
Repurpose an old piece of furniture - a cabinet, bookcase, or chest of drawers are great options. Ask people you know for any unwanted items, and customize it to fit your home.
If you're handy, you could make your shelving and bar from an old palette for a rustic feel.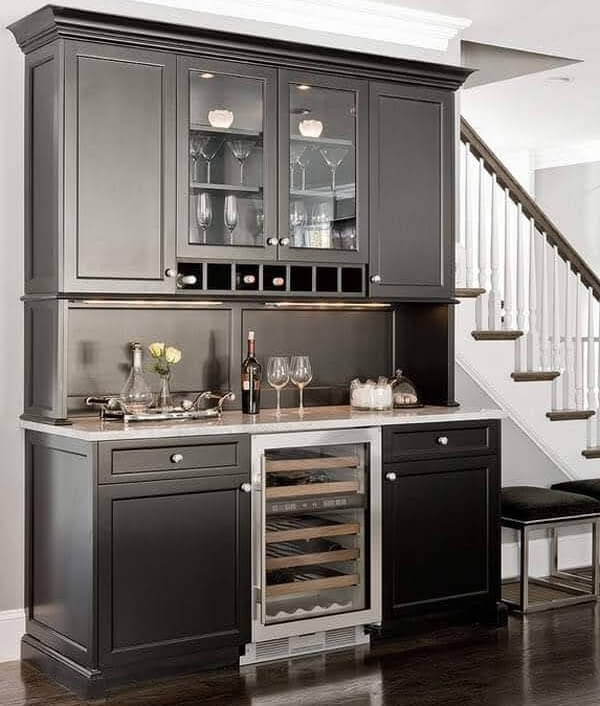 Whether your home bar takes up a whole room, is just a small cupboard or somewhere in between, there are plenty of ways to create the perfect place for your drinks collection and entertaining.
Have you ever built a home bar? Find and choose right interior designers in Bangalore or try to do this by own with Planner5D.