It's difficult to find a place where you can spend your quality time instead of having relaxation, entertainment and enjoyment. To tackle this, why not build a home bar full of your favorite spirits, wines, beers, and mixers.
Before you start thinking about it, it requires a huge amount of money or a big space. Well, that's not true. You can literally start your beer bar by refurbishing old furniture items.
Believe us, we are not kidding.
When building a build-up home bar, it's vital to ensure that the space not only provides comfort but is also completely free from any unwanted pests.
Additionally, wood that has been ravaged by termites leaves behind holes that are perfect for moisture to collect in, initiating the process of wood rot. This will eventually weaken the structure, potentially leading to costly repairs down the line.
Having cockroaches and critters in your home-built bar is far from appealing so perhaps researching or consulting a pest control expert to implement effective preventive measures is a wise move.
Right now, we are sharing with you some interesting home bar ideas that can easily step-up in your living space. Just go through these home bar designs and see which one is the most suitable within your budget and space.
Best Home Bar Designs to Setup in Home
Minibar Designs for Living Room
Setup and decorating the living room as a minibar is a fantastic choice, as it's somewhere comfortable and cozy. You just need a designated piece of furniture to serve as the bar.
One option is to invest in a cabinet that doubles up as a bar. Store all of your favorites inside and use the surface on top to mix your drinks. It also blends in with the surrounding room – great if you want to keep your liquor collection hidden apart from on special occasions!
If you want to make a feature of your minibar, consider a bar cart. It looks super classy and gives you space for bottles, glasses, ice, and any cocktail-making equipment you require.
Added advantage – it's moveable!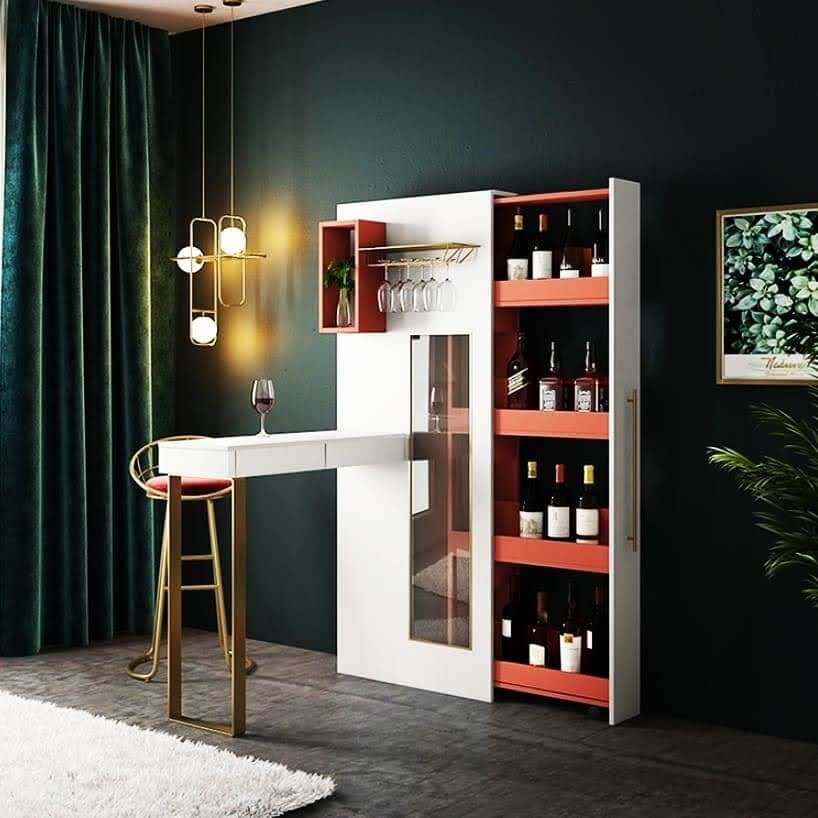 Luxury Home Bars
Planning to build a home bar that will make you never want to go out again?
Go with a luxury home beer bar that makes this dream into reality.
It has a built-in cabinet, use of high-quality marble or sleek woods on countertops and fancy crockeries for beverages at beer bars.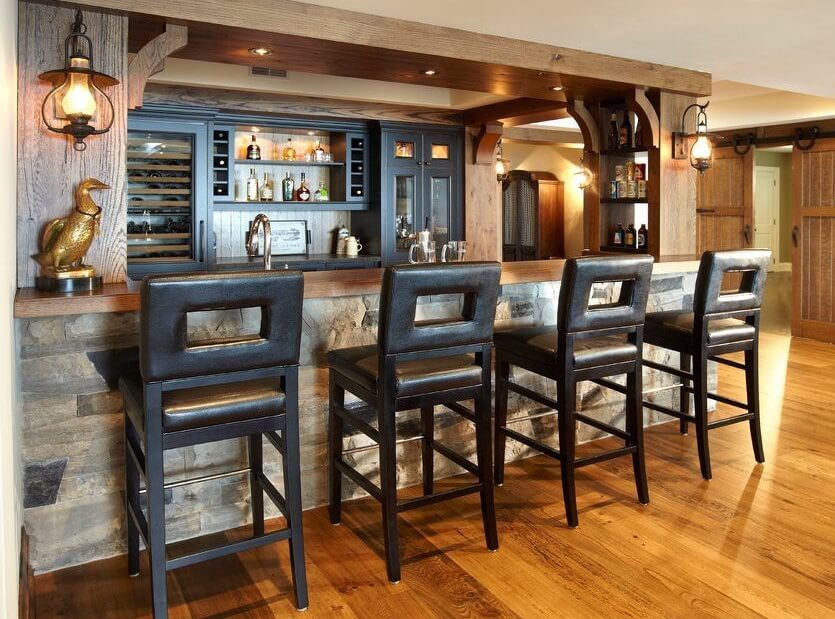 Corner Bar Ideas
If you want to feel like a bar inside your home, but have a space problem. We have a solution for you. If something can't fit horizontally in your space why not try to go vertically.
We just mean, get a tall bar cabinet and put it down in the corner of kitchen, living room or dining room.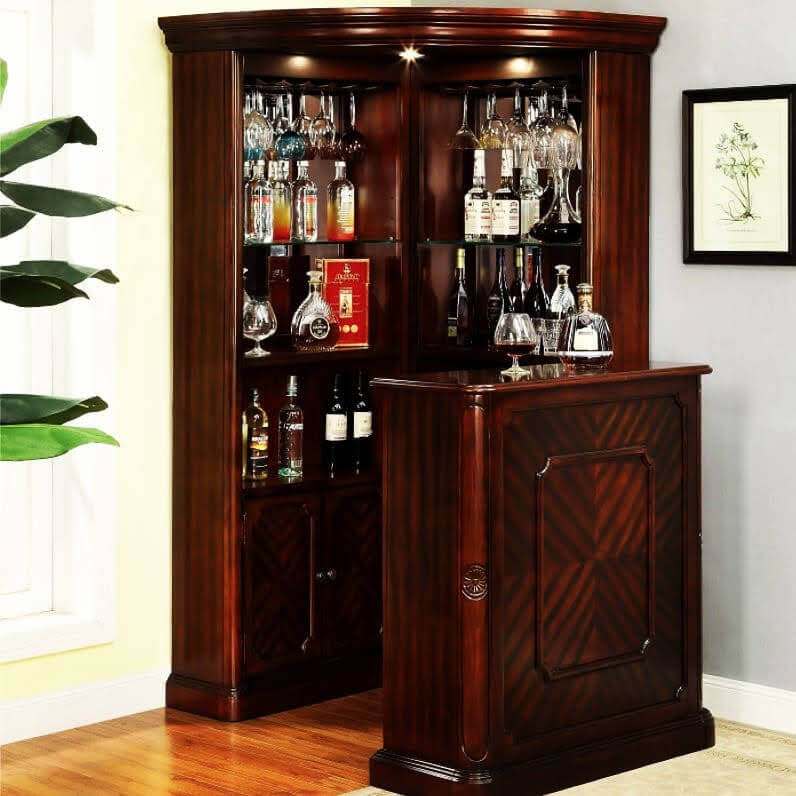 Back Bar Ideas
Generally, a bar behind the front bar is a back bar.
So, you can likely include a back bar against the wall. It should match your front bar, and it should be attractive, as it's one of the more visible parts of the bar.
It's an excellent place to show off what you have available.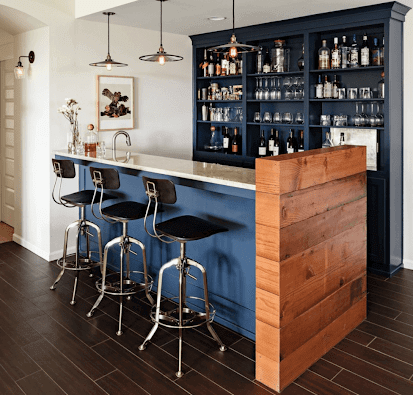 Wall Bar
If you are searching for a home beer bar in your budget, just buy a wine hanging rack from any online store and hang it anywhere on the living, or dining room wall.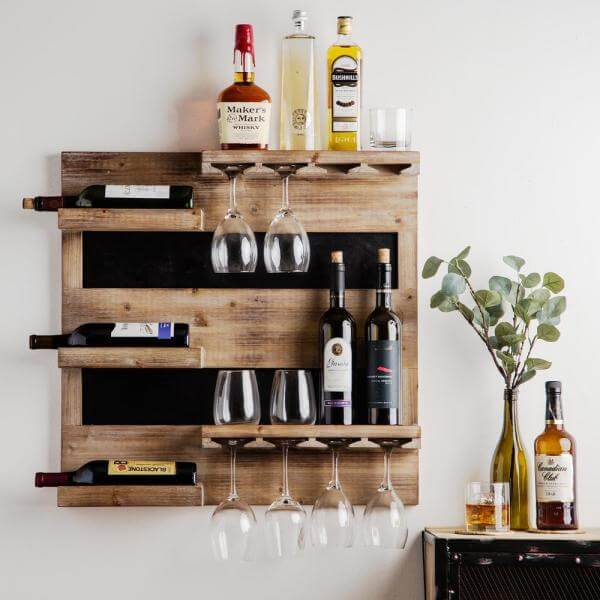 Rustic Home Bar
People who are after coziness, believe us, you will love this bar design, just mount rustic wooden cabinets on walls. You can also make a wood-slab counter and chair to make it perfect.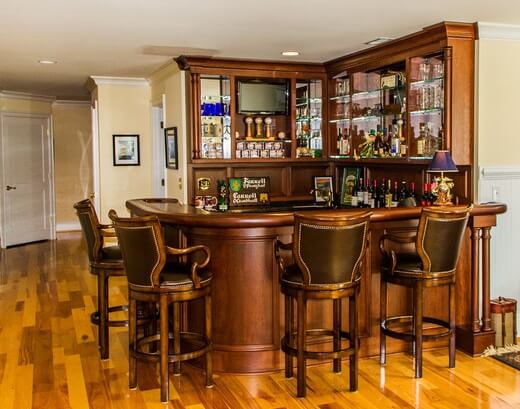 Ideas on a Budget
A home bar doesn't have to be an expensive undertaking. Perhaps you don't have the money or space for a large bar – that's OK.
Here are some ideas for if you're strapped for cash or living in a small room. Hint: all you need is a cabinet!
Do you own any old items that could receive a new life?
Repurpose an old piece of furniture - a cabinet, bookcase, or chest of drawers are great options. Ask people you know for any unwanted items, and customize it to fit your home.
If you're handy, you could make your shelving and bar from an old palette for a rustic feel.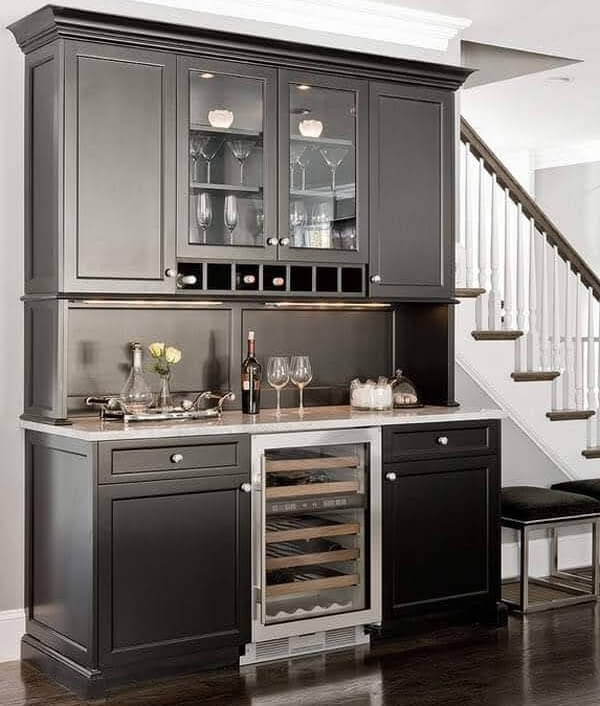 Whether your home bar takes up a whole room, is just a small cupboard or somewhere in between, there are plenty of ways to create the perfect place for your drinks collection and entertaining.
Wooden Barrel Bar
This is for the person who likes to do things differently. Let's try this coolest bar in the barrel by putting a music system inside it.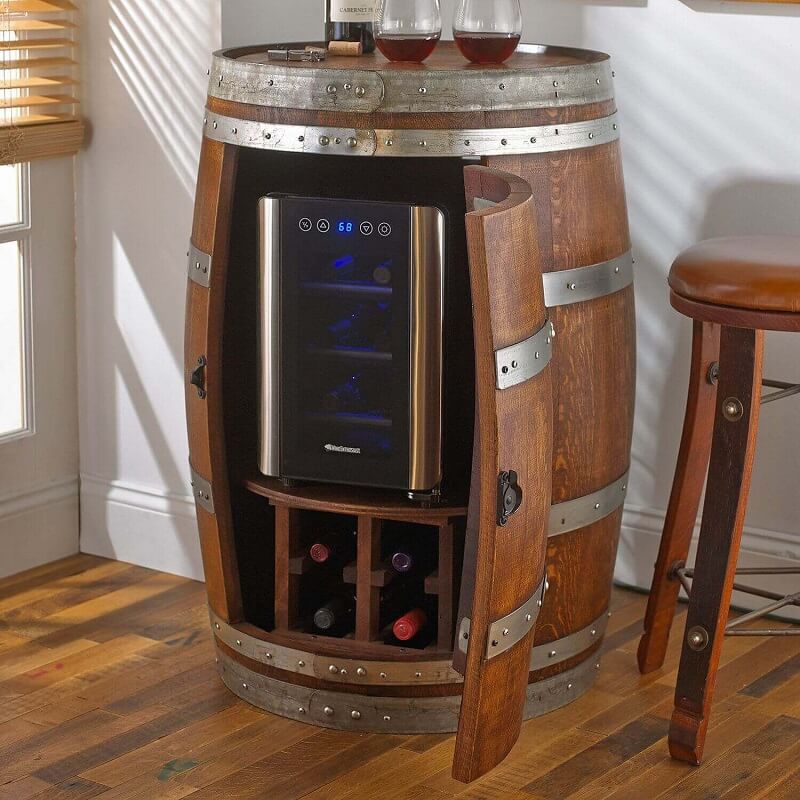 Have you ever built a home bar? Find and choose right interior designers in Bangalore or try to do this by own with Planner5D.