If you are planning a home renovation or just after buying a new home, consider installing engineered wood flooring in the rooms of your home. They add the same warmth and character as the traditional hardwood we are used to. It is extremely durable and is a fantastic way to use sustainable materials.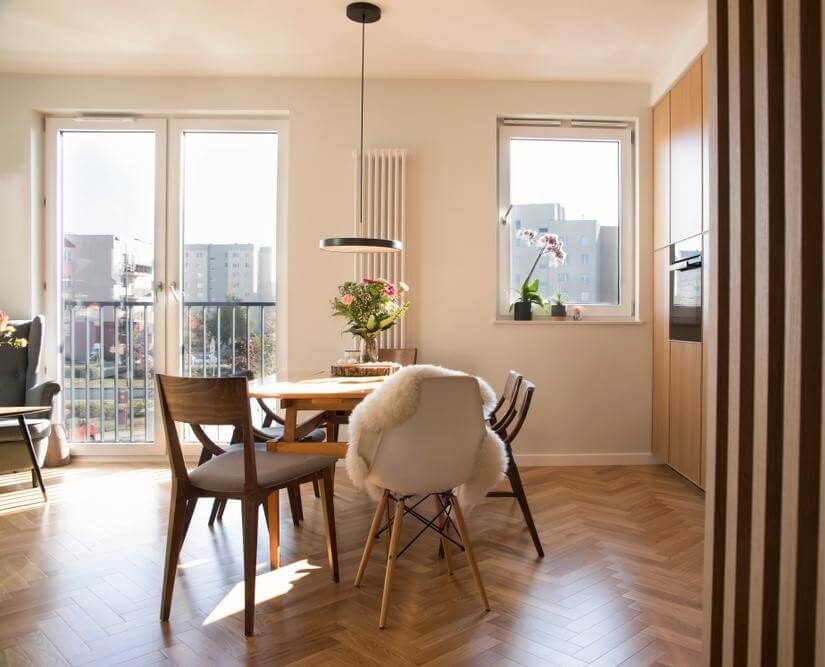 Before I mention the benefits of having engineered wood flooring in your home, let me explain what is it first.
What are Engineered Wood Floors?
Firstly, is an alternative to hardwood flooring that is very hard-wearing and much more eco-friendly. Unlike hardwood, it has many layers, with robust plywood used in the center. On the top, you will have new wood, still giving the plank an authentic look.
People can often confuse it with a veneer flooring, however, they are very different. The veneer layer of engineered flooring is thick, usually measuring more than 2mm. In addition to this, the installation of it is quite simple and can be laid on top of the underlay material.
It has become hugely popular in homes and commercial spaces over the past decade. The primary reason for this is because it lasts a long time. Its durability can last up to 30+ years. It can also withstand high temperatures, meaning underfloor heating systems can be used. Its resilient nature also makes it compatible with humid environments. What is not to love about engineered wood flooring.
The Key Benefits of Engineered Wooden Floors
Sustainability
When it comes to renovating their houses, many people are looking for environmentally friendly options. One of the best things about engineered flooring is that it is extremely eco-friendly. Its plywood cores can be created from recycled materials, and the veneer layer uses a fraction of the wood needed for typical hardwood flooring.
When it comes to choosing sustainable flooring, it's not just about the wood itself. Finishing oils and adhesives can include hazardous substances that harm indoor air quality. The majority of engineered flooring is made from ethically sourced wood, and its UV oils are free of hazardous formaldehyde and VOCs.
Easy Installation
Engineered wood flooring is a significantly more versatile option than hardwood flooring, which must be sawn down to size and fastened in place. Planks can be easily cut to fit unusual room layouts. It's also possible to execute a floating installation, which means you won't have to worry about damaging materials with carpenter nails or strong adhesives.
Works Well in Moist Environments
It performs well in humid settings. People frequently wish to include the charm of hardwood in places such as bathrooms, kitchens, and conservatories when upgrading.
These humid surroundings, on the other hand, can quickly distort the surface of hardwood, rendering it unfit for use. Engineered hardwood can withstand regular moisture exposure thanks to its plywood core, so you don't have to worry about it warping.
It can also withstand small flooding and leaks due to its high resiliency.
Extremely Durable
Although longevity is influenced by a few distinct elements, it is comparable to hardwood flooring in terms of total lifespan. The more basic products, flooring may only last 10 years or less, whereas premium engineered oak wood flooring can last 30 years or more.
Look for engineered wood flooring with a particularly thick top layer to ensure a robust long-term investment. A thicker veneer will not only be more resistant to scratches and scuffs but will also allow you to maintain and repair your flooring on a more regular basis. You should look for flooring with a veneer thickness of at least 2mm. If you plan on refinishing your flooring, keep in mind that sanding can remove up to 0.5mm of the surface material each time.
Three-ply engineered flooring is the most affordable option, while five-ply engineered flooring is the most expensive. Both are durable, having top layers that can withstand sanding and refinishing on occasion. If you want something that will last for decades, though, engineered flooring with a lot more layers are available.
A Variety of Choices
When buying engineered flooring you will have a variety of choices when it comes to designing. Most wood flooring suppliers and manufacturers will ensure they use the type of designs that homeowners want. Over the past decade, it has grown in popularity mostly due to its range. Today, you can order styles such as Chevron, Herringbone, Versailles Panels or if you are looking for a plainer design, long plank.
On top of this, you can choose different colours, varying in hundreds of choices. This is important for homeowners, interior designers and business owners, as they will want to match the ambience, décor and style of the room in question.
[id=13033,15697,14199,15696]
Traceability
Engineered flooring wouldn't exactly be sustainable if you couldn't trace where it comes from. If sustainability and being environmentally friendly are factors for your renovation, then ensure you pick a wood flooring company that has its green credentials. This should mean that you can trace the wood from the source.
For example, some companies in Ireland will harvest their wood in forests throughout Europe with a specific type of Oak. This traceability should be the whole through to the manufacturing stage. You will have bespoke wood flooring and know exactly where it came from.
Picking the Right Type of Flooring
With all of the information on engineered wood flooring, you shouldn't have too much difficulty choosing the right type of flooring for your home. But of course, this depends on many factors such as price, area size, durability, colour, style, sustainability and more. You might not be looking for bespoke premium flooring for a rental for example, but if you are just after buying a new home, it might be a better fit.