Having a clean house is very important, especially when you have little kids around. We don't know how many germs and microbes there are on any surface, and keeping your house clean is important to keep ourselves safe from sickness. Moreover, a clean house can be a reflection of one's character.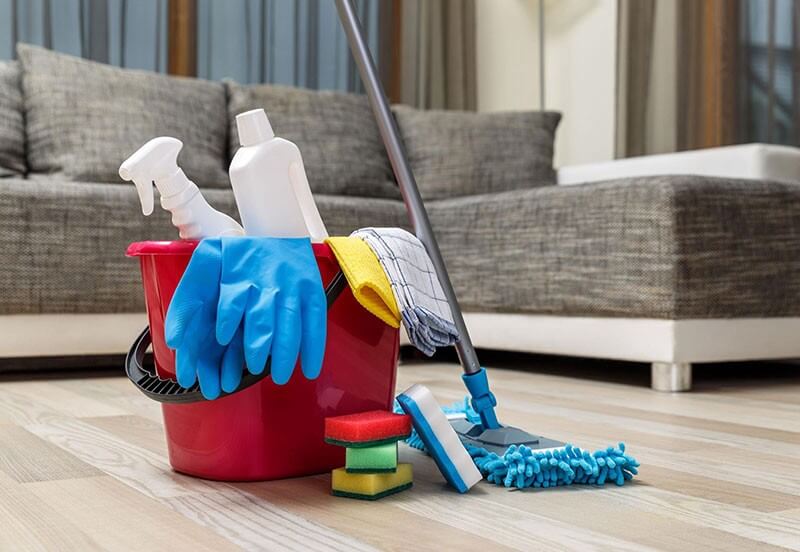 Thankfully, there are many ways to clean your house, which is perfect for days when we feel a little lazy and wish we don't have a lot of space to clean. If you're looking to renovate and want designs for an easy-to-clean house, you're in luck.
Your choices in your layout, furnishings, and finishes will impact how you clean your house and the amount of time you're going to dedicate to it. That said, here are many designs for an easy-to-clean house, saving you time and effort with house maintenance.
Designing Secrets to Reduce Time in House Cleaning
Consider More Concrete
The biggest surface you have to clean in your house is floor. And not to mention that it's also the largest area where germs can incubate. From people walking around house to spilt food, there's a lot of germs on your floor right now. The only problem is you can't see it.
However, it's even worse if you use a lot of carpet on your floor. It will be easier for germs to stick, and not to mention, various critters can also live there. This becomes a lot worse if the area where you have a carpet is constantly in contact with water, like kitchen or bathroom.
Of course, you can clean or change the carpet constantly, but nobody has time for that. That said, why not consider concrete. Stained concrete can be enhanced with a sealer, which is easier to clean. But if you still prefer having carpeted floors in your home, reserve them for specific spots only, away from water or constant exposure to moisture.
Select Quality Sofas
When you're selecting sofas, upholstery makes all the difference. For example, leather sofas are easy to clean. However, they tend to smell when you spill something on them, like sauces or condiments.
That said, make sure to sop up the spills immediately after. Also, you need to maintain sofa at least once a year. But if you prefer fabric, look for those stain-repellent ones or stain-resistant microfibers.
Or, to make things easier, you can pick slipcovered sofas so that whenever fabric is dirty, you can remove cover and throw it in the wash. Also, pick right color. Darker colors hide stains more efficiently but are a bad choice if you have a pet with white fur.
Backsplashes
There will always be spills and stains on walls when it comes to kitchen. They can be difficult to clean and sometimes even smell. That said, protecting your kitchen with backsplashes is the way to go if you don't want to spend too much time cleaning your kitchen.
If you want a material for your backsplash that's easy to clean, you should consider glass backsplashes. Glass ones are easy to maintain, have no seams, no cracks, are easy to install, and are very pretty to look at. Not only that, but there are various beautiful designs to go for a glass backsplash.
Rollout Storage
Dust is one of the most common causes of allergies that can be found in your home. That said, minimizing the areas where they accumulate is a good strategy if you don't want to spend time wiping away all that dust.
One way to do this is to switch to rollout storage. Rollout storage, which is storage mostly made up of removable sliding drawers and cabinets, keeps your items organized and clean.
The best thing about rollout storage is that you can make a lot of extra spaces in existing cabinets and drawers. You can adjust space freely because you can remove shelves. They make cleaning much faster as you only have to wipe drawers and cabinets in your kitchen.
Another good option to install in your home is casters. If you're always struggling with moving furniture to clean those hard-to-reach spaces, casters can make it much easier for you. They are convenient and give you a lot of space in your kitchen. Ensure that it has brakes so you wouldn't catch your furniture rolling around your house.
Moreover, they are useful for maintenance. For example, if your pipes need fixing, a professional from Mr Blue Plumbing can work around easily since furniture will be easier to move with the help of casters.
However, one thing about casters and rollout storage, when it comes to the kitchen, is that they depend on the layout of your kitchen. For example, installing casters for your appliances is useless if they have no space to place them in. Hence, consider the room's area before getting one.
Takeaway
Let's admit it: most of us don't like cleaning the house. It's tiresome and physically taxing. So of course, we would like it if we spent less time cleaning and more time doing the things we like. That said, having to clean an easy-to-maintain house is the way to go if you want to save time and energy when it comes to house maintenance.