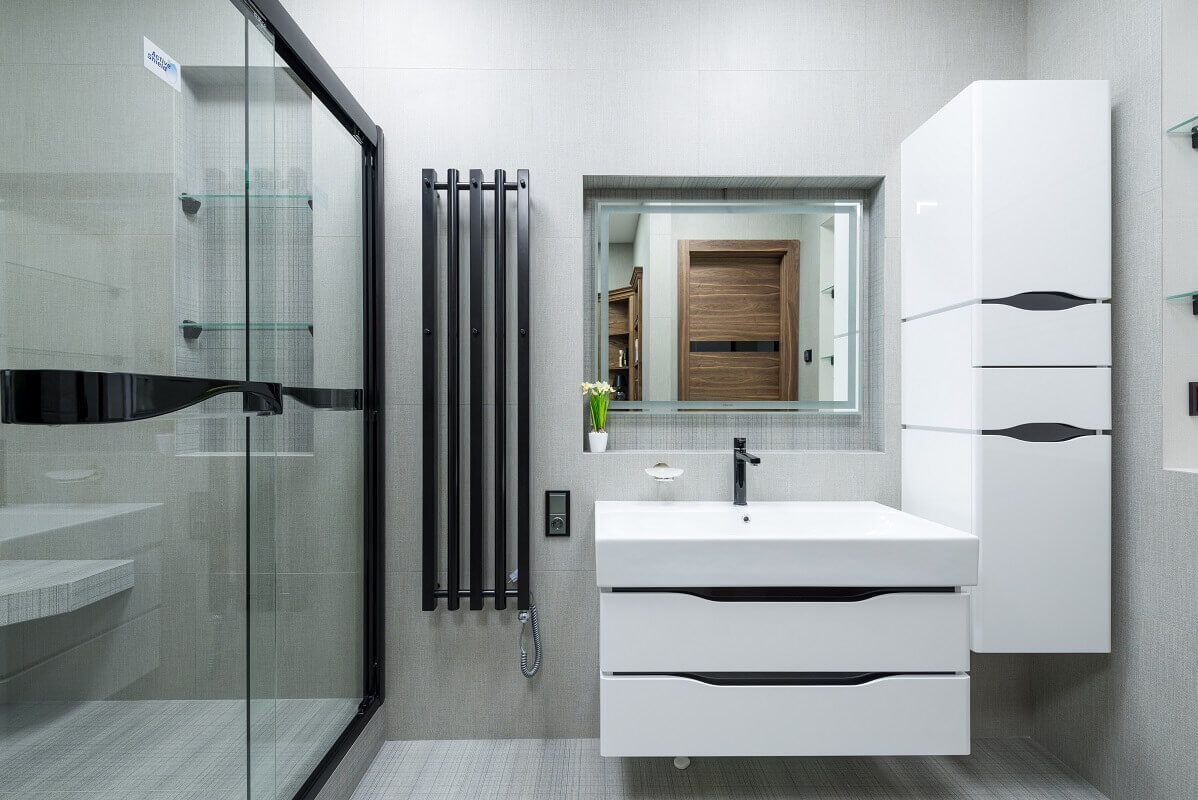 Chrome radiators are becoming a popular choice in modern homes. Their chic, shiny finish adds to any room – especially bathrooms and kitchens. With a variety of design and size options, these trendy radiators are both effective when it comes to heating, and drying your towels, whilst their stylish design can add to the aesthetic of your home. Below, we'll look at the best way to clean your chrome radiators, so you can maintain their polished finish.
Chrome radiators
These radiators are a stylish addition to any modern home. Their sparkling, shiny finish adds a chic feel to any room – most commonly bathrooms and kitchens. They're far from your average white, standard radiator, and can be used as a centrepiece or a finishing touch. You can choose from a polished finish, or a modern, matte look. They come in a variety of different sizes, widths, and lengths so there is something suitable for every home.
Chrome radiators come with a long list of benefits; not only are they a luxury product, but they are efficient when it comes to heating your home. If you're working with a smaller space, chrome radiators can be mounted to a wall, saving on valuable floor space. You can choose from designer models in various finishes, as well as rails that can keep your towels warm and fluffy, ready for when you need them.
These luxury additions do need some looking after throughout their lifetime, to keep them in working order, and looking as good as the day you bought them. Sometimes, rust can develop due to moisture and condensation and dirt can also settle after a long period of use. Below, we'll look at how to clean your chrome radiators.
Before you start
There are a few items you'll need before you get started, these include:
1) Dish soap or liquid
2) Microfibre cloths and/or soft-bristled brush
3) Vinegar (to remove rust)
4) Sponge
5) Towel
6) Bucket
How to clean
Once you've organised your cleaning items, you can begin to revive your chrome radiator by following these simple steps:
Step 1
To begin, take your bucket and fill it with warm water and dish soap. Use a few drops of liquid soap and warm water to make the cleaning solution – this is great for removing any excess dirt and can help to expose any rust the radiator may have.
Step 2
Use your micro-fibre cloth to clean your radiator's surface, making sure that you keep rinsing and dipping the cloth in warm water. You can use a soft brush to get into the hard-to-reach areas if you have one – but make sure it is soft, as a hard brush may scratch the surface.
Step 3
Once your radiator has been cleaned with the solution, you'll need to rinse it. Empty your bucket and refill it with clean water. Take a new cloth and rinse the whole surface, making sure that you're removing the cleaning solution.
Step 4
If your cleaning has exposed some rust, you'll need to tackle this next. Take your vinegar and mix equal parts of it with water in your bucket. Dip your cloth in, wring it out and use it to clean tough stains, marks, and rust. When you've done this, empty your bucket again to refresh the water, and rinse.
Step 5
Now you've got rid of the stubborn dirt, stains, and rust – it's time to rinse and dry. If you leave it to air dry, the radiator will develop spots. Use a towel to dry the surface, making sure you've removed all the rust and dirt. A clean and dry will do your chrome radiator wonders!
Getting rid of rust
If you find that your vinegar solution has not quite done the trick for removing any of the more stubborn areas of rust on your radiator, you can use another technique to get rid of it.
All you need to cut is cut a few strips of tin foil, and dip them in water. You can rub this on the rusted areas and the reaction between the foil and the rust will remove it. You don't need to work hard to do this, just a gentle rub and you should notice the rust starting to come off. Rinse your radiator with clean water and use your microfibre cloth or towel to dry.
At the end you will find that your chrome radiator should look as good as new!