Imagine a room that has brightly-colored walls, immaculate light fixtures, and is filled with comfortable furniture, but doesn't have any artwork. A room can look aesthetically pleasing, but feel like it's missing something.
From a large, elaborate painting with a handcrafted wood frame to a small, metal sculpture of a person dancing, one piece of art can drastically change the ambience of a room.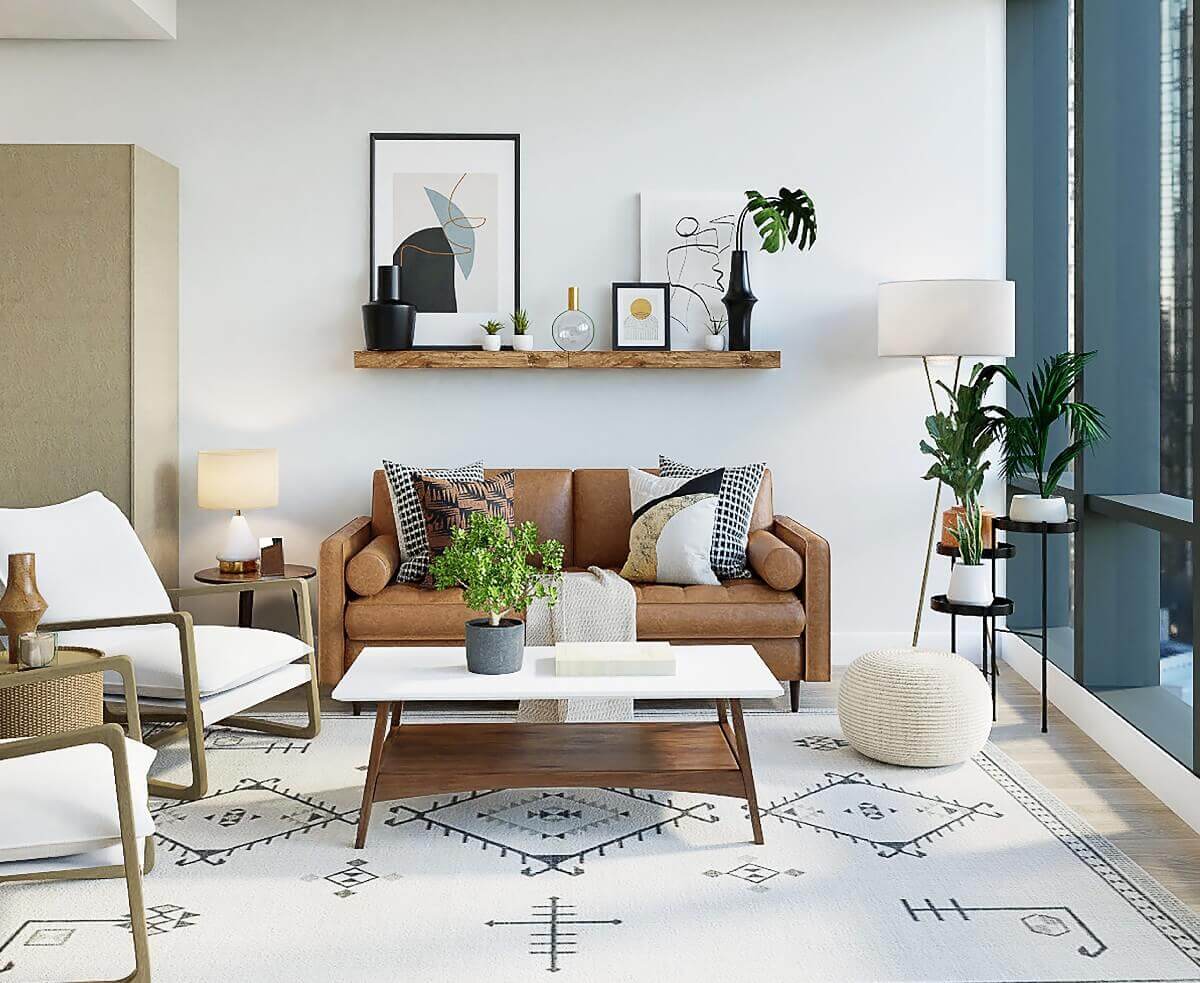 Art has the power to turn a house into a home or a workspace into a professional office of productivity.
Different Types of Art
The power of art in interior design not only enhances the appearance of a room, but also brings a certain feel, joy, and calmness to a room.
You can transform a room with just one piece of art. From paintings to sculptures, there are infinite possibilities for décor.
Different types of decorative art you can use to decorate are:
Sculptures
Sculptures come in a variety of shapes, styles, and sizes. Depending on your taste or how you want to decorate your room, you can place different sculptures made of ceramic, stone, marble, bronze, acrylic, alabaster, and more.
Vases
Vases, with or without flowers, are a great decorative accessory for any room. Most vases are made of glass or ceramic, but any material can look great in a room as long as the colors of the vase are complementary to a room's paint color palette.
Photography
Photography was first introduced by Joseph Nicéphore Niépce around the late 1830's in France. The term "photography" was coined by Sir John Herschel and literally means "drawing with light".
Charlotte Perriand was one of the first interior designers to photograph as a fundamental part of her interior design projects.
Whether you order photos online from an artist or take them yourself and print them, using photos as a décor can make any room feel like home. Fill your living room with your favorite memories or of family and friends.
Wall Art
The possibilities are endless with wall art. You can choose from various paintings, photography, images of inspirational words and much more.
Wall art can provide a room with a certain variable it may be missing without it. It can fill a room with different colors, textures, and patterns. Also, if you need quick, cosmetic repair, wall art is perfect for that too.
Some unique wall art ideas are:
[id=6642,6496,6497,2072]
Inspirational quotes: Have you ever read a quote that really resonated with you? Hang it on your wall as art and be inspired everyday.
Puzzles: If you pick up a puzzle and really enjoy the picture, use it as wall art! As you complete it, glue the pieces together. Once you've completed the puzzle, pick a colorful frame that will make the puzzle pop, and hang it on your wall.
Decorative mirrors: Decorative mirrors are a unique idea for wall art that serves multiple purposes. If you're going for a naturalistic look, try a mirror with vines and leaves. If you're going for a more elegant look, try a gold Baroque mirror.
Different Art Styles
The power of art comes in many forms. Different art styles can strike inspiration and many different ideas for designs. The different styles of art you can use to inspire interior design ideas are:
Abstract Expressionism
Abstract expressionism is aimed at subjective emotional expression with a particular emphasis on a creative spontaneous act, such as tossing paint at an empty canvas.
Examples of abstract expressionism are:
a) Mark Rothko's Color Field paintings
b) "Number 28" by Jackson Pollock, 1950
c) "Symphony No. 1, The Transcendental* by Richard Pousette-Dart, 1941-1942
Cubism
Invented around the early 1900's by artists Pablo Picasso and Georges Braque, cubism was a form of art that expressed reality in a distorted perception through a fragmented or abstracted view.
Examples of famous art in the style of cubism are:
a) "Ma Jolie" by Pablo Picasso, 1912
b) "Portrait of Pablo Picasso" by Juan Gris, 1912
c) "Houses at Estaque" by Georges Braque, 1908
Expressionism
Like abstract expressionism, expressionism focuses on subjective emotional expression rather than expressing impressions of the external world through art.
Some examples of expressionism art are:
a) "The Scream" by Edvard Munch
b) "Blue Horses" by Franz Marc
c) "The Blue Rider" by Wassily Kandinsky
Fauvism
This style of art flourished during the early 20the century in France. Fauvism is best represented with bold, bright colors and thick paint applications. Henri Matisse is known as the "Father of Fauvism".
Some examples of fauvism are:
a) "Woman with a Hat" by Henri Matisse, 1905
b) "Charing Cross Bridge, London" by Andre Derain, 1905
c) "Jeu de Massacre" by Georges Rouault, 1905
Neoclassicism
Neoclassicism started in the late 18th and early 19th centuries and literally means "new classicism" or in other definition, a revival of classical values.
This form of art expresses the era's ideals and portrays each artist's message of morals.
Famous examples of neoclassicism art are:
a) "Telemachus and the Nymphs of Calypso" by Angelica Kauffmann, 1782
b) "Death of General Wolfe" by Benjamin West, 1770
c) "Psyche Revived by Cupid's Kiss" by Antonio Canova, 1777
Pointillism
Developed by Georges Seurat and Paul Signac in 1886, pointillism is art composed of tiny dots, forming a larger picture.
Some examples of pointillism are:
a) "A Sunday Afternoon on the Island of La Grande Jatte" by Georges Seurat, 1884-1886
b) "Beach at Heist" by Georges Lemmen
c) "The Beach at Ambleteuse at Low Tide" by Théo van Rysselberghe, 1900
Pop Art
Emerging from the United Kingdom and the United States, pop art was an art movement that began in the mid- to late- 1950's and is still popular today.
Some examples of pop art paintings are:
a) Campbell's Soup Cans by Andy Warhol
b) Marilyn Monroe by Andy Warhol
c) "Whaam!" by Roy Lichtenstein
Post-Impressionism
Post-impressionism is a rebellion against the naturalism of impressionism and began in the late 19th century and early 20th century. Some famous artists that embarked on this style of art are Van Gogh, Paul Gauguin, and Paul Cézanne.
Examples of post-impressionism art are:
a) "Starry Night" by Vincent Van Gogh, 1889
b) "El Sueño" by Henri Rousseau, 1910
c) "At the Moulin Rouge" by Henri de Toulouse-Lautrec, 1895
Realism
Using different mediums to portray reality, realism was an art movement that started in the mid 19th century and represented art created in a realistic, photographic way.
Some examples of realism art are:
a) "The Gleaners" by Jean-François Millet
b) "The Stone Breakers" by Gustave Courbet
c) "Nighthawks" by Edward Hopper