Bathroom is where we feel fresh and relaxed after the tiring day. Today, there are numerous ideas for bathroom lighting. You can decorate the bathroom in multiple ways, particularly the lighting area.
While choosing the lights, you should keep in mind the amount of brightness they give during the day as well as night.
[id=16515,6213,6621]
Some Latest Bathroom Lighting Ideas
Vintage Lights
Vintage architecture is picking a great speed these days in modern homes. You can also put a vintage light in your bathroom. It may include a simple ancient designed lamp or a crystal chandelier. Believe it!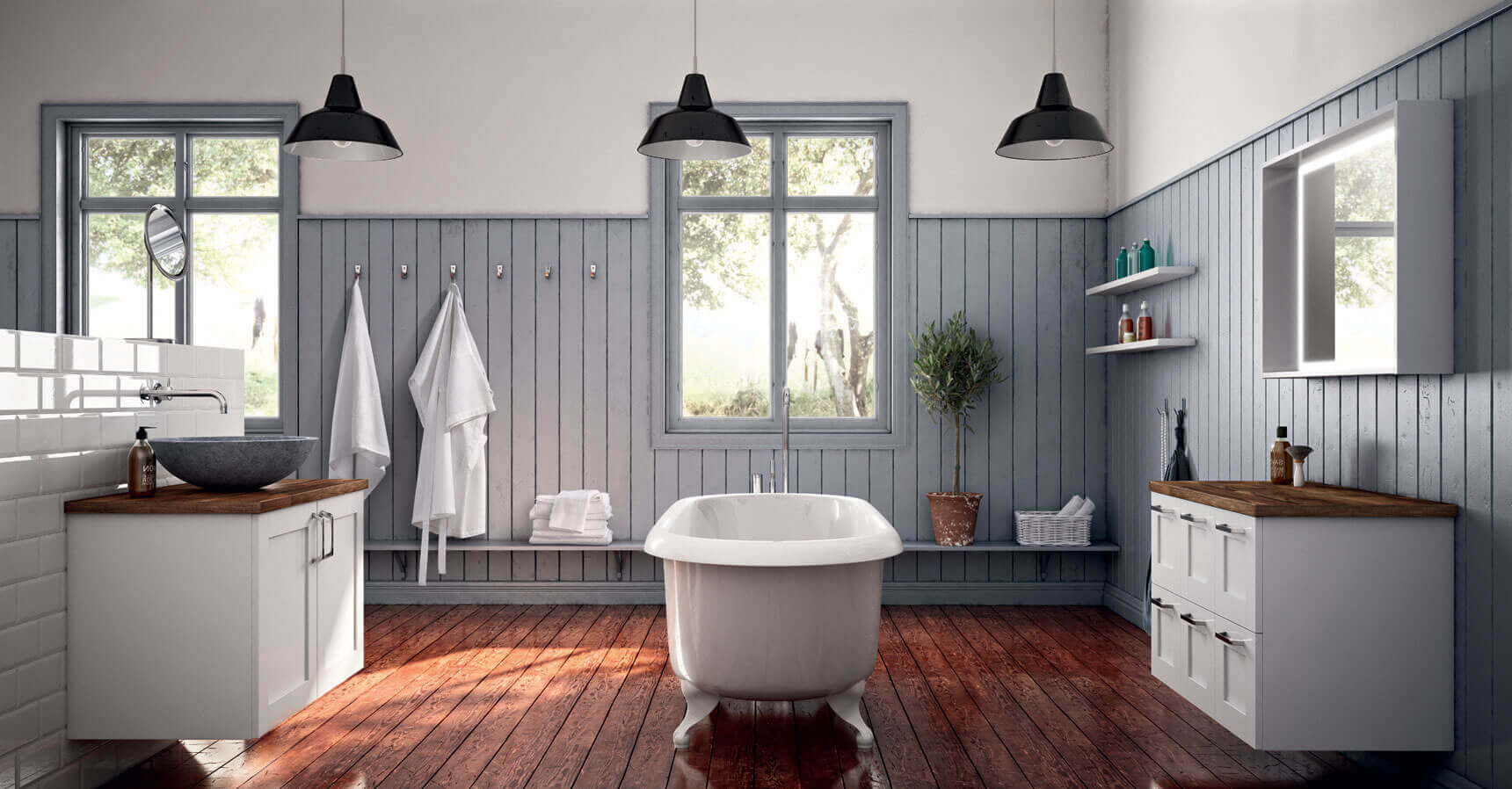 Image Courtesy: "certified-lighting"
LED Bulbs
If you want a simple yet beautiful bathroom lighting concept, you can fit LED bulbs. They consume less energy and give bright light. Whether it is day or night, these LED bulbs will serve the purpose well.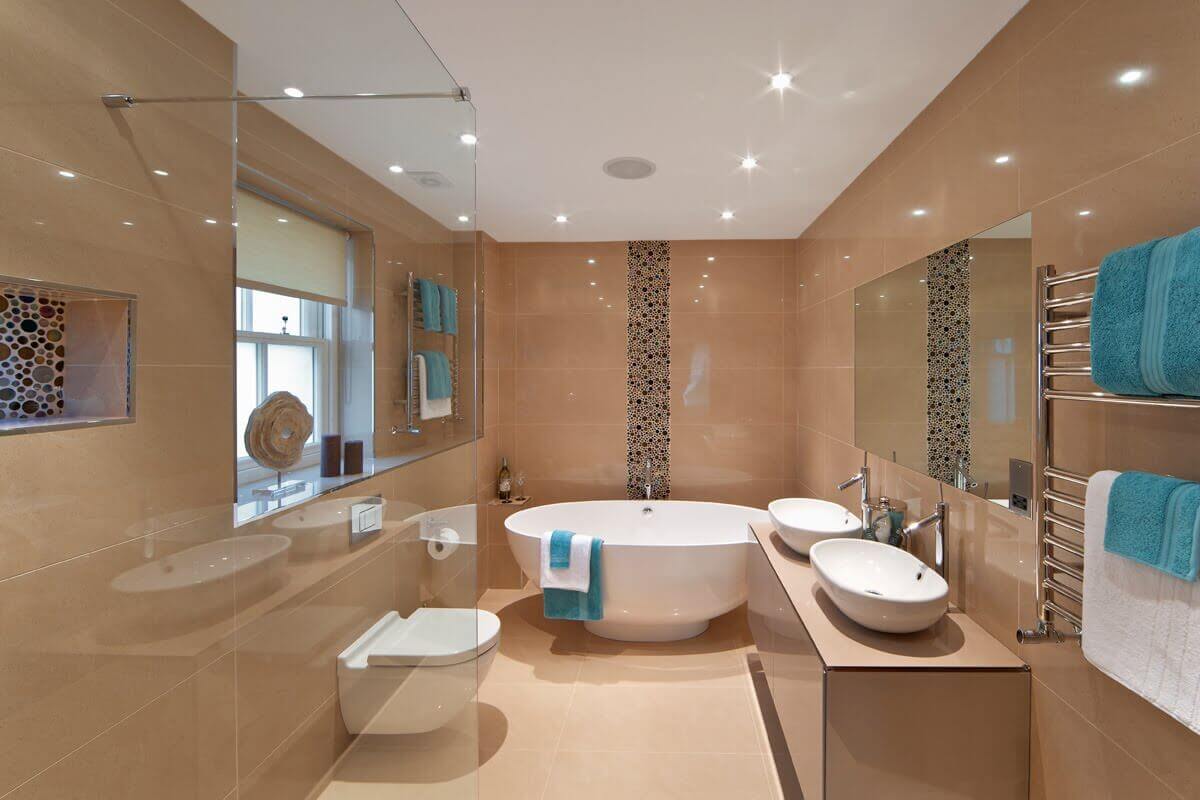 Image Courtesy: "adaptive.marketing"
Geometric Lamps
Geometric lamps are modern ideas for bathroom light. You can get a spherical or square lamp with unique designs for enhancing the look of your bathroom. Go for a different style tub for a more pleasing look.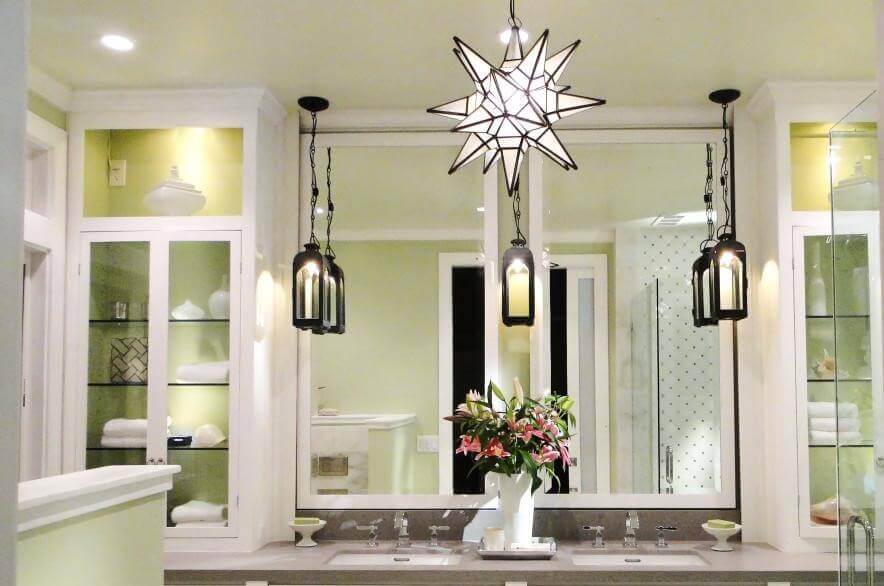 Image Courtesy: "diynetwork"
Layers
Decorative ceiling lights look classy in the bathroom. You can place spotlights in the ceiling which spreads a magical touch in the bathroom. One of the best bathroom lighting fixtures is to place a crystal lamp in the middle area with spotlights on the sides.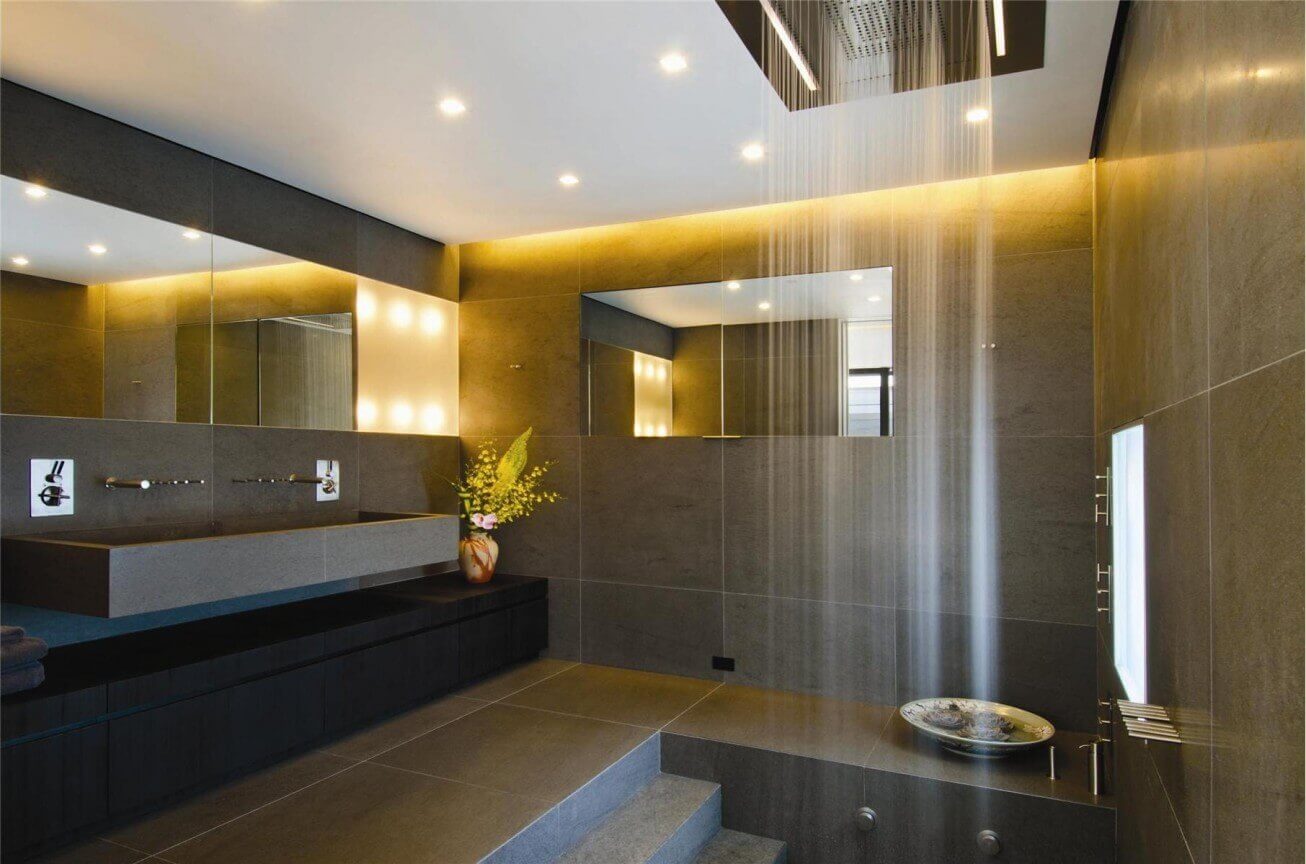 Image Courtesy: "pmcshop"
Candlestick Chandelier
You can enjoy bathing in the candlelight as much as you can. Simple candles, put above the bathtub really give a soothing feel.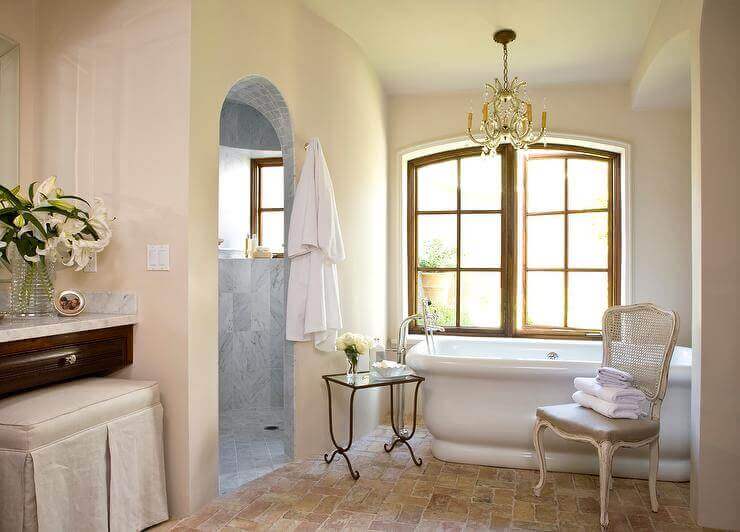 Image Courtesy: "decorpad"
Glittering Lights
Nowadays, you can find many lamps with gold and silver designs for giving the bathroom a rich look. A golden or silver beaded pendant will throw a good amount of light while bathing in the morning or at night.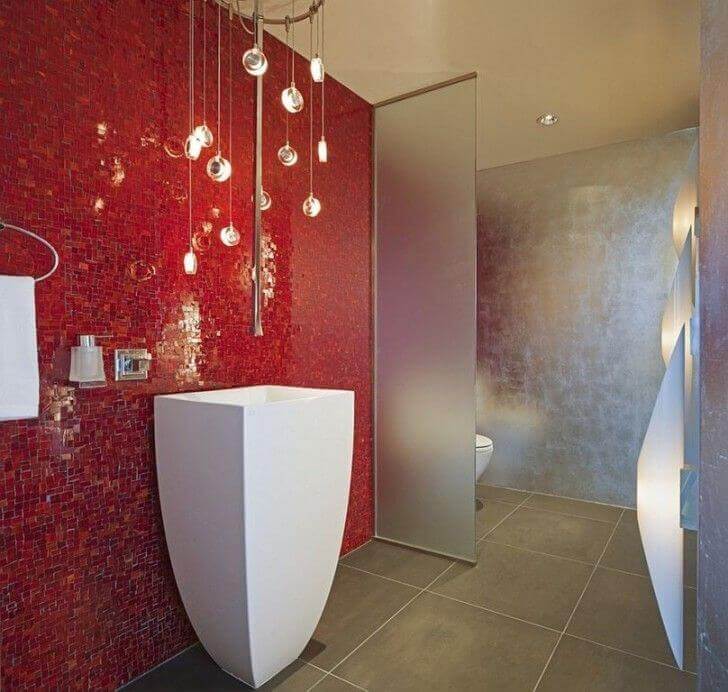 Image Courtesy: "pinterest"
Multicolored Lamps
You can pick a multicolored lamp for placing in the bathroom. There are many beautiful colors available in these lamps, which you can choose such as cherry red, green or blue. The bathroom will look more awesome in a layer of colors and you will simply get the heavenly feel.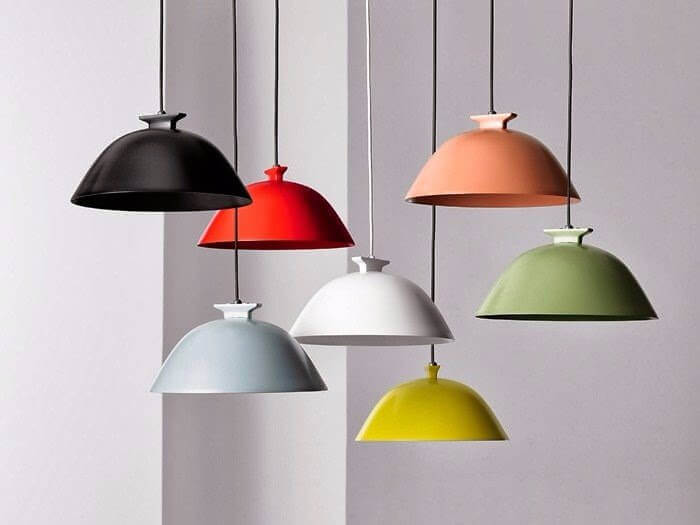 Image Courtesy: "yasemin"
Sconces
Scones are one of the most popular bathroom lighting interiors which you will find in modern homes today.Stunning scones hung above the mirror look so decent and it will throw the light in the entire bathroom area. You can then place a cabinet under these lamps for the elegant appearance of your bathroom.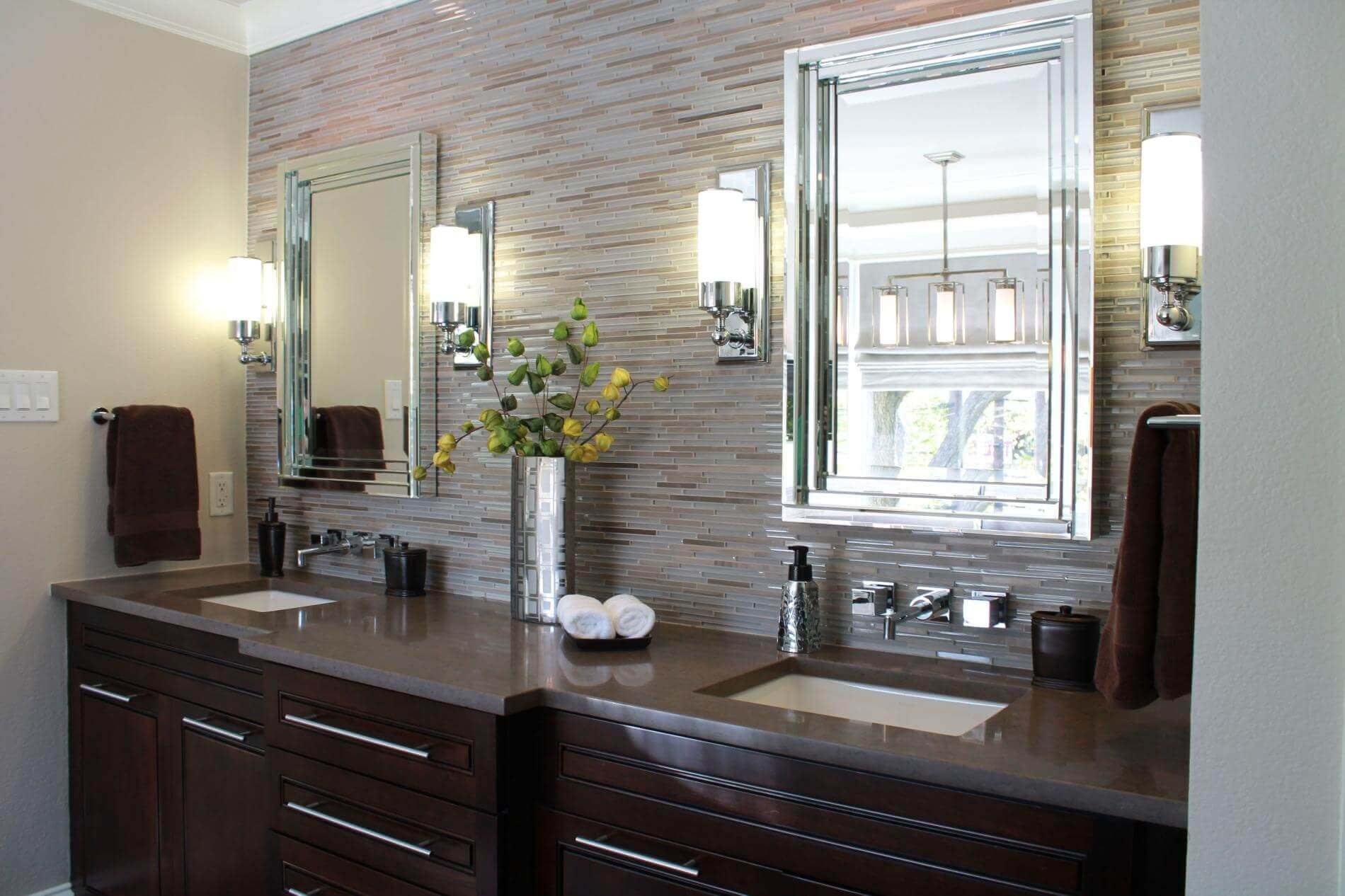 Image Courtesy: "interiordecoratingcolors"
Sparkling Lights
If you want a magical spark in your bathroom, you can choose a crystal pendant with intricate designs. To beautify the look of the bathroom, you can then place an artistic mirror which will reflect the light in the whole bathroom.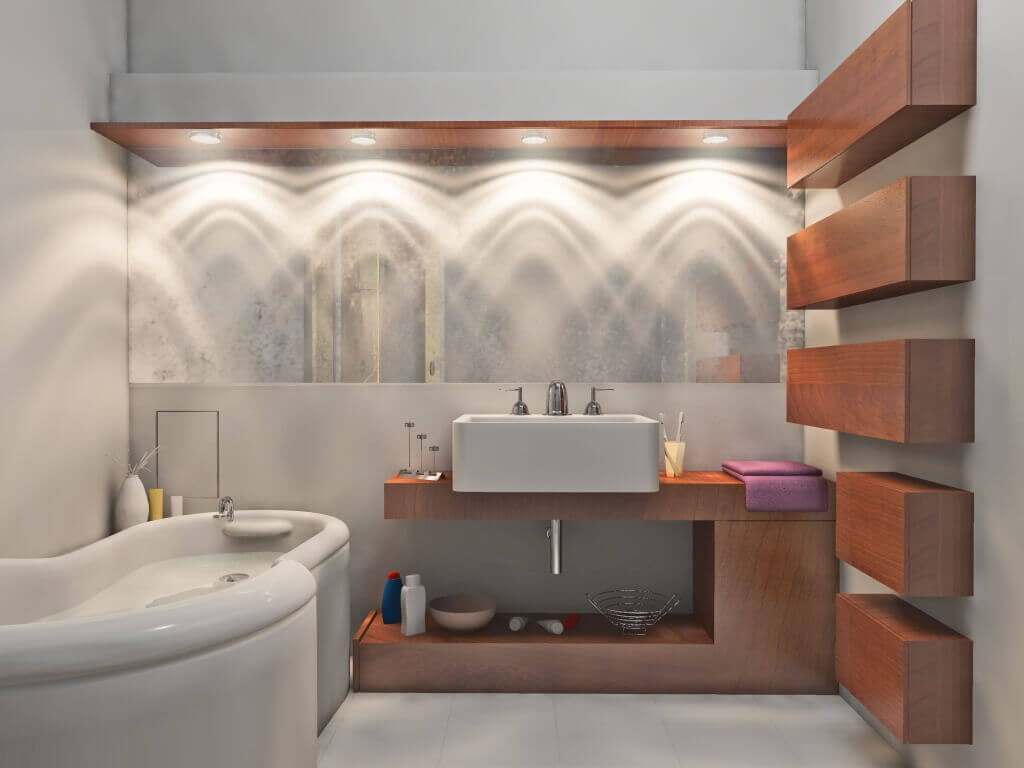 Image Courtesy: "simpleandsweets"
LED Lights on Both Sides
An LED light on one side is a great idea, but if you place them both on top and bottom of the mirror, they will give a more royal look. They are power savers and at the same time very glowing ones.
In most of the hotel and restaurant bathrooms today, you will find automatic LED lights on both the sides of the mirror that light-up only when someone enters.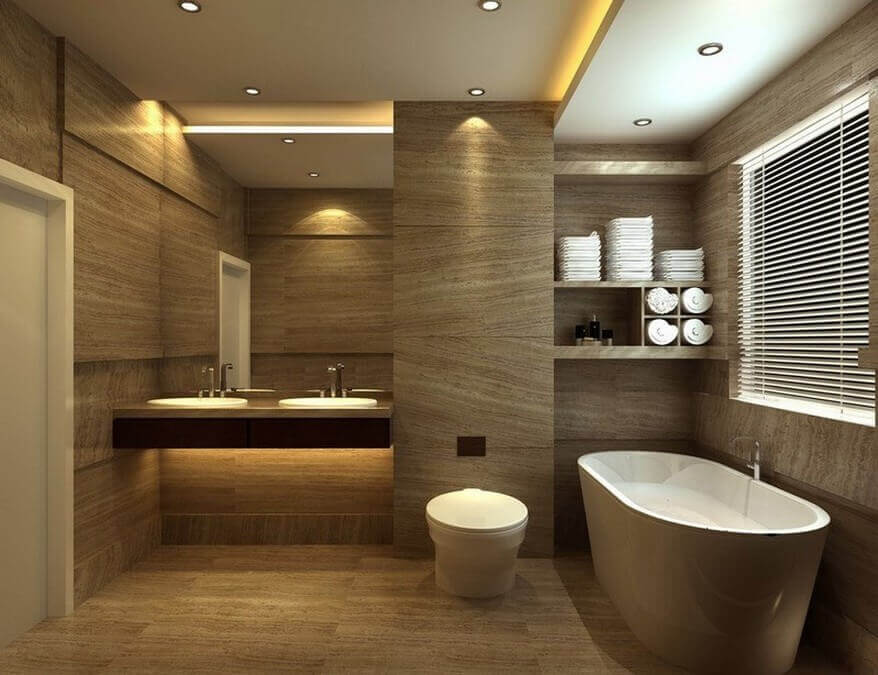 Image Courtesy: "inwebexperts"
Vanity Lights
Vanity lights will give your whole bathroom a good look. You can place them on both the sides of the bathroom. Additionally, you should choose elegant ceiling lights for more brightness. Vanity lights come in various sizes. You have to choose one according to your need.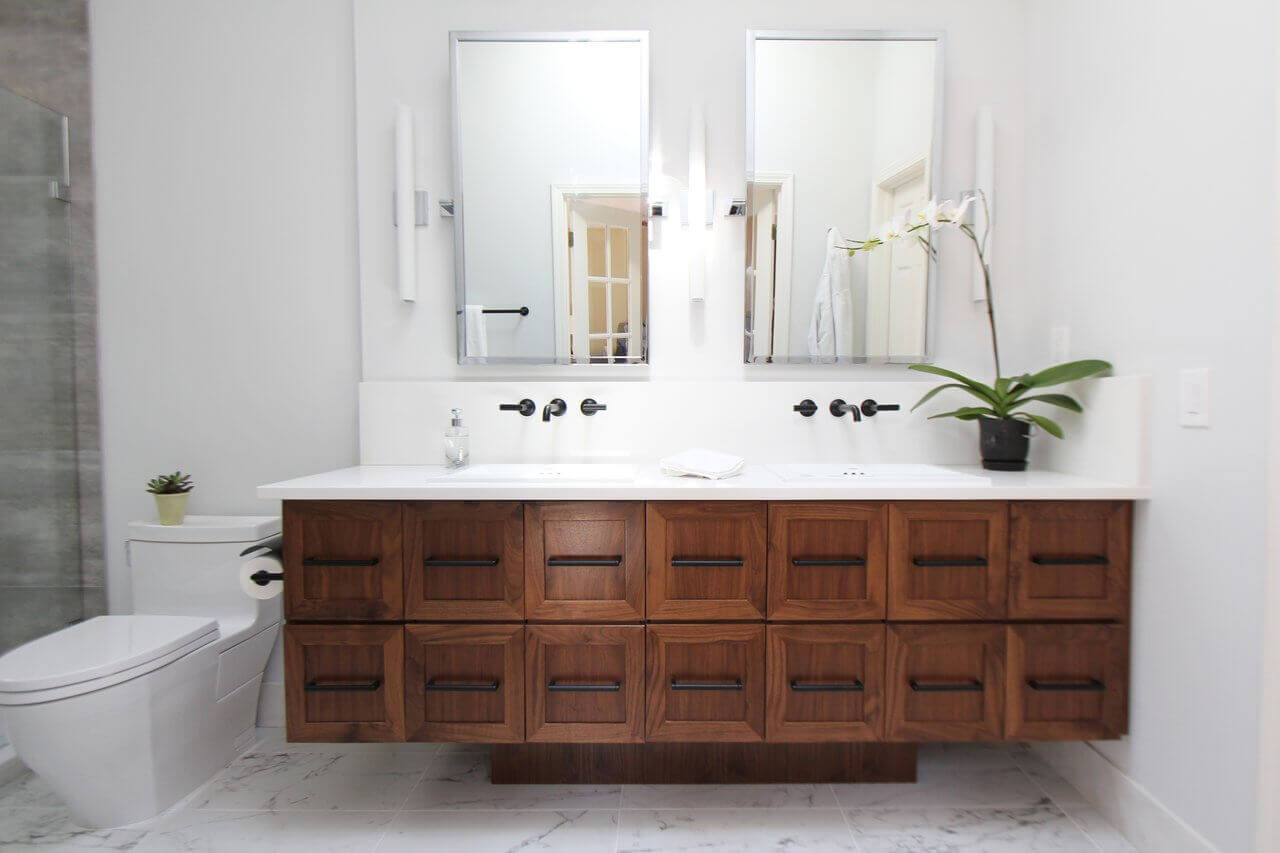 Image Courtesy: "ronbow"
Glass Light Fixtures
The bulbs in the glass shaped fixtures are one of the latest bathroom lighting tips. You can then place a flower pot alongside the wash basin. For a more vibrant look, you can also choose a unique towel hook.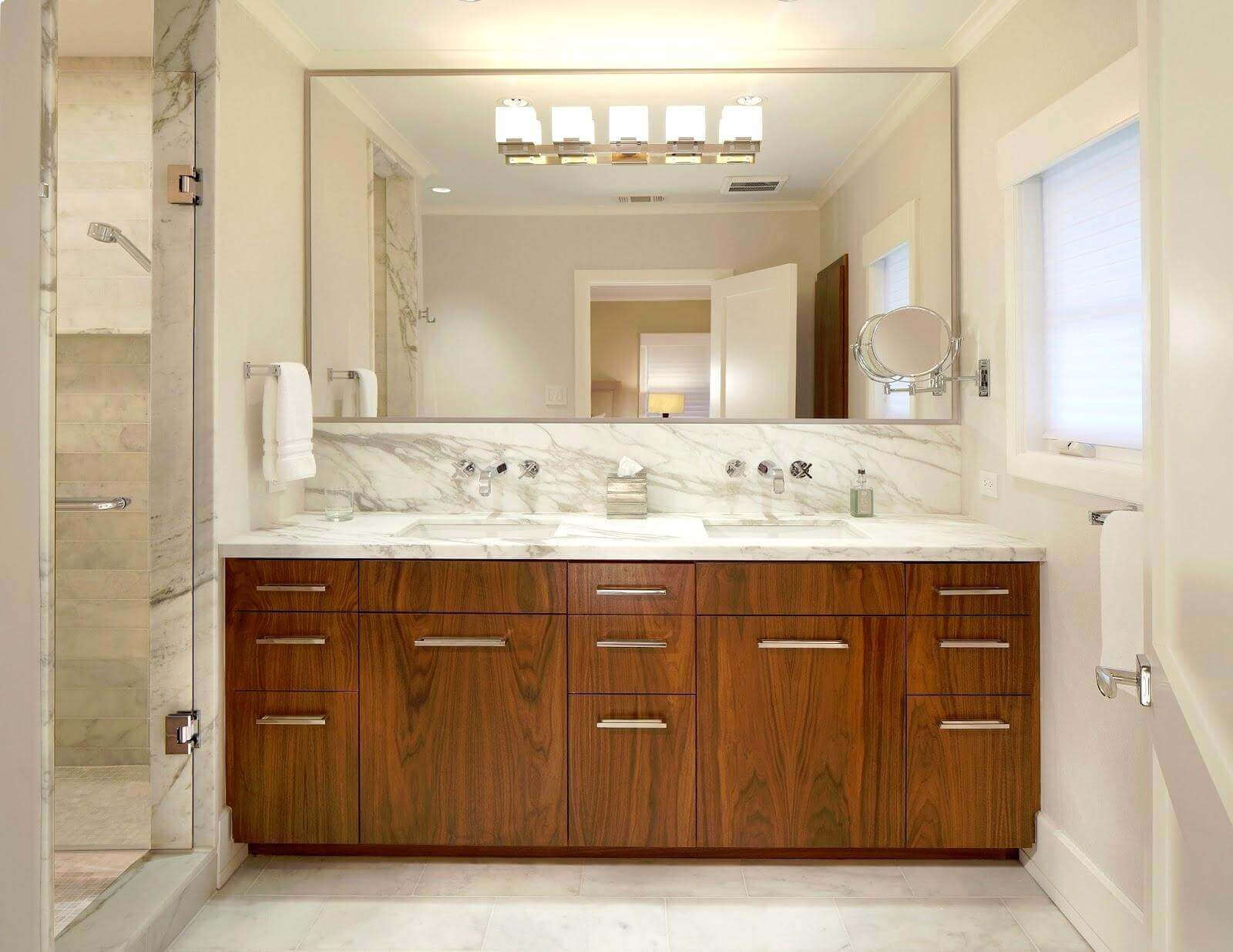 Image Courtesy: "dreamascream"
Light Tubes
If you are the person who loves soft glow while having a bath, you can try light tubes. They can be fitted adjacent to the windows and the shade is just appropriate without much brightness. Light tubes will look great both in the day and at night.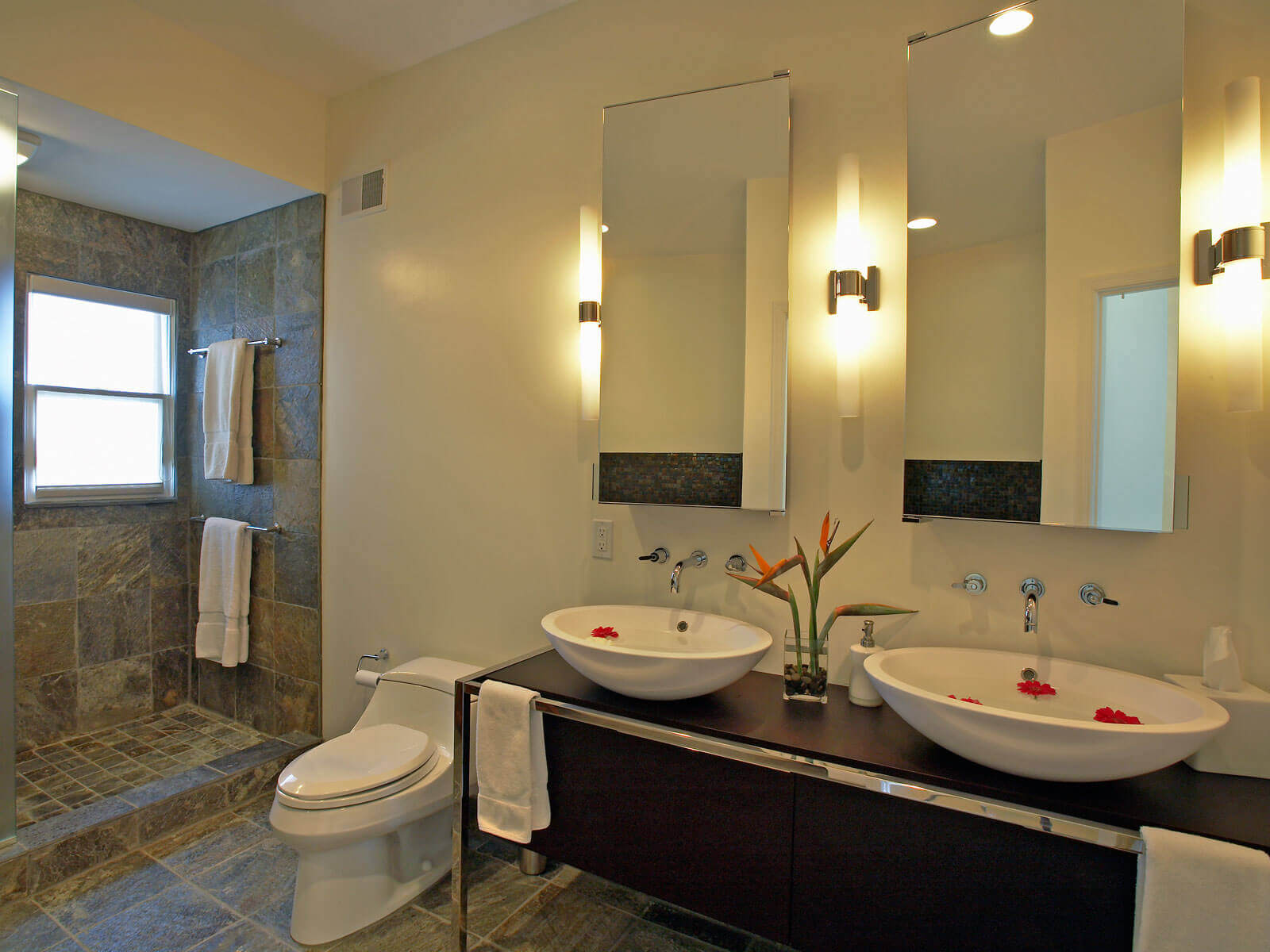 Image Courtesy: "679artists"
Backlit Lighting
Lights placed behind the mirror will spread the positive atmosphere in the bathroom. You will cooler and more relaxing with backlit lighting in your bathroom.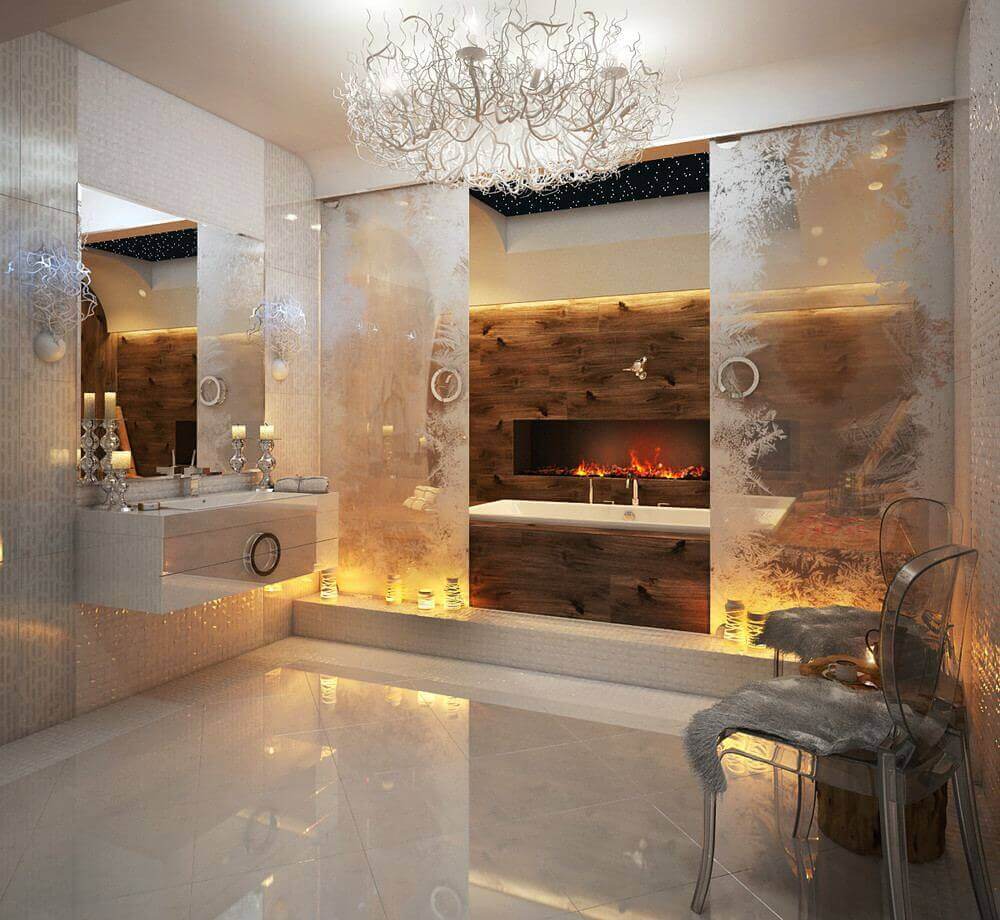 Image Courtesy: "chuckragantix"
Indoor-Outdoor Lighting Fixtures
This is also an amazing way to light your contemporary bathrooms.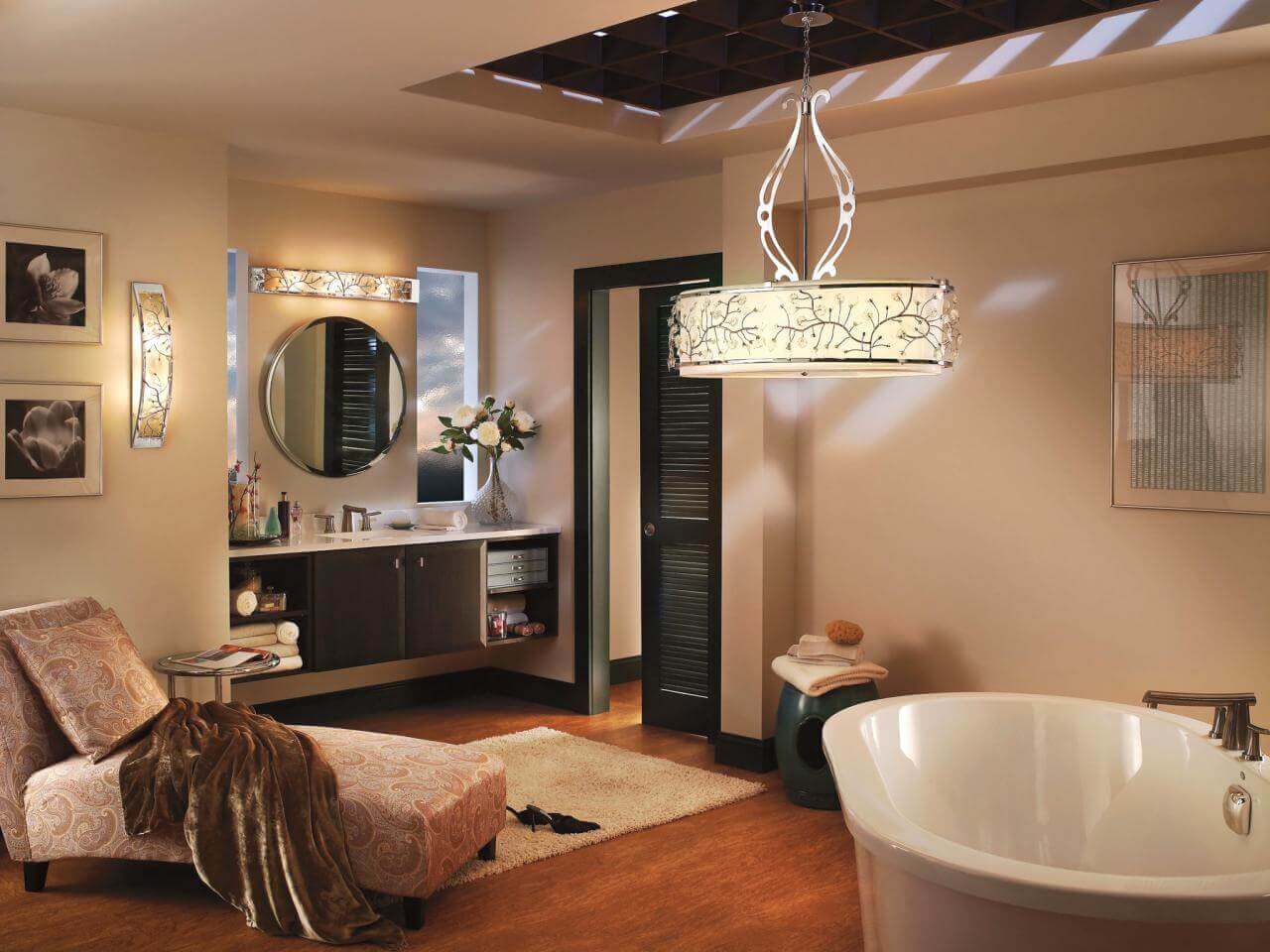 Image Courtesy: "theydesign"
Final Words
There are lamps available in the market, which keeps the atmosphere of the bathroom cool and calm. While choosing lights for your bathroom, you should pick the ones which are attractive and provide proper brightness in the bathroom.
You can now plan to change the bathroom lighting, as per your wish. You can add colors, designs, shapes and lots more in your bathroom or simply ask our experts help.