Most people know that one of the most beneficial home improvement projects to take on is a bathroom remodel. In fact, according to this 2022 study done by HouseMethod of American homeowners, the bathroom is the "most popular room in the house to update."
There are several reasons why homeowners favor the bathroom as a remodel site in their homes. Most of the time, they renovate the bathroom for the simple reason of wanting to improve their personal experience with their home.
But it is also very common for people to remodel bathrooms so that they can increase the equity in their home, or to be able to list a rental property at a higher monthly rate.
According to Utopia Management, rental property managers on the West Coast, bathroom remodels are their second recommendation on an investment property, the first being new flooring.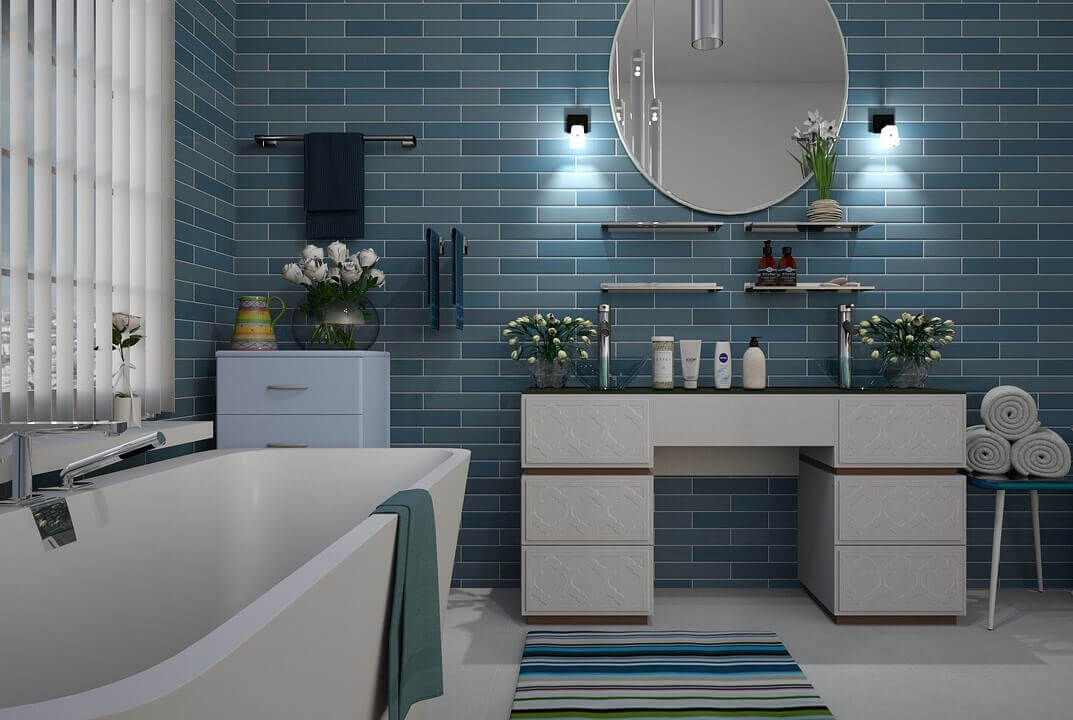 For any homeowner or owner of a rental property who is considering a bathroom remodel, we've put together a comprehensive guide of the main tips from professionals that you should have in mind before you begin.
Walls and Floors
Bathroom walls and floors are often a combination of different materials. For the wall space surrounding the vanity, most people opt for paint in a color of their choosing. For the areas surrounding the tub and shower, as well as the shower floor, tiling should be used.
Of course, the paint colors (or wallpaper) and tiling you choose for your bathroom remodel are up to you and based on your personal preferences and aesthetic vision for the bathroom. However, there are several important do's and don'ts when it comes to both paint and tile for a bathroom.
For tiling, one of the most important rules is to never use glass tiling on a shower floor, as it can become very slippery. If you want glass tiling, use it for the walls only. Further, when using glass tiling on the shower walls, it's best to choose glass tiling with tints of color, rather than clear tiles, as moisture can sometimes become visible behind the tile. The size of the tiles will also make a difference here, as the moisture will be more noticeable the larger the size of the tile.
If your bathroom is not very spacious and you want to increase the illusion of space in the bathroom, light, bright and neutral-colored tiles that are uniform throughout the bathroom will work best. Interior designers at Home Glow Design stress that too many different shapes, colors and patterns can shrink a space, and can also make the bathroom visually overwhelming. However, if the look you're going for is a bit more eclectic, do it! Just make sure you plan your tiling and painting scheme using samples or software programs so that you can be sure you like how things look before you commit.
Rules for painting in a bathroom are similar. If you want to maximize space, go for lighter neutrals. This will also help brighten what may be an otherwise dark bathroom due to limited natural light. It is also recommended that bathroom paint finishes are either satin or semi-gloss, as they are easier to clean, shinier, and more durable than eggshell paint. The paint should also contain a mildew-resistant additive since the walls will be exposed to lots of moisture.
Perhaps one of the most important rules in bathroom remodeling when it comes to floors is to never opt for wood or carpet flooring. Constant exposure to water will ruin wood floors and may even lead to mold growth in carpet. The floors do not necessarily have to be tiled as they traditionally are, but the material needs to be compatible with a wet environment.
Vanity
When it comes to remodeling a bathroom, replacing a vanity can have a huge impact on the entire space. Some interior design experts even suggest that you have an idea of what vanity style you want before making plans for any other parts of the bathroom.
[id=16515,6620,6621,1910]
The first step in designing your new bathroom vanity is to decide how much space it can occupy. For those with smaller bathrooms, you must make sure that the vanity size will not impede on the space you want or need for a shower, bathtub, or both. This is why it is so important that you take measurements of your bathroom and create a couple mock-up layout schemes if you are able.
Once you decide on size, the next step would be to decide how many sinks you want to include in the vanity. After that, it is time for any and all aesthetic considerations, such as cabinet and countertop material and style, as well as mirror, faucet, and lighting considerations.
For all things aesthetic, professional designers always emphasize cohesion. Whatever style you are thinking about, make sure it is universally applied throughout not only different parts of the vanity but also the bathroom as a whole.
Tubs and Showers
The most important thing to remember is to make sure your shower is waterproof in order to avoid costly repairs and remodels due to water damage in the future. This means making absolutely sure that all areas in the shower are completely sealed.
Small nooks and crannies in and around the shower should be given special attention. Further, it is now commonplace to apply what is called waterproof membrane across every surface in the shower. As with any other home improvement project, it is always a good idea to consult an expert to make sure things are done correctly.
If your bathroom has both a tub and shower, make sure they are stylistically complementary, if not identical in material. The closer the tub and shower are to each other, the more important this rule becomes. A good way to avoid having a bathtub and a shower that clash is to think of them as one project and approach designing together. For example, as you are choosing tiling for the shower, choose your bathtub tiling at the same time, and so on.
[id=238,246,249]
Another important consideration to make with showers specifically has to do with lighting. If your shower is in a spot that is dark or receives little natural light, you can either install some overhead lighting, or consider having frameless glass walls, to allow for maximum light entry. As far as the tub goes, if you have the space in your budget, think about installing an ambient light fixture or two low on the wall near the bath.