Having a roof over our heads is one of our most important privileges. It not only keeps us warm, but protects us from all harms and evils too. Isn't it? Therefore, it is very important to safeguard our roofs. A roofing problem can literally wreak havoc in our lives and should be treated as a serious issue.
They say, "If you run from a leaking roof, you'll end up with a flood". It signifies how we should fix a problem on the spot and not wait until it is too late. This holds true in the case of roofing problems too, where prevention is better than cure!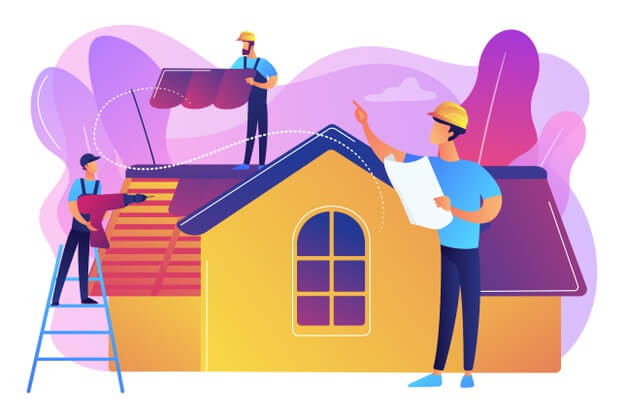 Roof leakages are unavoidable, and it depends on various factors such as the weather condition, the impact of catastrophes, falling trees, the age of your building, and even your neglect and lack of proper maintenance!
There are several roofing contractors and mechanics who are available in your beautiful city. But did you know, as a homeowner, you could fix your roof yourself? Read on to know some common roof repair tips.
Roof Maintenance Checklist for DIYer
Wear Shoes that Have Rubber Soles
To address a roofing issue, if you are planning to go on your rooftop to inspect the problem, make sure you are able to maintain your body balance, especially on a slanting roof. You should also be wearing the right gear before a roof visit. It is recommended to wear full-sleeved shirts and long pants made of heavy fabric, preferably jeans, along with the most important rubber-soled shoes. This will help you to have a proper grip on the roof and will avoid any dangerous accidents such as slips and falls.
Identify If Your Roof Needs a Permanent Repair
If you notice your roof is in sound health, leaving one or two soft spots, it could have been a result of a falling tree or probably a severe windstorm. This is when you need to make permanent repairs. Again, if you observe signs of wear and tear in your roof, repairs will fix the issue only temporarily. You may have to plan for a re-roof. Post your observation of the roofing in your house. If you are not sure of what exactly you are tackling, it is always advisable to consult a professional. An important tip–it is vital to inspect your roof at least once a year to avoid any permanent damage.
Understand The Difference Between a Roofing Repair and Replacement
A roof repair is required when there are only small areas that have been damaged or are worn out. However, when many shingles are missing or have been damaged, your roof needs a replacement. If the original roof of your home adds to its style that cannot be recreated, you should repair it. Replacing the roof can change the way your home looks. If your roof is new and covered under warranty, choose a repair over replacement. If your budget is low, consider a repair, or else go for a permanent fix like a re-roofing.
Replace the Shingles
Due to heavy rains or harsh weather conditions, if you notice you have missing or damaged shingles on your roof, and it is limited to only one or two areas of the roof, it could be possible to replace only those shingles. You will have to buy alternate shingles of the same brand, color and shape in order to complete the replacement process. Proper adhesives and nails to secure the new shingles in their place is also a crucial step. If this is not done, the shingles surrounding the replaced ones can also become loose and may need to be fixed.
Identify the Source of a Roof Leak
Even a tiny roof leak can cause a huge mess ultimately. Numerous leaks in your roofing plus the dripping water can cause a number of damages to your houses, such as dark spots on the ceilings and drywall damage. It could also lead to issues that you may not immediately see. This includes dry rot, electrical fires, foundation failure, rotting wood, mold problems, electrical fires, etc. You should act immediately. Stop the water from coming in by locating the seal and sealing it at once!
Pay Attention to The Brick Chimneys at Your Home
Yes, brick chimneys look pretty and add an aesthetic vibe to your homes, but they can be a major source of roof leaks as well. Whether it is a handful of missing bricks, or the mortar cracking, or the old flashing around the base of the chimney, it is very important to inspect and repair any damage around the brick chimneys to avoid leakages.
Inspect The Vents and Flashing
Flashing or roof flashing refers to the thin metals that are installed to drive the water away from areas such as walls, vents and chimneys. A broken or damaged flashing can lead to leaks and cracks in the roof. Over time, the seal around the roof flashing can degrade, turning out to be loose with gaps around them. These should be inspected and updated/sealed and when necessary to avoid problems.
Do Not Compromise on The Paint
To keep your roof intact, you should always invest in quality and durable paint for your homes. Thanks to technology, even waterproof paints are available in the market today. Durable paints will make your roof more resistant to extreme weather conditions and prevent damage from external elements that cause leakages for a long period of time.
Even after following the above tips, if your roofing problem persists and you are unable to fix it by yourself, you do not have to worry. We are just a call away.
At KreateCube, we can connect you with several roofing contractors! They are industry experts and thorough Marion roofing professionals who know their jobs and focus on providing the best end-user experience at affordable rates.