Did you know that it wasn't until the 17th century that there was the inception of a private room known as the bedroom? Don't get me wrong though. 'Rest or sleep' has been a necessity for the survival of man, but not until then was there a private room dedicated for that purpose.
The bedroom is simply a room with beds, but in the real estate world, it is not considered one if it doesn't have a door and windows.
College students, however, seem to have their bedrooms stripped of their original use. The bedroom no longer serves as a place of rest, but study, meal, and many other activities too. The nights are soon replaced with assignments and work instead of the original rest they are known for.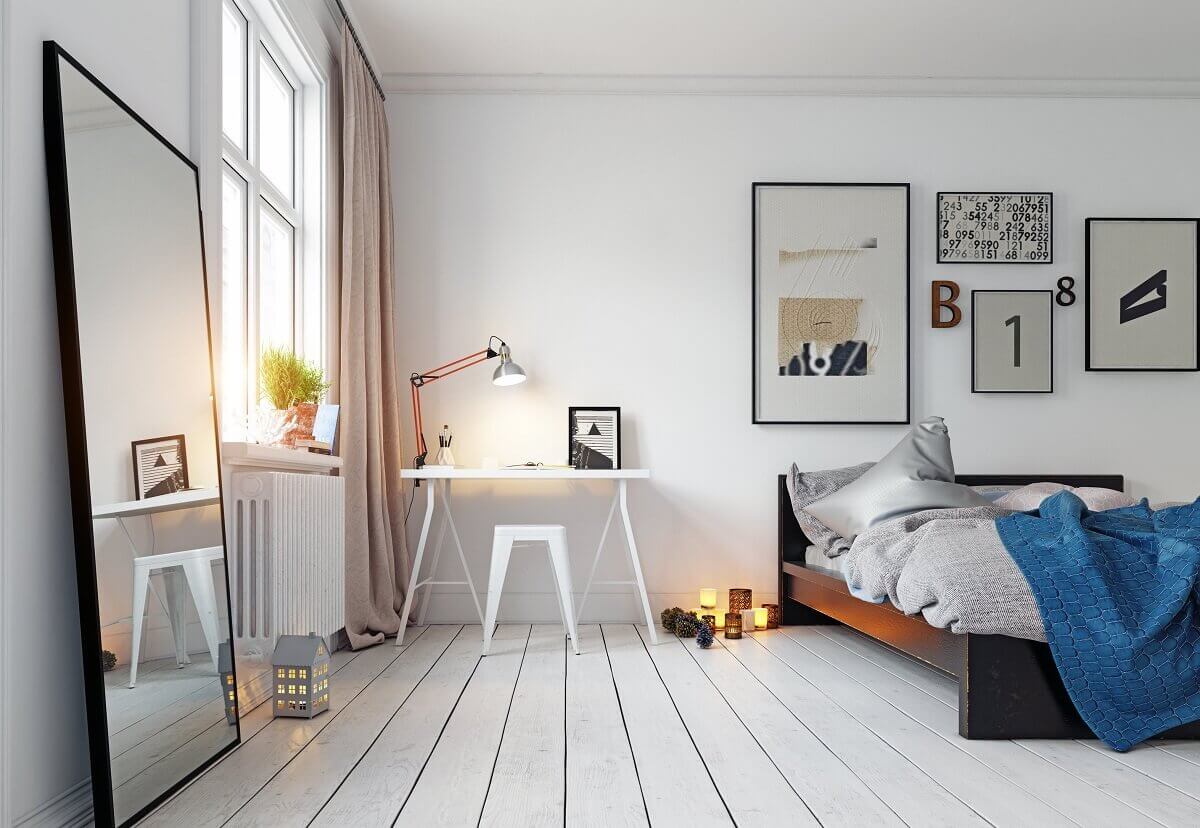 However, if you too find yourself in this situation when tackling your thesis, you might want to get some help from the best thesis writing service.
Nonetheless, no matter your schedule or the multiple purposes that your bedroom might serve, it is essential that it is kept clean and properly organized.
And, here are a few reasons why:
1. Your bedroom is a representation of the state of your mind. In essence, a clean mind simply translates to a clean room.
2. A clean bedroom just gives you a calming mind. When you walk into a poorly organized room, you immediately feel sort of stressed.
3. Also, it is a way to get in touch with your creative inner self.
So, now that you know the reasons to keep your bedroom clean, here are a few interior design tips for student bedrooms:
Look up interior decorating ideas
There is no better way to get started on your bedroom decorating journey than to look up ideas. Take your time to check out people who have successfully turned boring old spaces into beautiful bedrooms.
The benefit of this is that it slightly eliminates the trial-and-error process. It also helps you discover your taste if you are a bit indecisive.
Rugs are better than floor masks
Rugs are one of the least spoken about decor ideas, but that doesn't mean that they do not have the contribution they make to the beauty of a bedroom. A rug in the middle of the bedroom is more than just an accessory and adds texture and warmth.
When picking a rug, choose one that rhymes with other things in the room. Also choose one with a nice texture, nice style, and one that is quite easy to keep clean.
Make a conscious effort with lighting
Most fluorescent bulbs and lights in dorm bedrooms do not have quality fluorescents or at least one that favors eyesight. Invest in a reading lamp or at least, an eyesight-favoring lamp.
There should also be bedside lamps to aid reading in bed, table lamps, and other light in general. The benefits of a well-lit bedroom cannot be overemphasized, most especially for students who are always with one literary material or the other.
Decorate your walls
Some dorms allow students to be creative with their bedroom walls. If you are opportune to be in one of these buildings, then you can be creative with your expressions.
Put up wallpaper in a very attractive color, or a poster of something that you like that is also very attractive.
Color theme your room
Theming doesn't necessarily mean that everything has to be in one matching color. What it means is that everything points to or tries to complement the primarily chosen color.
Having a color-themed bedroom automatically adds to its beauty most especially if the color chosen is a pretty one and is well utilized. It also gives your room a professional look
Be careful with colors
As much as you would want to color theme and utilize colors, it is necessary to note that misuse can totally upset the room and the whole idea.
Be careful with colors and make sure that everything matches or complements the other before you continue. Some hints are that you do not use too many colors and you do not use anything you are not sure of.
Curtains can be underrated
In all honesty, curtains are most at times underrated. They can make the room look more beautiful, hence, there has to be a conscious effort in choosing the color and design of the curtains.
The bedroom desk should be well placed for better study hours
The bedroom desk should be located a reasonable distance away from the bed and close to the window. This enables you to read more in the presence of natural sunlight.
Your room desk should also be left free as much as possible. Most of the book and reading materials can be stored on the shelf. This gives your desk a bit more mature and presentable look.
Be creative with storage ideas
When it comes to shelves and cupboards, you can choose to be creative about it. Choose something different, something that goes with the rest of the room, and of course your preference.
Creativity, however should not be a license to eliminate the main reason why these storage materials are being gotten. It is very essential to get something that is functional as this is the main reason why they are being bought.
Summing up
A well-decorated bedroom has so many benefits, more than those mentioned above. However, the need to have a great bedroom does not necessarily mean you have to go out of your pocket, in fact, you don't have to.
Prepare a budget and try to work within it because there are certainly many items that you can arrange without spending much, and by simply being creative.
On top of that, one important thing to note is that quality really matters over quantity and beauty. In other words, it is necessary to get fabrics and essentials of great quality even if that means you cannot have a bunch of them.