An ergonomic workstation is one which enables workers to be comfortable and efficient at their jobs. While this may seem like a simple goal, it can be made complicated by the variety of body types and requirements that will determine what an individual worker needs for his or her own ergonomic workstation.
Ergonomic chairs are a perfect fit for those offices having cubicle structure. Office cubicles offer employee space to work peacefully and make them more productive.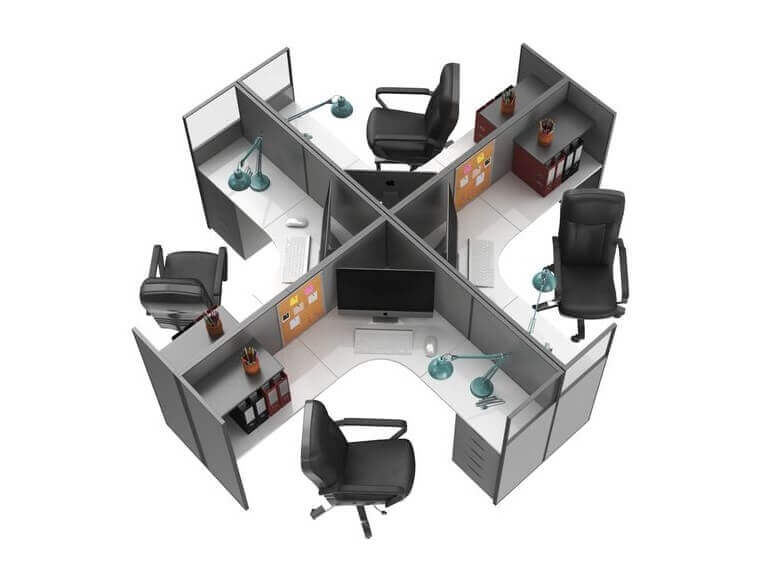 If you are an entrepreneur building your workspace, make sure to have a look at these office cubicles for sale before building your workspace.
This article will review 9 of the most promising products in the field of ergonomic workstations as they stand today. We'll also look ahead to what we might see in 2023, as these technologies begin to hit market saturation.
Considerations to Choose the Right Ergonomic Workstation
1) The ErgoChair with Memory Foam Seat
The first item on our list is a product from ErgoChair. The function of their memory foam seat is fairly self-explanatory: it can be contoured to the body of the user, returning it to its original shape when no longer in use.
The article by Business Insider cites 95% of users being satisfied with their purchase after two weeks, and 800 Amazon reviewers have given it an average 4-star rating.
There are some cons to this product however. The chair is neither height adjustable nor reclinable, but our list contains several other chairs which do offer these features.
2) The UPLIFT Desk 2.0 Standing Desk
This desk has four programmable height settings which can be changed using a single button on the desk itself. It even adjusts easily to sitting positions for when your legs need a break (or if you simply forgot to change it back to standing).
We would recommend this product as a great option for those looking for an affordable adjustable desk that will allow them to try out a standing position without making too large of an investment at first or having to worry about any potential problems with durability or functionality after purchase due to its lower price point compared to other models.
This standing desk from UPLIFT Desk uses a hydraulic piston system to quickly transition between sitting and standing positions within seconds.
It has several safety features to prevent injury during the process, including locking capabilities for each position as well as a "dead man's switch" which requires constant pressure to keep the desk in an upright position.
The UPLIFT Desk also comes with a two-year manufacturer warranty and is fully recyclable.
3) UpDesk UpWrite Standing Desk
For those who do not need or want a hydraulic desk, another option may be the UpDesk UpWrite Standing Desk.
This desk has four programmable height settings which can be changed using a single button on the desk itself. It even adjusts easily to sitting positions for when your legs need a rest (or if you simply forgot to change it back to standing).
4) UPLIFT Desk Pro Plus
This next item on our list is definitely one of the most aesthetically appealing options for an adjustable desk.
This UPLIFT Desk Pro Plus 36 Electric Height Adjustable Stand-Up Desk Converter has options for either black or white surfaces, and also comes with different color choices for its legs.
It offers a programmable height memory which can be accessed using up to three user profiles, and is capable of holding up to 40 lbs (18 kg) on each surface area.
5) FlexiSpot M2
This product does require some assembly upon arrival, but with a product as simple as an adjustable desk this is likely to be a matter of minutes rather than hours.
It can also hold up to 300 lbs (136 kg), making it ideal for those who stand at their desks as well as those who use treadmills or sit throughout the day as well.
This product's main selling point would likely be its affordable price compared to other models, which can make it easier for those without too much disposable income or large budgets to try out an adjustable standing desk and see if they like it or not.
The FlexiSpot M2 is another great option under $300, which features a quick set-up time as well as easy transition between sitting and standing positions.
6) Stand Steady X-Elite
Our second runner up is the Stand Steady X-Elite, which has been praised for its affordability and durability.
It comes with all the features you'd expect from an adjustable standing desk, such as height memory functions and even a lumbar support system.
The two minor cons that consumers seem to have noted would be the set-up time and assembly required, so keep those in mind if these can't be done without your presence at home.
7) Virgo Ergonomic Mesh Chair
Moving onto another piece of equipment which can make a big difference: the executive ergonomic chair.
This Virgo Ergonomic Mesh Chair uses mesh and leather in its construction for improved airflow, and also has adjustable armrests and lumbar support cushions.
The chair's design is aesthetically pleasing enough that many people choose to use it in their homes as well as in the office.
8) X-Elite Pro Plus
Our last product on our list is quite similar to the first runner up. The previous product was offered by Stand Steady, whereas this one is from X-Elite.
It doesn't offer all of the same features such as upgraded cushioning or customizable color options, but it does come with an impressive ten-year warranty.
9) Furniture of America Svelte
Last but not least on our list is the Furniture of America Svelte. This product has taken a very simple approach to its design, with consumers noting it as being minimalistic and modern.
It comes at an affordable price, so it's perfect for those who want adjustable desks without spending too much money or time figuring out how to put together their own custom desk.