In today's fast-paced world, maximizing space and comfort in your living area is essential. A sofa bed stands out as a dual-purpose piece of furniture, blending the best of seating and sleeping functionalities. It's a space-saver and a stylish addition to any room.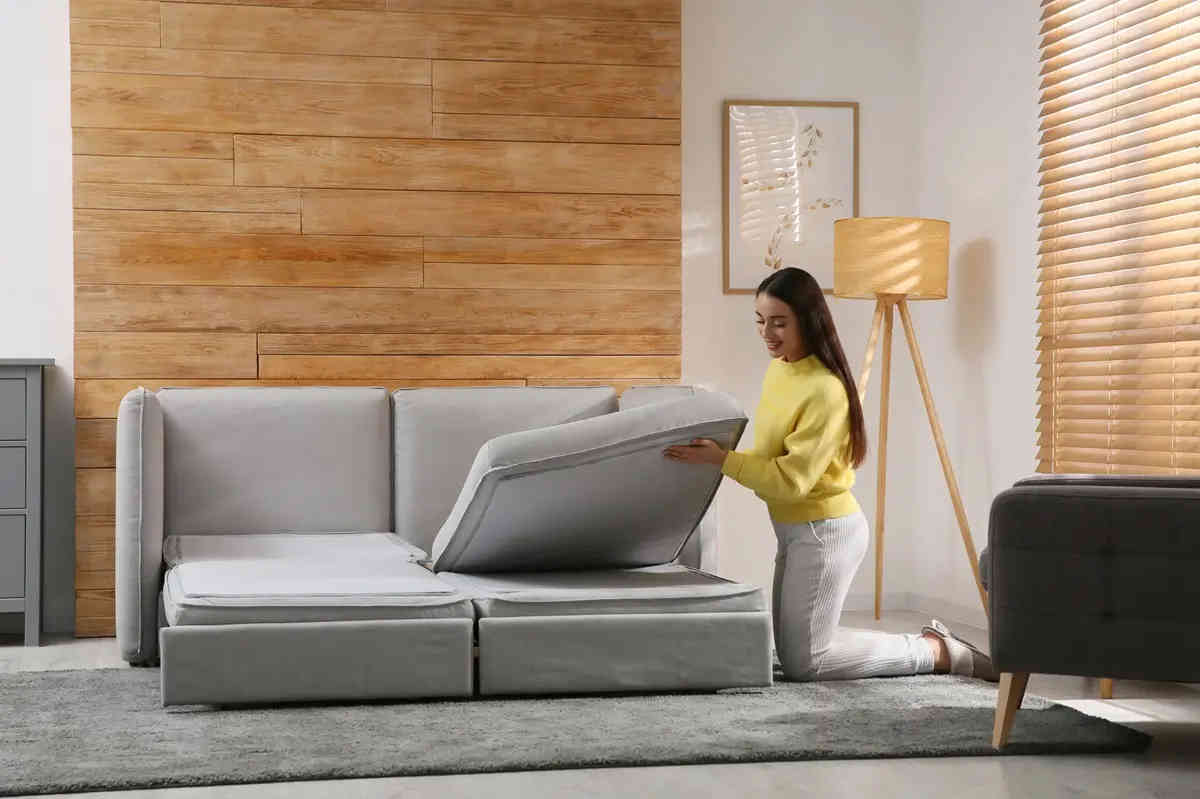 More importantly, a well-chosen sofa bed contributes significantly to quality sleep, which is crucial for overall well-being. This guide will walk you through selecting the perfect sofa bed for your needs.
Types of Sofa Beds
1. Pull-Out Sofa Beds
These traditional choices feature a full mattress, including options for a king size sofa bed, providing ample space for a restful sleep. Pull-out sofa beds are ideal for frequent use and blend seamlessly into any room decor. Their robust design ensures longevity and comfort.
2. Click-Clack Sofa Beds
Known for their simple conversion mechanism, these beds are perfect for smaller spaces. They adjust with a straightforward click-clack motion and offer modern style and practicality. Ideal for occasional guests, this type provides a convenient sleeping solution.
3. Bi-Fold Sofa Beds
These sofa beds feature a mattress that folds out in two sections. Bi-fold sofa beds offer a practical solution for occasional use, with their two-part folding mattress providing versatility. They fit well in medium-sized rooms, offering flexibility and adaptability for various uses.
4. Tri-Fold Sofa Beds
With an extra fold compared to bi-folds, these are compact and perfect for limited spaces. Tri-fold sofa beds have thinner mattresses and compact sizes, making them best suited for infrequent use or in areas where a larger bed isn't feasible. They're also an excellent choice for small apartments or offices, providing a useful sleeping option for guests.
5. Chaise Lounge Sofa Beds
A chaise lounge sofa bed elegantly combines the leisure of a traditional chaise lounge with the functionality of a sofa bed. Perfect for lounging during the day, they transform into a comfortable bed at night. They suit homes and spaces where style and utility are equally important.
6. Ottoman Sofa Beds
Compact and versatile, these sofa beds transform from a footrest into a small bed. Ottoman sofa beds are often more suitable for short-term sleeping arrangements. These sofa beds are a wise choice for minimalist or contemporary settings.
Features To Look for In a Sofa Bed
1. Mattress Quality
Choosing a mattress for your sofa bed should be your first step. Common mattress types in sofa beds include traditional memory foam and innerspring, though options like gel memory foam and latex are also available in some models.
Look for high-quality memory foam or innerspring mattresses for optimal sleep. The mattress should provide ample support to ensure a restful night. Good mattress quality can significantly enhance your sleeping experience.
2. Frame Construction
A sturdy sofa bed frame is essential for stability. For the best weight support, consider getting a strong metal or kiln-dried hardwood frame. The frame's strength directly impacts the sofa bed's lifespan, so this factor is equally important.
3. Mechanism
Choose a sofa bed with an easy-to-use conversion mechanism. A smooth transition from sofa to bed adds to the convenience. The right mechanism should also be user-friendly and reliable so you and your guests can easily convert it from sofa to bed and back.
4. Size
Consider both the sofa and bed size so it fits your space. Getting it inside your room is only the first obstacle. Once inside, it should comfortably accommodate sleeping needs without overwhelming the room. Accurate sizing is crucial for space optimization.
5. Style
Sofa beds come in various styles, including traditional, contemporary, and sectional, each fitting different room aesthetics. Select a style that complements your room's decor. The sofa bed should also enhance your living space aesthetically.
6. Fabric
Opt for durable, easy-to-clean fabrics, especially for frequent use. Leather, for instance, is a popular choice for its easy-to-clean properties and sleek design. The material should also align with your lifestyle and room usage. Consider both aesthetics and practicality when choosing the fabric of your sofa bed.
7. Additional Features
A sofa bed could serve more than two purposes. Some options have built-in storage ideal for rooms with limited space for personal belongings. For easier set-up, some sofa beds feature automated mechanisms that allow them to transform from sofa to bed by themselves when needed.
8. Price
Balance affordability with quality. While budget is important, investing in a durable sofa bed pays off in the long run. Take note that a higher price often reflects better quality. Conversely, opting for a less expensive, lower-quality sofa bed might lead to quicker deterioration and less value over time.
How To Choose the Right Sofa Bed for Your Needs
When selecting a sofa bed, first consider the frequency of use. If you plan to use it daily, prioritize durability and comfort. You may prefer a more stylish yet less sturdy model.
Next, think about who will be using the sofa bed. A bed for children may differ in size and material compared to one for adults or guests. Matching the bed's size, structure, and design to its primary users ensures suitability.
Finally, measure the space where you'll place the sofa bed. Make sure it fits in small bedrooms or larger areas, both as a sofa and bed, to avoid spatial issues. Also, align your budget with the available options, balancing cost and quality.
Tips For Buying a Sofa Bed
Start your sofa bed shopping with thorough research. Compare prices across different retailers to find the best deal. Price variations can reflect differences in quality and features.
Reading customer reviews provides valuable insights into the sofa bed's comfort, sturdiness, and user satisfaction. It's also crucial to physically test the sofa bed in stores. Make sure it meets your expectations and fits seamlessly into your lifestyle. Lastly, asking about the warranty is vital as it indicates the manufacturer's confidence in their product and offers added security for your investment.
A Quality Sofa Bed for Quality Sleep
Selecting the right sofa bed requires balancing functionality, comfort, style, and budget. Remember, a sofa bed is more than just furniture; it provides quality sleep and efficient space utilization.
By considering the types, features, and your specific needs, you can find a sofa bed that looks great and provides the quality sleep you deserve. Explore your options, test them out, and find the perfect sofa bed to enhance your living space and sleeping experience.