Do you want to spend more time outdoors? An elegant patio may be the answer.
Don't let a cluttered or ugly patio stop you from enjoying your space. Even the smallest patio can turn into a beautiful space.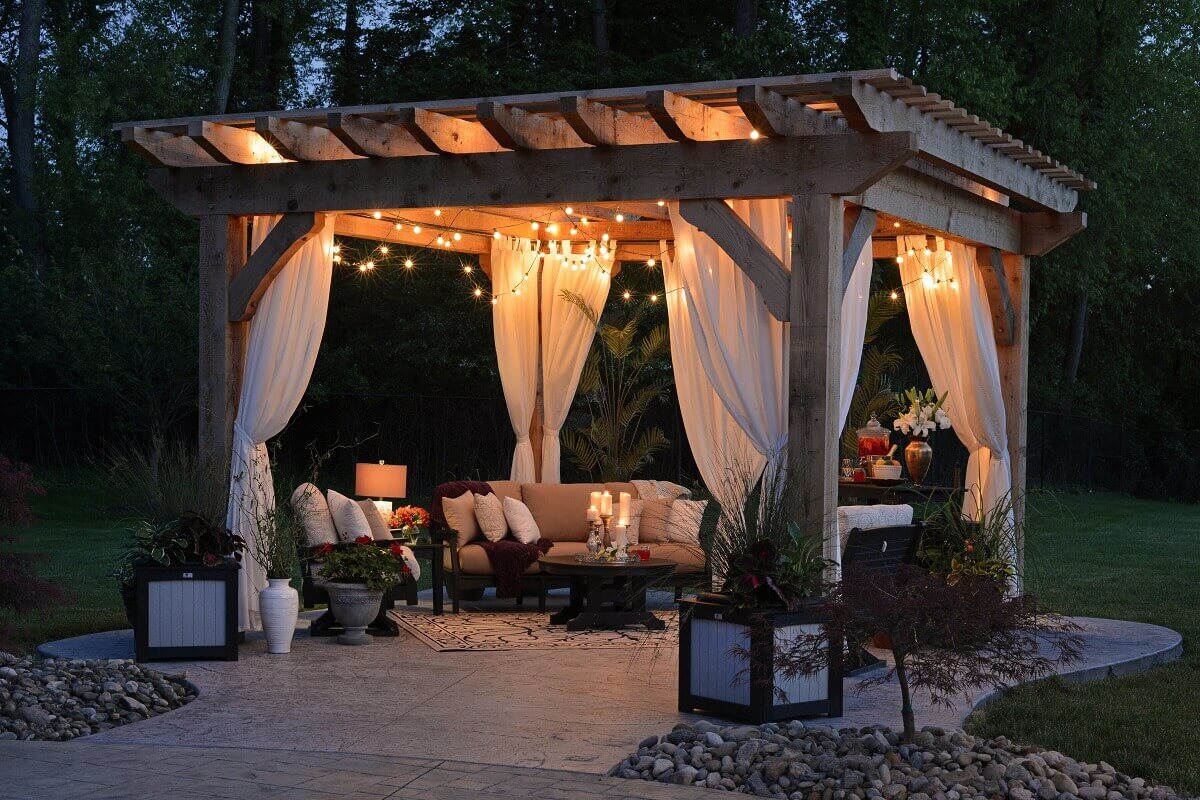 Most Elegant Patio Ideas to Consider
1. Use an Outdoor Rug to Bring the Inside Out
If you have a small patio space, use an outdoor rug to define it. Outdoor rugs anchor your furniture layout and create a cohesive color scheme. The right rug can promote a seamless transition from your indoor space. It can be an excellent way to highlight your style.
If you have a stone or concrete patio, outdoor rugs can soften the look. They can add texture and contrast. Consider going with a monochromatic color scheme. You can use flowers or plants to brighten up the space.
2. Use Warm Tones
Warm tones will look great on your patio. Even when the skies are dull, your patio can be a warm place of relaxation. Terra-cotta walls and rattan furniture will look great on any patio. Cushions, an ottoman, and rugs in warm tones create visual interest and add layers.
Your best color options include orange, brown, gold, and tan are lovely options. Consider using them to continue the theme in your living room.
3. Get Folding Furniture
If you have a small patio, you need space-savvy furniture. Sling chairs are fun and great for your small space. You can use them to bring the beach to your home.
Folding furniture may seem whimsical, but they work. You can move them around when you need room for other activities. You can stack them against the wall or tuck them in a shed. Since they aren't always a permanent display, you can use bright and bold colors and patterns.
[id=10239,1691,2775]
4. Get a Fire Pit
What could be better than a fire pit for your patio? It helps you prepare for cooler months and could be the focal point of your space.
A fire pit makes your patio cozy. You and your loved ones will have fun roasting marshmallows or chatting around a fire.
If you are trying to save space, consider going with a round fire pit. It takes up less space and promotes an intimate vibe. The surface of your fire pit can act as a serving area or coffee table.
5. Get a Small Corner Seat
Try maximizing your patio space with a little corner seat. It helps you maintain functionality while saving space.
A corner bench is more practical than a chair as you can confine it to a small space. This leaves you with room for a coffee table or workout area. Get a few colorful cushions for extra comfort and a cozy feel.
[id=544,543,529,527]
6. Embrace Bold Furniture
Bold furniture looks great on any patio type. Use bold colors, geometric prints, and large pieces. They bring the wow factor and help you set a modern tone. An orange, yellow, or red pop can be a wonderful break from your monochromatic theme.
Use large plants and metallic accessories for the final touch. Avoid smaller pieces, as they could make your space seem cluttered.
7. Fresh Greenery on Walls
Fresh greenery is the epitome of elegance. Exterior walls and tall fences offer privacy. However, they are imposing and can make your space seem smaller. Vertical greenery softens your space and makes it seem bigger.
When your patio is primarily concrete, you need greenery to make it less sterile. Green walls give your patio a tropical feel. They are excellent for small spaces.
8. Include White
White is simple and elegant. It makes your patio feel sophisticated and cohesive. You can include shades of white on your furniture, walls, and furnishings. It gives off a refreshing feel for a contemporary look.
Consider using outdoor furniture covers if you are worried about keeping your whites clean. Protective spray and regular cleaning could help as well.
Start Planning Your Patio Renovation
Creating the patio of your dreams can be more expensive than you imagine. Consider using the Sofi calculator to plan. It can also help plan your house purchase without exceeding your budget.
Here are a few tips to help you plan your patio renovation.
Consider the Light
How much sunlight does your patio get? Consider this when planning your renovation. The amount of sunlight you get depends on the time of the year and the direction your patio is facing.
Even when you already know the sunniest parts of your yard, consider how the light hits at different times of day.
Incorporate Plants
Remember to include plants in your patio design. The right plants tie everything together. They can create a sense of cohesion between your indoor and outdoor spaces.
Plants also help you introduce some color to your patio. They soften the look of concrete and can help you continue a theme.
[id=462,447,161]
Pick the Appropriate Materials
When renovating your patio, consider the material. Stamped concrete and a paver patio are some of your best options. Stamped concrete uses designs that mimic brick or stone. It is available in a variety of textures and colors.
One of the biggest benefits of stamped concrete is its durability. It can handle the weight of heavy furniture and foot traffic. The material doesn't show signs of wear and tear.
Stamped concrete is low-maintenance. After installation, you don't need to do much. Sweep and hose it every other day. You may have to reseal it every couple of years. Resealing protects the concrete from the effects of weather exposure.
Stamped concrete is one of the most cost-effective options. The installation and maintenance costs are lower than for materials like brick and stone. Although you need a professional for the job, installation is fast.
Are you trying to make your patio more elegant? You have endless options. No matter how small your patio may be, there are ways to make it stand out. Consider warm tones, greenery, and bold furniture. Experiment with different options until you find something that works.