No matter what kind of bug we discuss, they all are equally annoying, especially when they bite or invade our houses.
Well, there are red bugs we will be talking about, a lot of different species of bugs are red in color, but Chigger and Clover Mites are the most common ones. Red Spider Mite, Scarlet Beetle, or Black and Red Boxelder Bugs are the other common bugs you can detect in your home.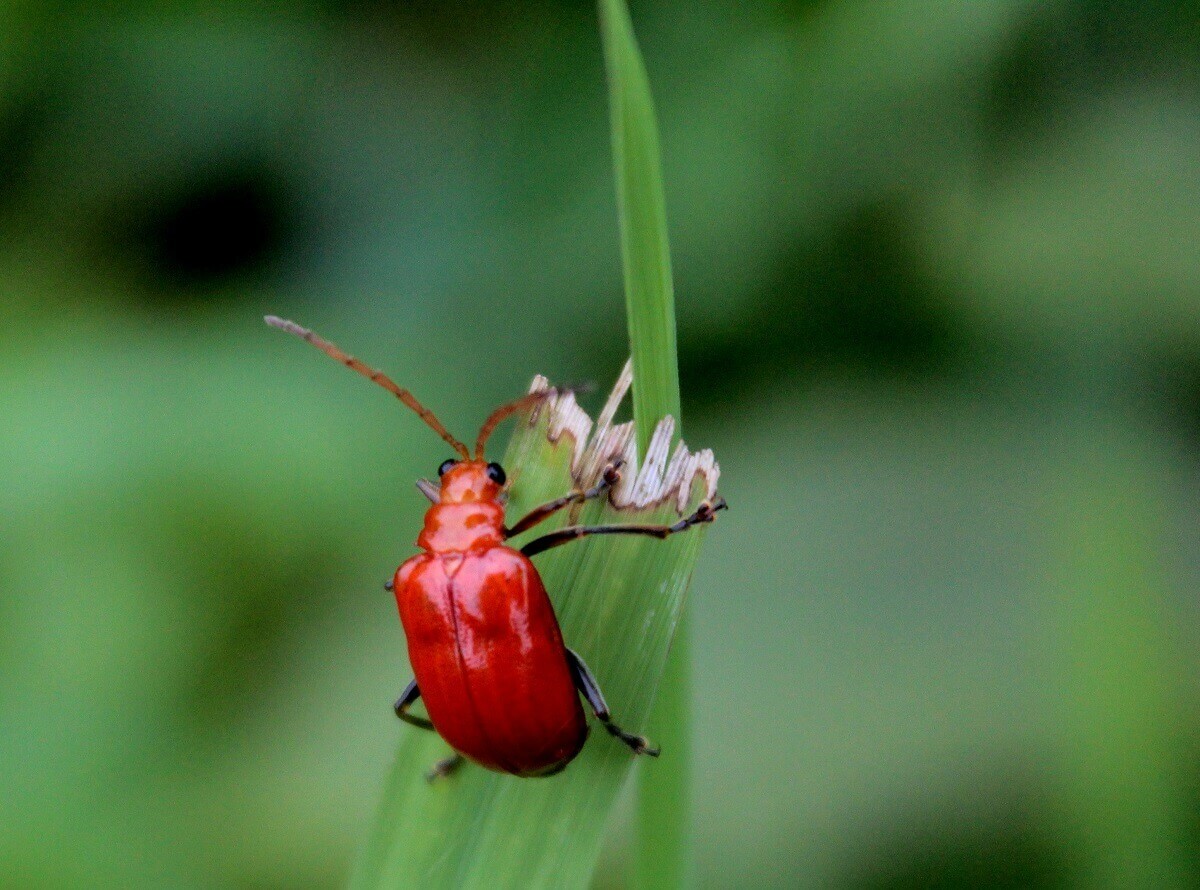 What are Red Bugs?
Tiny Red Bugs are the species of beetle, mites, or insects that are red in color, most of them are way too tiny, almost invisible to the naked eye, and you'd only get to know of the infestation after severe damage to the property or bite marks on your body.
Types of Red Bugs
We will be discussing five different types of red bugs, which are commonly known for infesting human colonies. Clover Mites, Chigger Mites / Berry Bugs, Boxelder Bugs, Tiny Red Spider Mites, Red Scarlet Beetle / Red Lily Beetle. Only two of the mentioned mites are visible to naked human eyes (Red Scarlet Beetle / Red Lily Beetle and Boxelder Bugs)
Clover Mites
They are atmospheric bugs that feed on your plants and seem red or reddish-brown in color, having an oval-shaped body. They usually appear after rainfall or in spring. You can easily identify them as they leave a red colored stain when squashed. However, it's not their blood but the red pigment their body has.
The other way of recognizing them is by following their traces on the infected plant as they leave a tiny silver streak on the plants they feed on; you'll usually find them on floral plants such as dandelions, primrose, lawn grass, etc.
If they infest your household, the potential damage you'll see will be red marks on the carpets, bedding, or soft upholstery. They don't cause any harm to the human body by biting or sucking blood.
How to get rid of Clover Mites?
a) Remove indoor plants if they are infested; try to keep a 2ft. gap between the plants and your building.
b) If your house is already infested, then use a vacuum cleaner to suck out the mites and then clean the dust bag further from your house.
c) To avoid future infestation, seal the cracks in the foundation and near windows.
Chigger Mites / Berry Bugs
Berry bugs are from the family of ticks and spiders; they are extremely small and invisible to the human eye. The only way to recognize them is by spotting a pimple-like rash on your body; they leave a red itchy bump. It can itch for a week at most.
Berry Bugs are found in grass and bushy areas, mostly active in the afternoon. You may notice their infestation during late spring and early fall.
If you suspect you've been in contact with the berry bug, take a bath and wash your clothes in warm water to remove them. You can also check your body for infestation and see if there are small red spots.
How to get rid of Berry Bugs?
However, the berry bugs can't survive indoors for too long, but you should get rid of them as soon as possible, wash your clothes off, vacuum the surface, and then clean the surface with the floor disinfectant.
Tiny Red Spider Mites
Red Spider Mites do the most harm to indoor plants by biting the plant tissues and sucking out the moisture from stems and leaves, which makes the plants turn yellow, develop spots, and bite marks, wither and die at the end.
You can recognize Red Spider Mite infestation by spotting the spider web-like threads under the leaves. Or place a white paper under a leaf and tap it gently to see if there are any red spots on the paper. If the infestation is severe, you'll get to see yellow leaves with spots and premature leaf drop.
How to get rid of Tiny Red Mites?
a) To remove them from your plants, use neem oil. Make your own neem oil at home to get rid of such bugs. Use 2 tsp. Organic neem oil mixed with 1 tsp. Of castile soap, and at the end, pour this mixture into 1 liter of warm water. Now spray this natural solution on the leaves from both sides at intervals of seven days. Do it until you see visible results in the health of your plants.
b) Or use 1:1 rubbing alcohol and water, and wipe the leaves of your plant using this solution.
Red Scarlet Beetle / Red Lily Beetle
Red Scarlet beetles also target your plants, and the very first sign of an infestation is the beetles themselves roaming on the leaves. If you still miss noticing them, soon there will be holes and bite marks in the leaves.
How to get rid of Red Scarlet Beetles?
a) The easiest way to get rid of scarlet beetles is to hand-pick them from the leaves.
b) Pick them up and drop them in a bucket of soapy water.
c) Use 1:1 rubbing alcohol solution to wipe off the leaves to remove their larvae
d) Then apply neem oil on the plant every five to seven days until you see the health of your plant getting better.
Boxelder Bugs
Boxelder Bugs are reddish-brown in color, and their nymphs are bright red in color. They are usually found on the trees like boxelder, maple, and ash trees. These bugs also infect the indoors of a household. However, they don't do any harm to humans; their targets are trees and plants.
How to get rid of Boxelder Bugs?
a) Use neem oil if the scale of infestation is low.
b) Or you may need to contact professional pest control companies
Also, you can keep them away from infesting your house by caulking the cracks near the window and other entrances.