Interior is both aesthetic and purpose oriented and when you're redecorating your house to sell, it well, certain aspects appear that may have been unimportant when you were decorating it for your own needs.
Research and online polls have frequently shown that staged homes (that are decorated for the purpose of selling) sell faster than unstaged homes to which no changes have been made. Here are some essential décor tips that can give a greater illusion of value to your home and make it more attractive to potential buyers.
No matter why you're renovating your house, you'll always want to know that your money is being well-spent from every aspect.
But, how do you know about the type of improvement that'll provide you with the best ROI when you're reselling your house?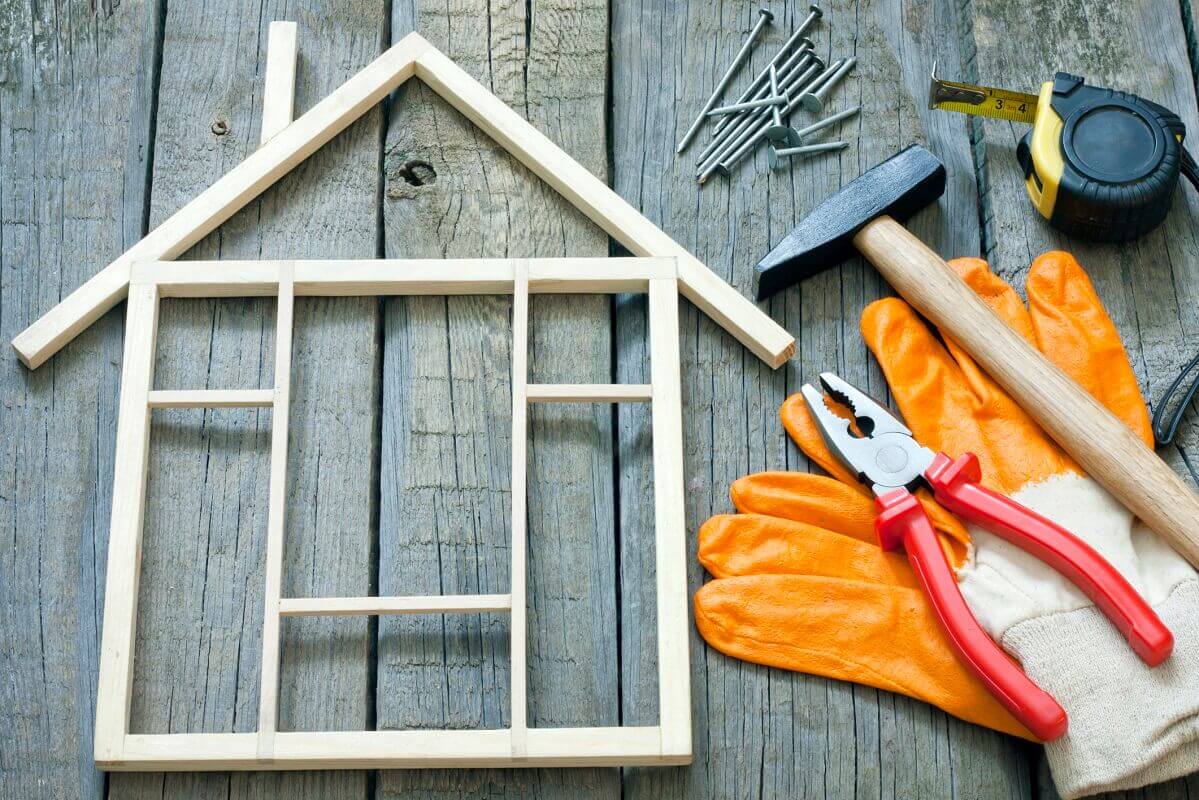 Keep reading, then.
What Is ROI In Home Renovation?
Also known as return on investment, the ROI of a home refers to the amount of profit you've made by selling the property. You'll get the approximate sum by subtracting the renovation expense from the money you've made by selling the house.
Now, here's the thing.
The ROI you can get from a home renovation project can depend on more than one factor, including-
a) The type of the project.
b) The condition of the real estate market.
c) Timing, and
d) Location of the house.
As a rule of thumb, you can expect to get nearly 70% of ROI in a property renovation project. But, if you're playing the right cards, you might earn even more, maybe somewhere around 100% as well. Move onto the next section to know more about it.
Which Type of Improvement Can Offer the Best ROI?
When talking about getting the highest-possible ROI, the "type of project" factor usually matters the most. Yes, timing and location of the property is quite important too.
However, if you can take on the right improvement, it'll automatically increase your chance of getting more return. Here's what you need to know in this aspect.
Oh, and before we forget, here's a tip for you. When it comes to renovating your house, your own bank account isn't only the financing option you're left with.
Apart from that, you can also opt for a hard money loan if you want. After all, it's the best and easiest option, if we're being honest.
Option - 1: Clean Walls Clean Slate
In many houses and especially in custom houses, different colors of wall paint may have been used when the homeowner was living in the property. This type of customization is most apparent in kid's bedrooms for example.
Since the choice of color is very personal and varies from individual to individual, you want to limit its expression in a staged home that is being primed for sale. Give all the walls a fresh but neutral and understated coat of paint in shell ivory or white so that the full potential of the space comes forward.
If there is an excessive amount of colorful or personalized wall art or photographs on the walls, it is best to remove them entirely or partially so they are not obstructing the buyer's view of what they can achieve with the same space. If you choose to keep your walls bare for the most part, the beautiful features in your home such as a gorgeous fireplace, chandelier or tall windows will all draw more attention to themselves.
Colorful walls can be disorienting to a new visitor and your décor concept should always be aiming to make the buyer feel at home and have them imagining what they would feel like, living here.
Option - 2: Reduce the Individualism
When you are making your house ready for a sale, you want to reduce all elements of individual taste and preference such as quirky furniture, décor pieces, personal photographs and even clothes in closets. Have a general idea in mind of the 'ideal buyer' and try to put forward a generic view of your house so that the average person can see themselves settling into the space and living their life well.
The type of home you have will also factor into this outlook as ranch homes, for example, cater to buyers that principally belong to a certain turn of mind or profession. Unless you are planning to make a sale to cash home buyers, you will need to trim down or remove the personal elements in your home and do some manner of basic renovations.
Option - 3: Don't Use Overly Fake Staging Items
Many homeowners that are newly putting their house on the market or doing so for the first time may incorrectly assume that a major part of successful home staging is having objects that indicate comfort or sophistication. This can include putting out fake fruit or food, needless glasses or cups or having fake stuffing in mattresses or cushions.
Most buyers can tell the difference between real and fake home items and they will not appreciate the gesture and may indeed assume you are hiding flaws in the property. Adopting the minimalistic style and having less on display is a lot more effective as it allows buyers to use their imagination.
Option - 4: Heightened Curtain Rods
A well-known designer hack is to increase the heights of the curtain rods in the main living areas, and if possible, in the bedrooms as this gives the illusion of a higher ceiling and a more upscale vibe. As a homeowner looking to sell, you do not need to invest in very expensive new curtains, but can choose single color plain ones as long as there is plenty of fabric to give a luxurious, 'trailing down' vibe.
Reinstalling curtain rods can be done at home with basic hardware tools without enlisting the help of a professional.
Option - 5: Invest in A Deep Clean
While you may think some steel polisher or all-purpose surface spray will do the trick as far as a deep clean is concerned, this is usually not the case. If you have been living in a house for years, it will have dust, grime and odor-causing germs in hard-to-reach places as well as in plain sight regardless of your cleaning routine.
Invest in a reputable, professional cleaning company to come and inspect your home and clean it thoroughly. If potential buyers see shining kitchen countertops and grime-free bathroom tiles, it will only ensure them that your house is a good investment.
Option - 6: Make Use of Mirrors
Mirrors are an open secret in designer circles as they always make a space appear larger and more upscale. If your budget allows it, use some full-length mirrors (both vertical and horizontal) to add in your main living area as well as in any bedrooms that are on the smaller side.
Furthermore, mirrors reflect any sunlight entering the room, making it look more airy, large and light. For smaller rooms with regular or low-height ceilings, mirrors can be a lifesaver since no architectural change can happen in the house at this stage.
[id=539,70,399]
Option - 7: Mask the Odors
Every home has odors, but during an open house or buyer visit, you want your house smelling like a wonderful dream come true. Use essential oil burners or diffusers for some aromatherapy smells, although you should ideally build a strong foundation on cleanliness as mentioned above. If your house has had pets in it for a long time, you will need products to mask the odors left behind by them.
Be conscious of potential buyers having allergies, so don't use any strong air fresheners or similar products and try to use organic varieties even in last minute cleaning products. Odors can emanate from ovens and refrigerators and other such appliances like washing machines so be wary of that and do a baking soda cleanse for most used household appliances.
Option - 8: Remodeling the Bathroom and The Kitchen
The kitchen and the bathroom, in essence, are possibly the most-utilized rooms in your home. Hence, renovating the same at the beginning does make sense from an ROI perspective.
But, here's the thing. Making an aesthetic and luxurious upgrade of the space won't be too smart in this aspect. Here's why.
a) You can only target the higher-class society with an opulent bathroom and kitchen. It will be a pretty limited approach if you ask us.
b) Renovating a normal bathroom to a luxurious one can be expensive. And, there's no guarantee that you'll get the same amount or more money from that.
So, when it comes to renovating the bathroom and kitchen, tries to make it purely functional. It will help you catch the right person's eyes and get the most out of your investment.
[id=11719,6620,16230]
Option - 9: Finishing Up the Basement
As per NAHB, almost every high-income buyer tends to love a well-finished basement more than anything. On average, taking proper care of this space can help you get around 70% ROI. For example, if you spend $100 for it, you'll get $70 in return.
And, you don't have to do much here as well. Just ensure that you're doing the flooring right and painting the wall correctly. Oh, and while you're at it, make sure that the space is offering a more heated-square footage. It should be perfect for reselling, then.
If you are maximizing your basement and other floors in your home, adding a residential lift can further boost your property value. No, you don't need to spend much for this addition to your home. Research revealed that home elevator installation prices had dropped massively recently, yet its additional value can go as high as 10% on your house's selling price.
Option - 10: Focusing on The Curb Appeal
Apart from improving the overall beauty of your property, making a few minor tweaks to the house can raise an eyebrow or two as well. For example-
a) You can add a set of reinforced windows and doors at the front side of the property. It will appear much more protected and functional this way.
b) Maintaining the landscape of the house can make it look elegant and pretty. It, in turn, might help you attract buyers with the sole intention of buying an aesthetic space.
Hence, in short, the more functional you can make your house look, the higher its curb appeal will be. And, the more money you'll be able to make by selling it.
Option - 11: Upgrading Your Garage Door
Yes, we know.
Most of us usually use the garage door as a utilitarian. But, if you can upgrade or improve it in the right manner, it can help you increase your house value massively. Here's how.
a) Paint the door to match the overall aesthetic of your house or the backyard. This will make it look much more appealing while improving your home's outlook.
b) Secondly, you can add a smart garage door opener in place. This way, whenever you come in front of the door, it'll open automatically and let you in.
In addition, you can add a specific security system, which will only let you in after you've passed a fingerprint test or something. It can increase your home value even more.
Option - 12: Install Hardwood Flooring
Although it may not seem so, having a hardwood floor in your house can make 10x prettier or aesthetically-appealing than before. Also, it'll make the whole ecosystem look more polished and eye-catching. It'll add a sophisticated aura, in our opinion.
But, even though it's pretty, managing a hardwood floor can be minutely trickier than usual. Hence, as long as you can't sell the house, we'll ask you to polish them regularly. Also, don't forget to take someone's help to maintain the flooring properly.
If you try to do it all by yourself, you might end up damaging the floor. And, that'll decrease the value proportion of your home even more.
What About the Worst Option, though?
Like we've already said, making any kind of aesthetic or luxury upgrade will be a waste. We mean, anything that doesn't add functionality to a space will be chosen on personal preference. So, it'll only be liked or wanted by a small part of your consumer base.
Hence, whenever you're renovating your house, try to avoid adding the following to it-
a) A backyard sports court.
b) A hot tub or a pool.
c) An upscale kitchen and bathroom design.
d) A highly-specialized space, like a home movie theater or a wine cellar.
However, if you're living in a high-income area, then you might ignore this point as a whole. After all, rich people won't feel satisfied with enough functionality. They'll ask for something upscale and luxurious to maintain their social status. And, as a home reseller, you must target the same to make the most out of your investment!
By utilizing the eXp site, homeowners can significantly increase their ROI through strategic home remodeling in the realm of home decor.