Every homeowner has tried their hand at DIY wall painting at some point or another, but it can be hard to achieve an immaculate, professional finish.
Here are some expert interior painting tips to ensure that flawless, designer finish regardless of the wall color you choose to express your sense of style with.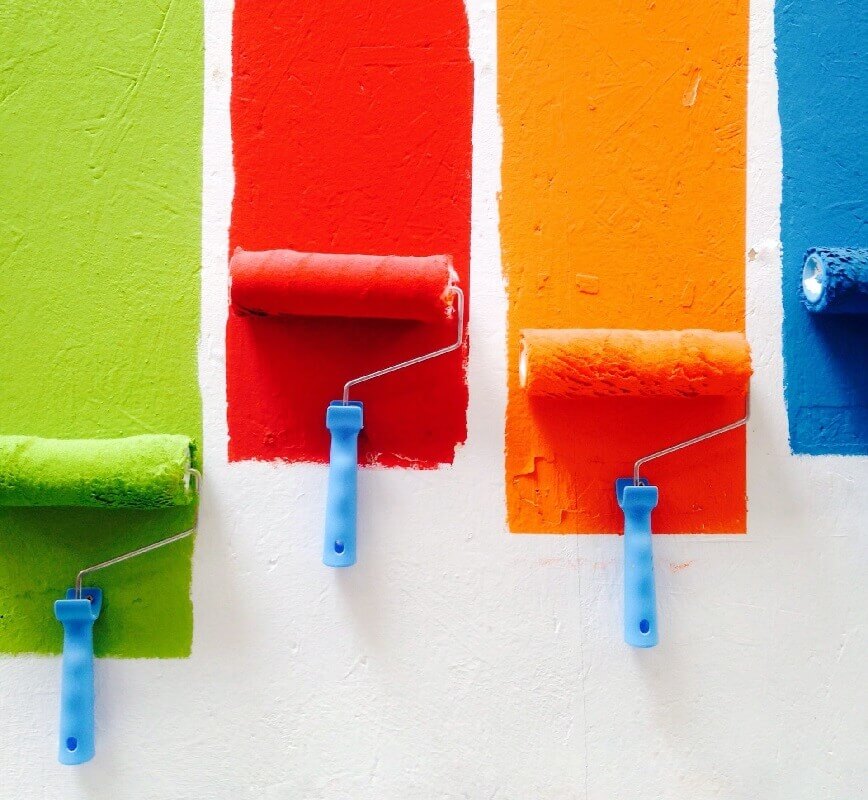 Achieve A Professional Finish with These 6 Interior Painting Tips
Preempt The Expected Mess
Thoroughly prepare the area you want to paint by removing all wall décor, covering or moving away furniture and other belongings and removing carpeting. Lay down plastic sheeting, cover sockets with painter's tape and remove curtains. Before beginning to scrape down the walls with a sanding tool to remove dust, residue and old paint build up.
Regardless of whether you are hiring professional painters or painting yourself with a friend, you need to create a passage back and forth with a plastic sheet to minimize mess. Furthermore, create some space on the side or in the garage where you can store supplies so they don't end up getting in everyone's way.
Some experts also suggest giving your walls a good washing with a standard soap and water solution. Depending on how old the walls are, dust can become firmly ingrained on the walls and can prevent that flawless finish from occurring with new paint layers. Use a lint roller or lint-free cloth to dry the walls for a clean canvas before you start painting. Always wear clothes you don't care about so you aren't worried about ruining them as stress can affect painting prowess.
Wall Primer
Having a priming step before you start painting is pivotal to achieving that immaculate finish. Use a wall primer and fill in gaps, crevices, dips and cracks since if left untended to, they can reform once you have applied a coat or two of new paint. The primer has a filling and smoothing function and paint will sit nicely on top and also appear opaquer and richer in color.
This step is especially vital if you are going for a nice bright color or even a darker color like navy blue, brown or black as crevices are more visible with these colors. In some cases, if the dips or cracks in the wall are very deep, mesh patches may be needed that the paint is then applied on top of.
A Trip to The Hardware Store
Before you set out to paint the walls of your home, take a planned trip to the hardware store and invest in good quality tools in a variety of sizes. You will need at least two differently sized paint rollers and perhaps also an extension rod to go with it if you have tall ceilings. A set of paint brushes is vital for a clean, perfect finish, especially for smaller areas like the side of windows.
Good quality synthetic brushes are an investment, but they can be reused years from now for a number of home projects like upcycling furniture or painting wall decals in bedrooms. Pay attention to what the professionals like Washington DC House Painters use in terms of tools and invest in proper tools for an amazing finish.
Mark It Out
Measure the wall and the general area that you need to paint so you are ready with the painting solution beforehand. Most paints need to be diluted with water in a 50 to 50 ratio or less depending on how thick you want the coats to be. If you use more water you will need to apply multiple coats of paint which can cause lumps to appear in certain area. Opt for only two to three coats maximum but make them smooth and opaque and mix the solution well beforehand, especially if it is a plastic or semi-plastic emulsion.
Mark out the area to be painted with painter's tape and demarcate around windows or other structural hindrances like fireplaces or installed radiators to ensure a clean finish. The painter's tape hack is very important for darker colors as any discrepancy is instantly more visible with the latter than it is with white or ivory colored wall paint. If you are painting the ceiling you will need to do the same with lighting fixtures like chandeliers or ceiling fans and the area will need to be measured separately.
Go For Quality
The quality of wall paint ensures a number of aspects from longevity, durability, and odor to visual impact. Lower quality paints can be a respiratory irritant and leave a lingering odor long after the job has been completed. Furthermore, low quality paints will be less resistant to moisture and mold and will retain color for far less time than a higher quality emulsion. Interior latex paints are generally a safe choice and if you are shopping by yourself, always ask for interior paint as outdoor paint has a different formulation that is more geared towards resisting the weather and external elements.
The finish of the wall paint determines the end result so matte, high-gloss, opaque and so forth are all choices for how you want your finished wall to look. Matching the wall paint with the general interior design concept is a good indicator as matte finishes are uber-modern while high gloss finishes give a more luxurious appeal. Semi-gloss finishes are great for smaller rooms where light reflection is more important such as a small powder room, vanity area or dressing room.
Build Up in Layers
An expert tip for an immaculate finish is to build up the color of the wall paint in layers. Have a solid base coat that has been applied carefully and then build up in thinner layers on top. Let each layer dry completely before you apply the next one. This may stretch out the time needed to complete your home painting project, but the results will be far superior to what they would be if you haphazardly applied one coat on top of another. If the base coat is not allowed to dry properly, it can create bumps in the texture which are unsightly.