Designing your ideal living room can be difficult. There is a plethora of considerations for each and every piece: fit, color, texture, size, comfort, and price. Without overthinking it, you have to figure out how to pick out everything and make them all work together.
But, the good news is that it doesn't have to be a headache!
Use these 4 tips and principles to not only choose your decor but to get the most out of what you do pick. You're in the right spot if you're looking for some particularly useful living room decor ideas, so let's jump in.
[id=7906,3111,3659,2632]
The Center of Attention: Designate a Focal Point
You may be asking, "isn't this an article about selecting living room decor? Why does it matter how I arrange it?". The answer to that question is, of course, that the decor you select is dependent on the eventual layout of the room.
Designating a focal point allows your guest's (or your) eyes to immediately be drawn to a point in the room upon seeing it and give a symmetrical, pleasing anchor to the space.
Just like there's nothing worse than a portrait hung even just a little askew, a living room without a focal point tends to irk and irritate. Consider "anchoring" your room to a portrait or other large artwork at the center of the primary wall.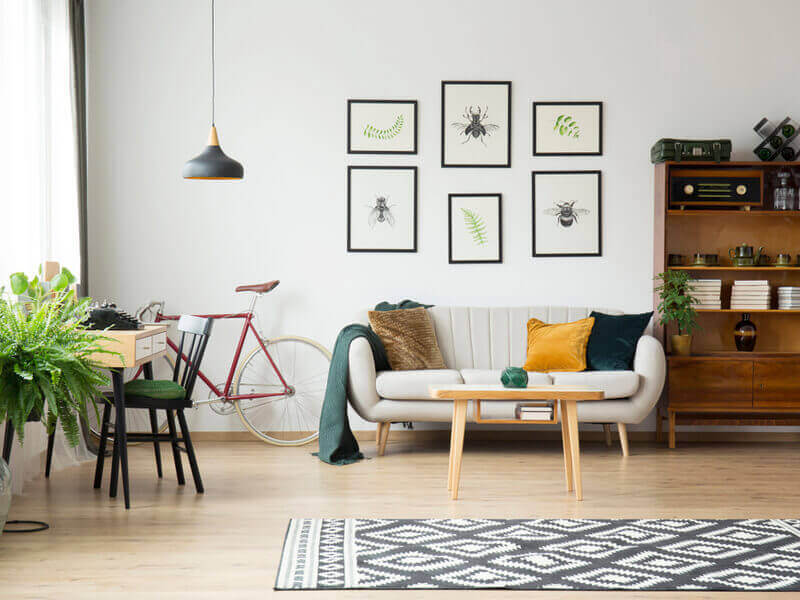 You can even use multiple pieces; just make sure that the outer edge of each frame is equidistant from the wall at each end. Take a few extra minutes to measure precisely, and save yourself years of annoyance by making it perfectly symmetrical.
A focal point can represent your style or taste. For example, if you're into weaponry, having an elegant 18th-century pistol replica as a centerpiece in a room is a great idea. Not only will it make a unique focal point, but it will also give the room a personal touch.
Of course, some rooms already have a natural focal point. For example, if your living room already has a fireplace, consider arranging furniture around that. Not only is a fireplace a cozy addition that you, your family members, and guests will naturally gravitate towards, it also can be an architectural anchoring point for the room.
[id=16518,15873,15333,8002,6615]
Again, apply the principles of symmetry here and make sure that your largest piece of furniture (which is, unsurprisingly, most often your sofa) is centered directly on the center point of the fireplace. All other furniture can be arranged around these two features. Now you're ready for game night - or just a good book and a drink - in your aesthetically pleasing and totally symmetrical living room!
Hang Tight: Pendant Lighting
In keeping with the theme of centering your living room, think about adding a pendant light. Hanging from the ceiling allows them to not only light an entire area of your living room but also to add a bit of decoration as well. As opposed to recessed lighting - which accomplishes the same goal, but without adding to the decor of the room - there are a variety of pendant-style lighting fixtures to choose from that are quite visible and can add character to your living room.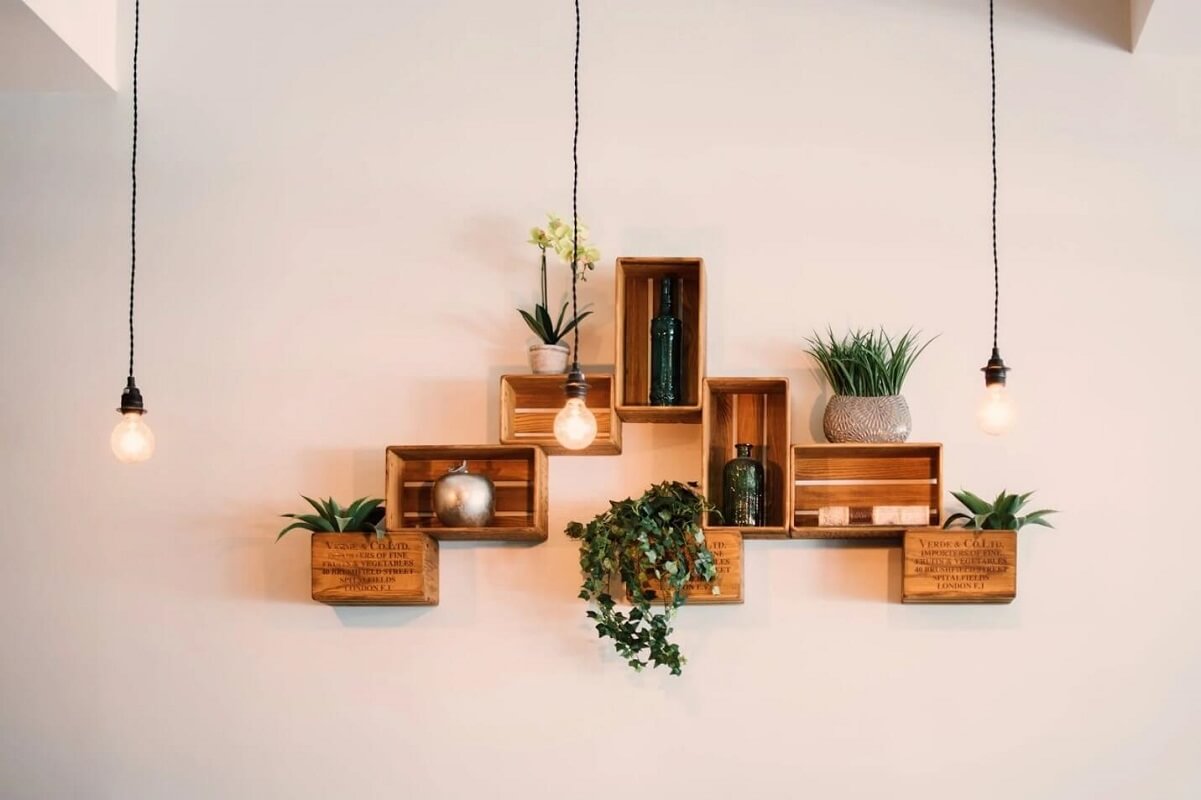 Chandeliers are a great addition directly over your coffee table. They'll ensure that your seating area is well-lit and that the light is evenly distributed over most of the remainder of the room. Think about pairing a chandelier with a chic floor lamp for the armchair in the corner, so that you have plenty of light for those late evenings reclining with a cat in your lap and a movie on the screen. A variety of lighting sources will allow to you alter the mood in a pinch.
Whether you choose a gaggle of bulbs, or a more traditional flowerpot-style pendant, using this type of lighting ensures an on-trend, hip look for your coziest of spaces.
Don't Forget to Enjoy Your Shelf!
Barren walls can give a room a cold and unlived-in feel, but you need not be mired in a sea of artwork when it comes to decorating the fringes of the room. Consider using floating shelves to add a bit of depth to your walls. They're also a great way to display items that you'd like to showcase - decor doesn't always have to be a picture!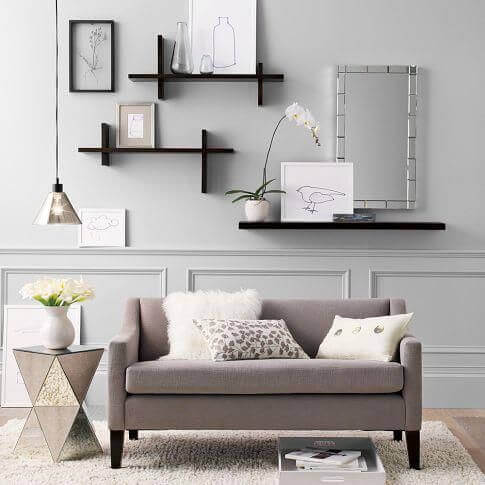 An assortment of small succulents on one shelf is a fantastic way to add a splash of green and other bright colors to your living room and works well to add a natural element to the core of your home. Using reclaimed wood shelving, in particular, can also give things an earthy feel. Other shelves can feature meaningful trinkets (perhaps something gifted to you by a loved one, or something from your travels) and even smaller picture frames propped up, desktop-style (4"x6"s and 5"x7"s work perfectly here).
If you're a reader, consider displaying your favorite books here for an easy conversation piece. Not only will they impart a hint of library-like snugness, but they can save you a trip elsewhere in the house to retrieve your favorite novel. Now that's practical, stylish, and cultured!
Finally, consider the alignment of your floating shelves before committing to their positions. Some homeowners prefer to merely stack them on top of each other, one a few inches above the other. However, you can also create a diamond shape, alternate them in a zig-zag pattern or go with a modern staircase look, with each shelf being placed a few inches lower than the previous one, to fill out a long wall.
Sitting, Waiting, Decorating...
Furniture is not only a practical component of every living room, but it offers ample opportunity to select decor that conveys your style. That said, consider going neutral and picking out simple white, gray, or black sofas, loveseats, or sectionals with little embellishment.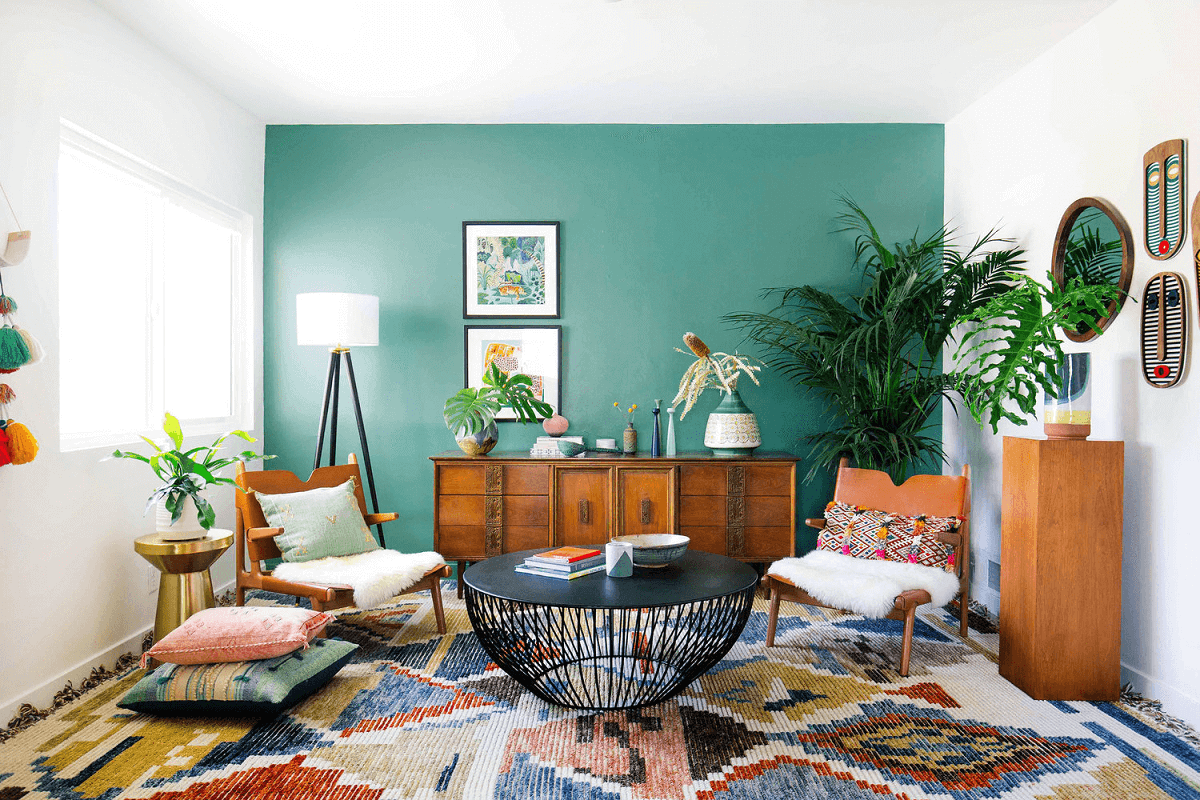 This will allow you more latitude to pick out your wall art, shelving, rug, lighting, and other items. While there's absolutely nothing wrong with choosing a blue or brown sofa, it can present more of a challenge to coordinate other furnishings with than neutral colors may. Those who'd like a variety of colors and textures in their living room are better off keeping it simple
The arrangement of your furniture can also greatly affect the feel of your living room. A sectional can either close it off from the rest of your house and give it a "chopped-up" feel, or, when placed with its backsides towards the wall, a sectional can serve as an inviting, big couch that doesn't have to dominate or restrict the flow of your room.
The same principle goes for the more traditional sofa and loveseat combination. This option also has the added benefit of allowing for an end table to be placed at the junction of the two couches for additional lighting, decoration and simply being a place to put your drink. Try matching the end table to your coffee table for an even better balance.
Creating your Dream Living Room is Easier than You Think
If you keep in mind these four tips and design principles, you can quite easily pick out your ideal living room decor and use it to create a tasteful, homey living room. Flow, color, and lighting form the foundation of your design philosophy and a few modern design ideas give it a panache all its own.
Keep your thinking in line with these four simple tips, and you'll soon have everyone's favorite chic new hangout spot right in your own home - no shoes needed!