The living room is the first area that your family and guests see as they enter your home.
It is also the place where everyone in your home is likely to spend a lot of time as you bond and do different family activities together. Your guest will also spend time here whenever they visit since it is the best place for you to entertain them.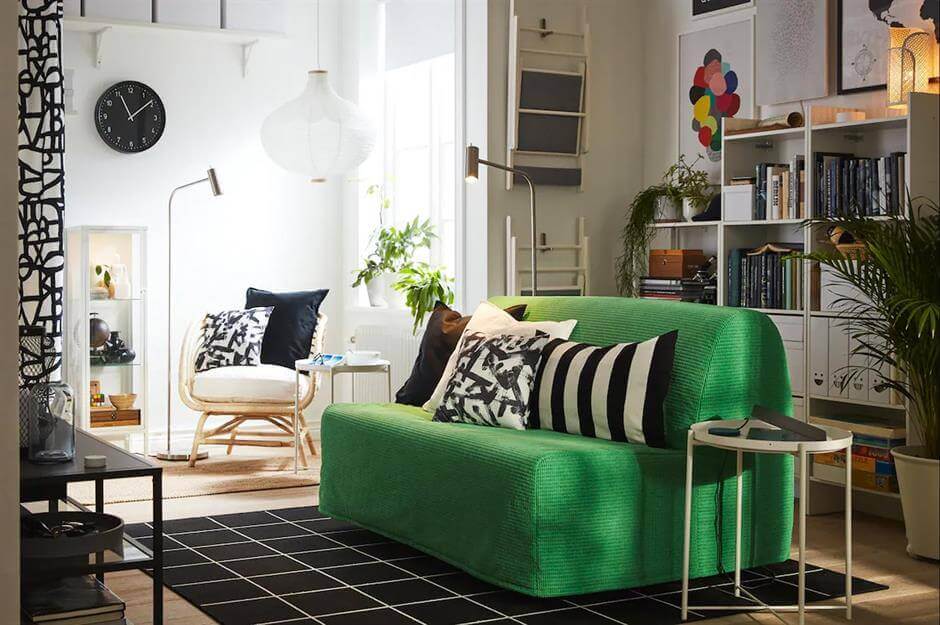 With the living room being the first area, everyone sees when they enter your abode, and the top family and entertainment space in your home, you have to ensure it doesn't look and feel cramped or cluttered.
Ways to Make Your Living Room More Spacious
Regardless of the size of your living room, there are ways for you to make it look and feel more spacious to ensure it can accommodate the furniture and fixtures you want to place here.
Making your living space bigger also guarantees the comfort and convenience of anyone spending time here.
Below are the seven best tips and tricks for making your living space look and feel bigger:
[id=16518,15880,15873,15622,15334,12942]
Choose your Furniture Well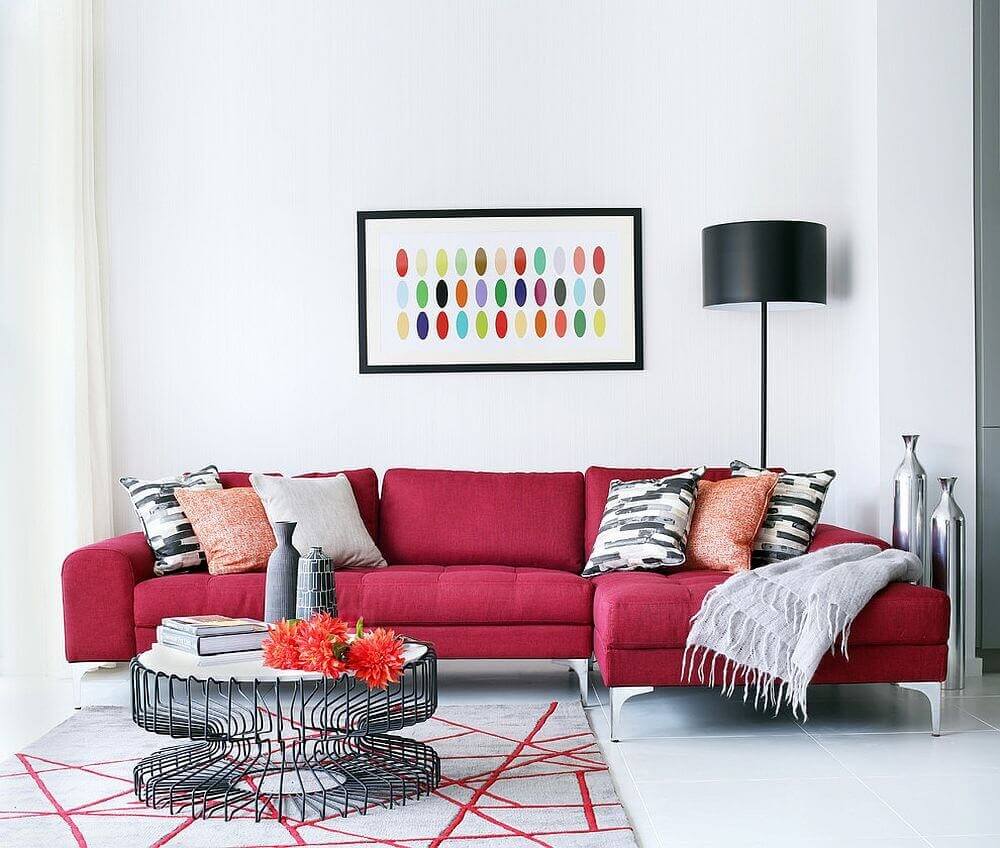 If you're shopping for living room furniture in Dubai, you may gravitate towards smaller pieces to save space and make the place look bigger. However, you don't have to limit your choice to these options only.
For instance, a large sectional sofa can also make your living space look bigger. However, make sure it has the same or similar color as the walls so that they don't dominate the room. Don't forget to choose one that has a sleek design as well.
To complete the look, keep the rest of the living room minimal. This means not putting a coffee table in the middle so that the floor can still be seen.
If you prefer small and sleek furniture pieces, opt for chairs and tables with tapered legs and thin frames.
Whether you choose large or small furniture, always go for refined pieces in light hues and natural finishes such as silver or polished marble.
Also, always consider the scale of the furniture to the room and avoid oversized pieces since they can make the space look cramped and feel darker.
Use Colors Wisely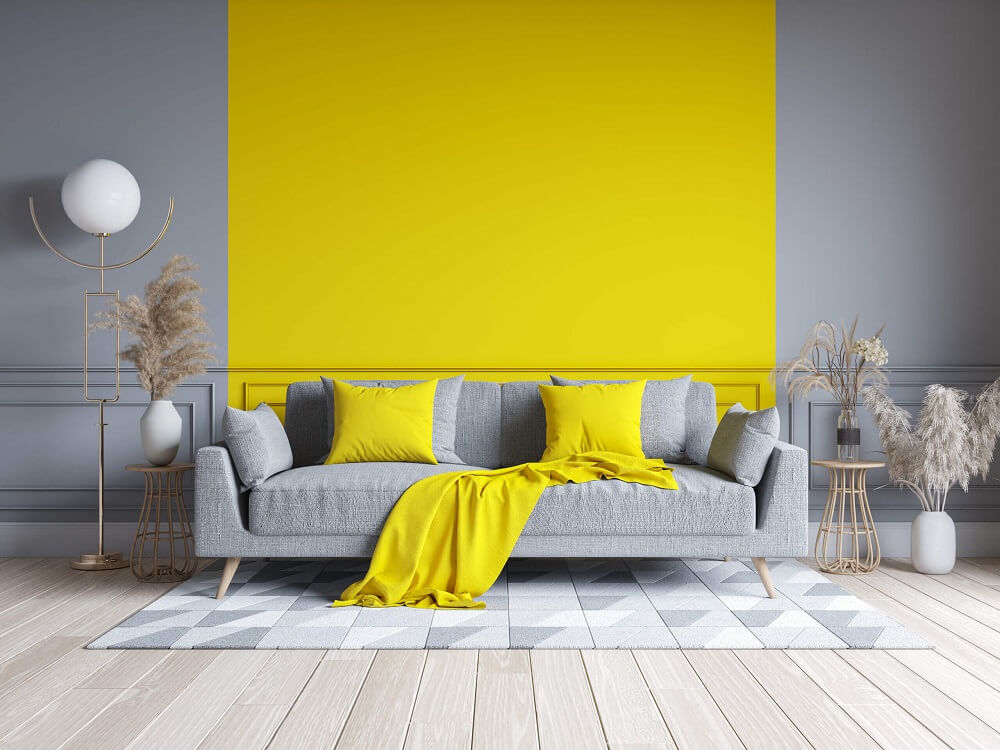 White walls and ceilings can give any room a more spacious look. However, this color isn't your only option if you want your living space to appear larger.
If you are thinking of repainting your walls, aside from white, you can go for light beige, coral, muted sage, and any light neutral. These colors can make the room look brighter and feel fresh.
Choose white for your woodwork, skirtings, and shutters, if you have any.
But when it comes to furniture, you don't have to limit your options to light hues. You can go for brighter colors, especially if you want the piece to stand out.
However, make sure you stick to a limited color palette for the walls, furniture, and other fixtures. If you don't have a scheme, the different hues will create a visual distraction and end up giving your living room a cluttered look.
Pull the Furniture Away from the Walls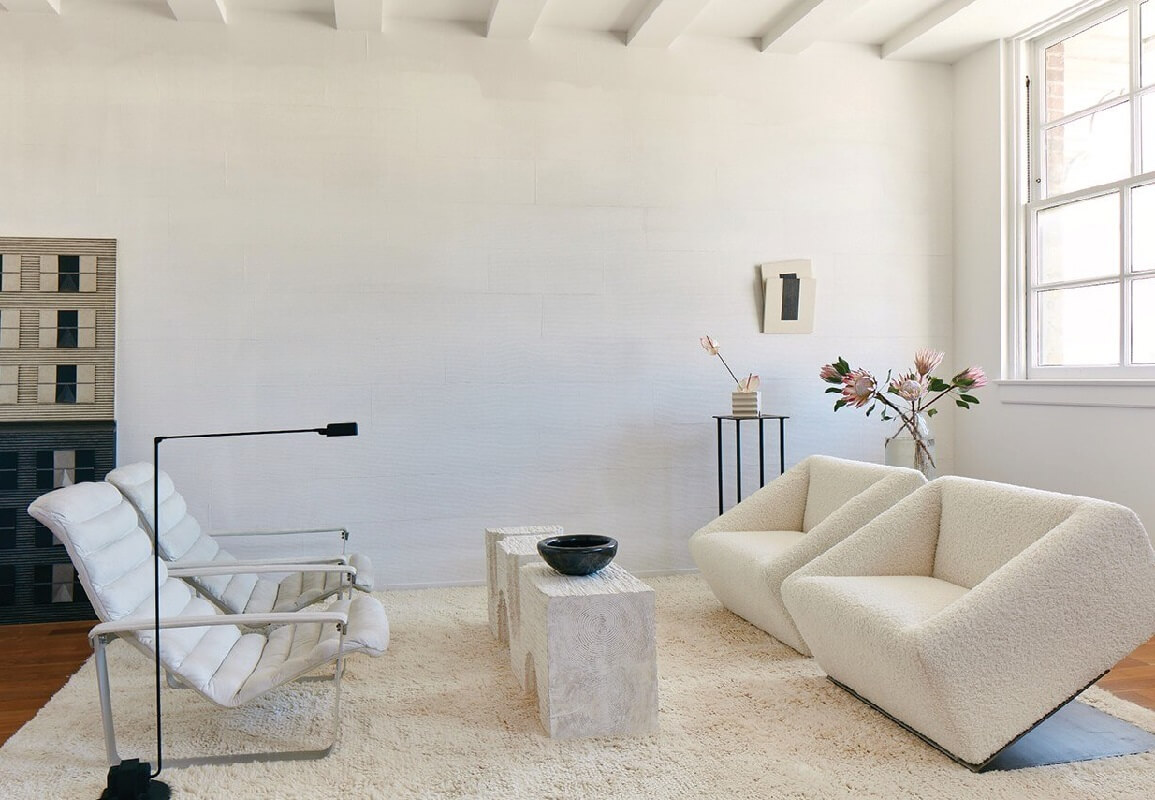 Pushing the sofa and other furniture against the walls is a traditional way of styling rooms that you will do well to forget.
Although this styling tip can create more floor space in the center of the room, when you pull the furniture pieces (even just one or two) away from the walls, you give the area more fluidity and make it look bigger.
By simply pushing the sofa away from the wall, the space between them will create an illusion of airiness in the room.
Additionally, keeping the chairs away from the walls can create more intimate conversation zones in the living room. This means you and your family won't have to shout at each other to communicate or stand up to pass the remote control.
[id=14306,13264,7592,188]
Use A Large Rug to Expand Floor Space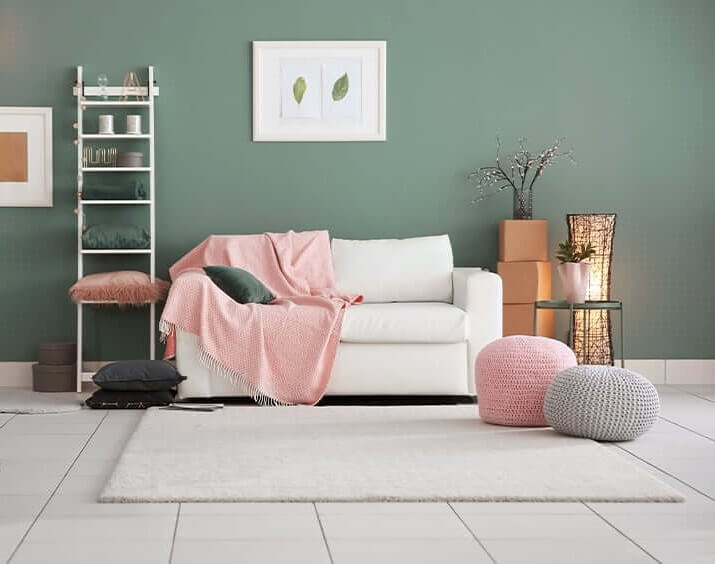 If you have a small living space, a large rug is what you need to make it look more spacious effortlessly.
Instead of getting smaller rugs, choose a large one so that it doesn't break up the floor visually. As a result, you give your living room a larger appearance.
Additionally, a single large rug can help anchor the space and give you a centerpiece you can use to design the rest of the room around.
To get the most from this floor covering, buy one that works with your floor space. It should run underneath the biggest furniture pieces or under the front two legs of these fixtures.
Also, leave at least 10 inches of floor around the edges so you can still see a little bit of the natural flooring.
Decorate the Room with Mirrors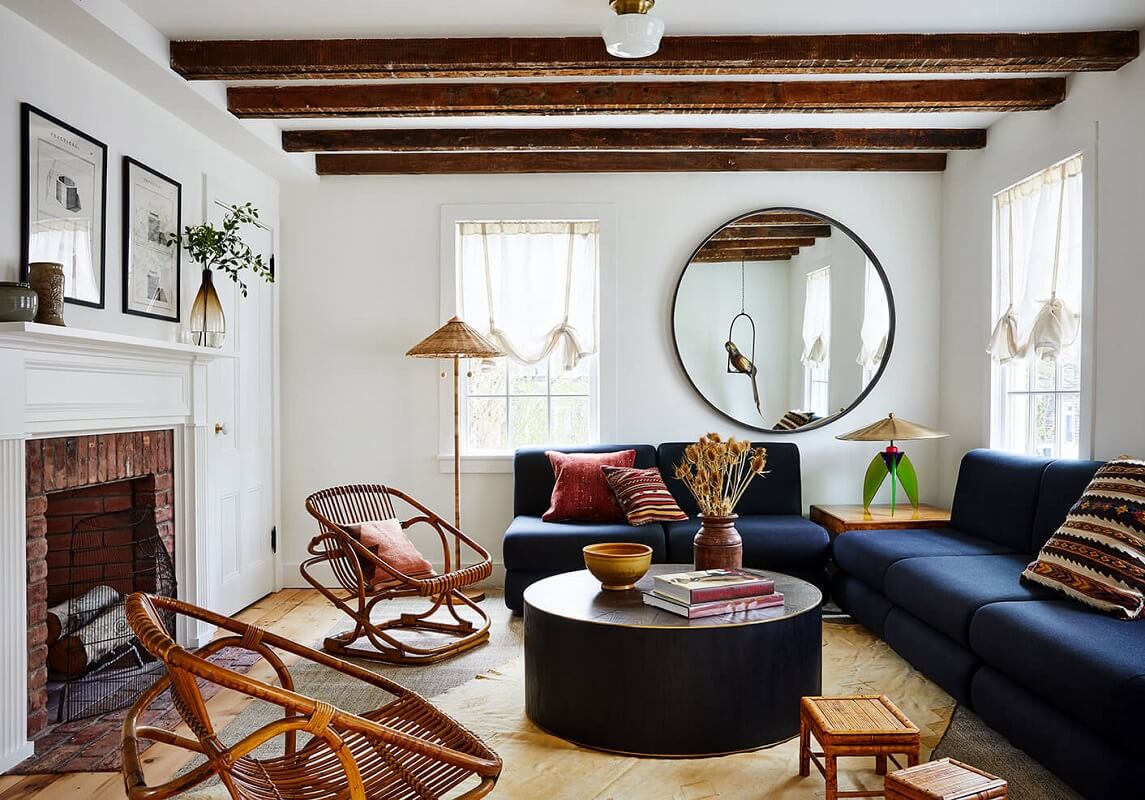 Using mirrors is the easiest trick you can do to give rooms a larger appearance.
By simply hanging one or two mirrors in a room, you can watch the space expand. However, if you are more strategic, you can maximize this effect.
For instance, hanging a mirror opposite a window can enhance the natural light inside the room. This will make the space feel brighter and bigger.
Also, putting a large, leaning mirror in a corner gives the impression you have more floor space, especially if you choose one with a minimalist frame.
Allow more Natural Light Inside the Room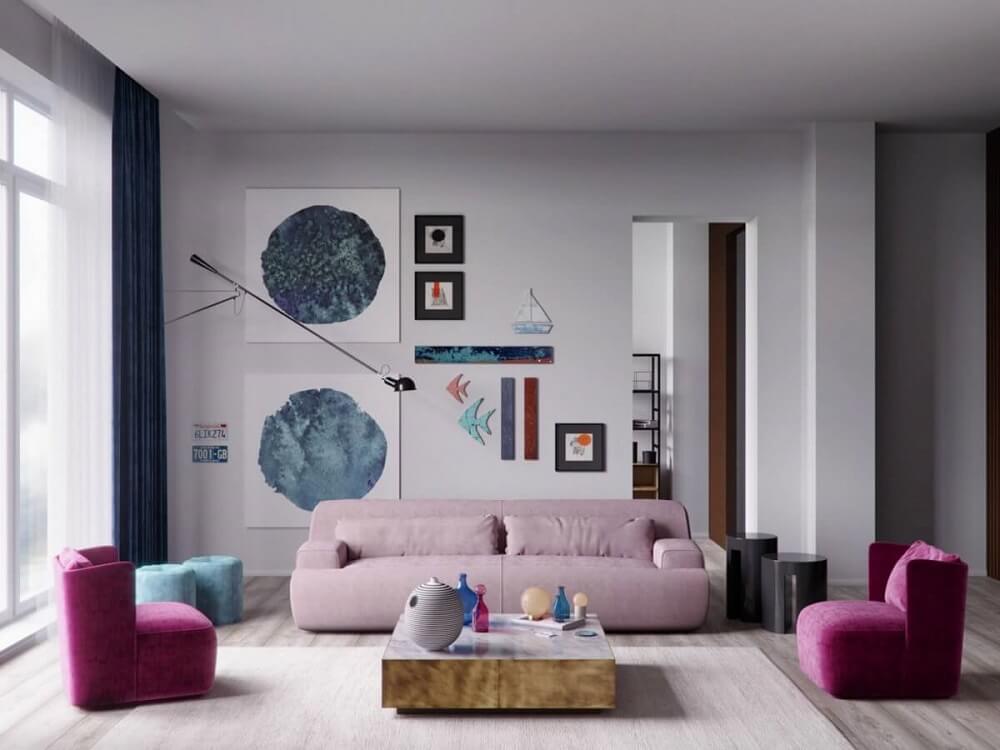 Letting sunlight inside your living space allows you to maximize the effects the mirrors bring to this room.
Opt for light curtain fabrics to let more sunlight in. You can even skip window treatments altogether to allow more natural light in, if possible.
The light window treatments or their absence will make your living room appear brighter and larger instantly.
If you choose sheer curtains, hang them slightly above the window and let them fall to the floor to give the room additional height.
Give the Illusion of Height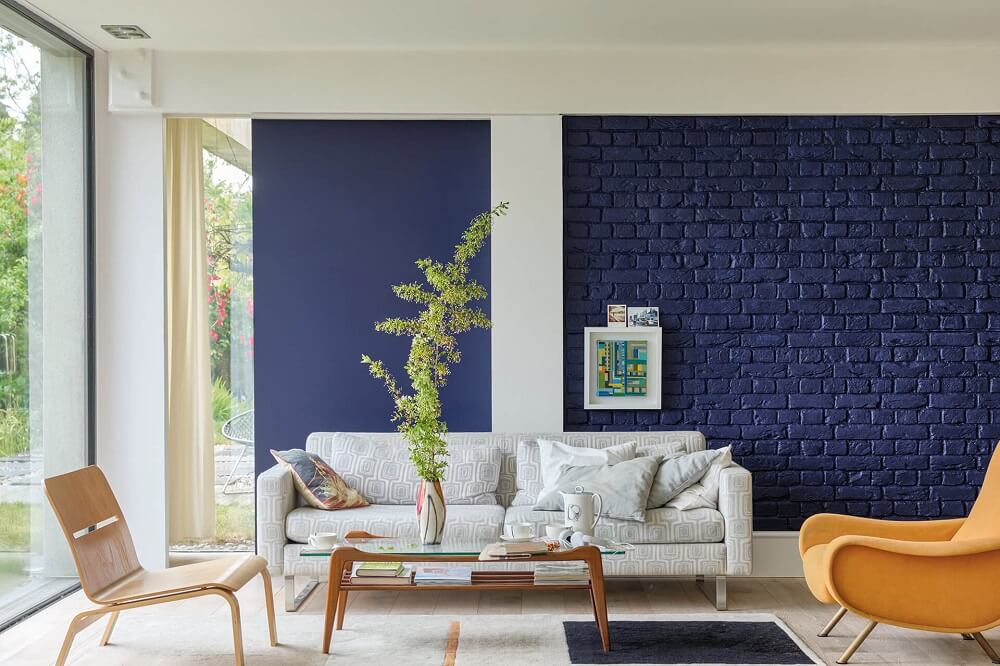 Lastly, high ceilings give a room a more spacious look even if it is not huge widthwise.
However, if your ceiling is not high, you can still create this illusion by hanging art pieces or mounting some shelves on the top half section of a wall.
Installing wall lights on the upper part of the wall can create this appearance as well.
The decors and fixtures will draw your visitors' eyes upward, creating the illusion of height and width.
Mounting your curtain rods higher than your window frames can give a sense of height in the room as well.
With these tips and tricks, you can give your living room the impression that it is loftier, lighter, and lovelier overall.