You've got your kitchen design all laid out. You have the cabinets, countertop, flooring, and paint color all decided on.
But what about the plumbing?
Many people believe that plumbing is a lesser priority in a home improvement project because it's an "invisible" work. Contrary to this belief, plumbing can make or break your kitchen renovation.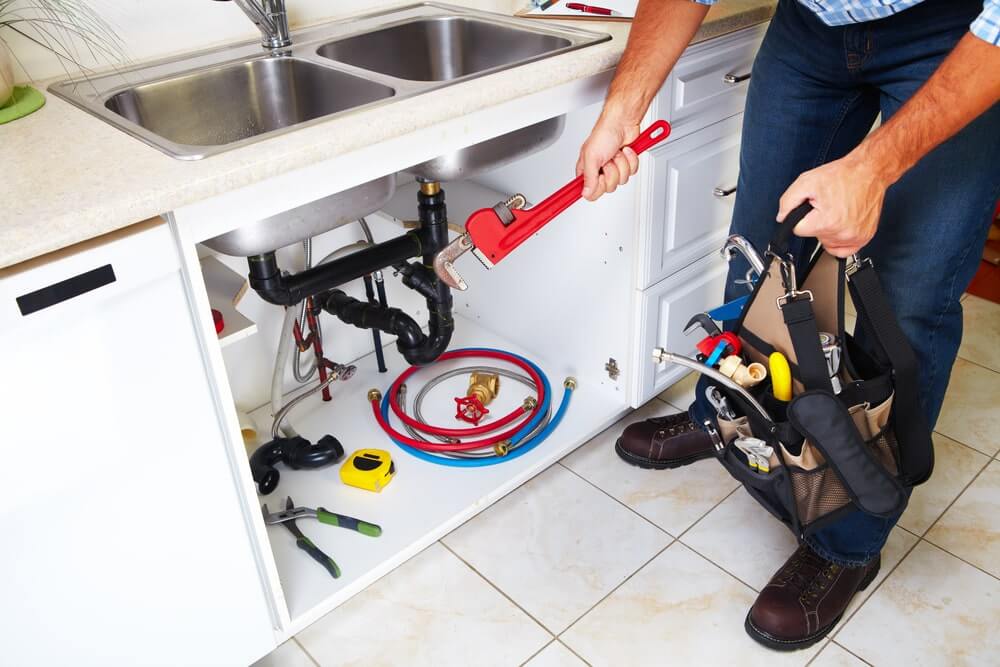 Here are 12 tips for getting the best results from your plumbing during a remodeling project:
Ensure complete water shutoff
The last thing you want is for someone to turn on the faucet while you're working under there. To be safe, completely isolate any water supply lines before starting work. If possible, disconnect them at both sides of the joint. If this isn't possible, unscrew the lines from the fixtures and place them into buckets of water outside. Not only will you be safe, but your tools won't get damaged or corroded by running water.
Add insulation to pipes
Insulating pipes is an excellent idea for several reasons. It is inexpensive, it keeps drafts out of your home, and it makes plumbing more efficient. "The easiest way to insulate existing pipes is with foam pipe insulation. As long as you can reach everything inside the pipe wall, cut a piece and ram it in there until snug (a dowel or very blunt object works well.) For outside piping, use expanding foam insulation. This material comes in a can, and when you spray it into crevices around the pipe, it expands to fill the space." says the experts from QLD Coastal Plumbing.
Insulate hot water lines
If you're planning on installing an instant-hot water system like a tankless or solar-powered heater, you should insulate your hot water lines. Otherwise, your pipes will freeze during cold weather, forcing you to turn off the system until they thaw out again, which could take weeks. While standard foam insulations are fine for non-instant systems, if you want to ensure that your pipes don't freeze this winter, then try using expanding foam insulation or another expanding product to fill gaps between piping and walls.
Use a ground wire
This is a simple and inexpensive thing to do, but it's also an easy feature to overlook during the planning phase of your project. If you have exposed pipes that run along outside walls or in crawl spaces or basements, then be sure to include a ground wire within the piping system for safety. Always use copper wiring when possible so that any rust that might form will be less likely to corrode surrounding parts as well.
Verify water pressure
Insufficient water pressure can be caused by low-quality fixtures or from the layout of the piping itself near faucets and appliances. To see how good your water pressure is, turn on the tap and check to see how much the stream splashes. If it's too high, or if there is a stratification of water levels within the stream itself (what looks like layers of transparent and brownish streams), then you likely need to increase your flow rate and re-direct piping as well.
Consider tankless heaters
While conventional hot water tanks have been around for decades, nowadays, they're being replaced by more energy-efficient options such as a solar-powered home heater. These systems work by heating a reservoir of water that runs through pipes in your walls throughout your house. This heats up at a steady pace regardless of hot or cold weather, allowing you to enjoy a warm shower or bath anytime without wasting energy on heating water beforehand.
Keep troublesome pipe joints covered
When working with pipes with fittings, it's easiest to wrap Teflon tape over the joint and then screw both sides together before tightening completely. If you try to tighten using two wrenches at once, you risk misaligning them and potentially breaking pipes. Always use elbow-type fittings whenever possible because they are less likely to leak over time but always make sure your plumbing is tightly screwed in.
Choose water-efficient and energy-efficient options
Solar power and heat-pump water heating systems are becoming more popular for residential homes. Many of these options save money on energy bills while also making your home more environmentally friendly, as you're reducing the amount of carbon produced whenever you use hot water.
Try ductless systems
Are you tired of having to clean out your dryer vent after every load? Then it might be time for a ductless dryer venting solution. In addition to reducing air pollution and conserving energy, this system keeps lint out of the house and off your faucet screens.
Put the dishwasher next to the sink
If you're planning a new kitchen, pay close attention to how far your dishwasher is from the sink. Placing it too far away makes loading and unloading more difficult, so keep a watch for that during the design process. This also exposes piping that needs extra insulation support to prevent leaks, and if you want to protect this further, be sure that you also put some padding between them.
Map out where your fridge will be located
Make sure the fridge will have access to a proper water supply. If you don't have enough space for a refrigerator, then move your cabinets around. It's easy to forget about the plumbing and wiring when you're doing a DIY kitchen renovation, so make sure that you check these out before cutting into walls or placing major appliances. If you need extra space for an appliance, consider putting it in one of your corridors instead, which will give you more room to install other cabinets.
Use your existing plumbing
To save on your renovation expenses, try using the existing piping as much as you can. Though you'll need to replace it with more robust pipes in some cases, this is a great way to save money for smaller items such as sinks and faucets.
Avoid re-inventing when it comes to plumbing and electrical issues. Stick with what works instead of spending time on new embellishments that might fail later on.
A kitchen is one of the places in the home where families and friends gather. It is a room of memories, meals, and laughter. For many homeowners, it's also one of the most critical rooms to renovate or remodel because it influences so much more than just changing the paint and adding more appliances. If you are considering a renovation project for your kitchen, here are twelve plumbing tips that will help make sure all aspects of this major undertaking go smoothly and lead to success.