You would want to go over your kitchen before deciding on its workspace and other elements. When you investigate it, you have to remember your layout options well. For example, an L-shape layout can stand out for its ability to maintain airiness in concise space.
However, it doesn't mean you cannot use this format in a generous kitchen size. No matter how much square footage you have, you can implement this style with traditional or contemporary cabinet looks.
Plus;
It doesn't pose challenges whether the kitchen has sloping ceilings or oversized windows. It is just that you have to figure out traffic flow, exit points, and other highlights to build a neat work zone dedicated to separate kitchen tasks.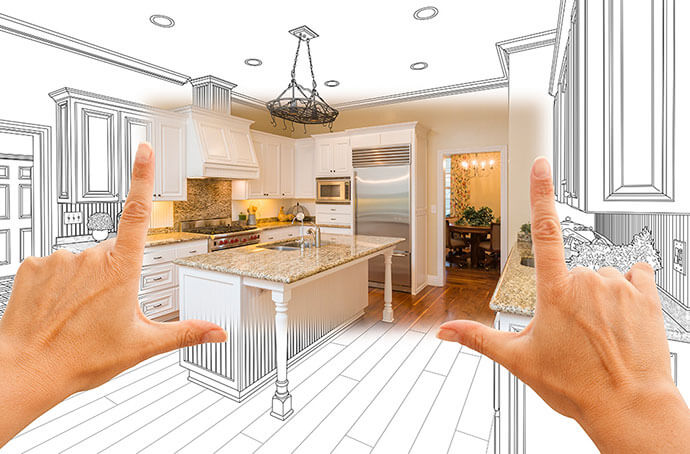 How to Arrange an L-Shaped Kitchen?
An ergonomic kitchen layout will create a smooth space for traffic flow and the most suitable cooking environment.
The position of the cabinets and countertops will ensure that the user gets easy access to everything without any physical limitations. The work triangle, intelligent storage, and valid provisions for utensils will form an integral part.
Vertical Storage Units
The efficient L-shape layout enables you to incorporate innovative storage solutions, such as floor-to-ceiling units, in the kitchen.
However, this design works BEST for a window-less space.
You can install cabinets where tiled splashback ends. The storage can cover the entire vast area of the wall while reaching the roof to utilize each inch. For knives, you can use magnetic strips for walls.
Two L-shapes
A decent kitchen LAYOUT can have two L-shape configurations, using the floor space wisely.
You can use the primary area as the base counter for appliances and amenities, and the smaller L-type counter space can come in handy as an eat-in area. When you fashion your kitchen after this style, you essentially carve a particular dining area for socialization.
It remains UNAFFECTED by the cooking zone yet being ideally close to it.
Open Plan
An open floor plan with the kitchen and living room will have only two walls to demarcate one zone from the other.
Since restricting traffic to the kitchen is CRITICAL…
You can choose the far-end corner for cooking tasks. The more accessible area can remain dedicated to living space. You can reserve windows and architectural intricacies for this part of the house.
Another thing is the kitchen would use a large part of the wall. So, you cannot give it to the living room. It would be best if you chose a distant corner for your sink and appliances to keep them away from the living room.
Free Space
A small kitchen is always at the risk of looking busy. If you want to AVOID it, choose open shelving over closed ones. The cabinet look can be perfect for a spacious kitchen, though.
The efficient L-shape is also well-known for its ability to allow a tiny dining corner. However, it is better to keep that zone separate from the rest.
An L-shape layout is all about flexible and straightforward designs that don't compromise with practical needs.
So, keep this factor in mind!
Color and Patterns
One of the lovable aspects of an L-shaped kitchen can be the freedom to play with dark colors and patterns.
The warmer shades can be most suitable for a large kitchen. You can enhance its beauty by pairing it with painted wooden cabinetry to infuse a sense of rustic charm. DON'T forget to leverage the elegance of painted wood for walls and architectural details.
If you wish to retain a contemporary vibe, make the sharp edges smooth. It will have a MINIMALIST feel. For this theme, medium to deep grey color can be the right pick. It looks both refined and sober.
A white farmhouse sink with a high-quality and elegant faucet in gold finish can also match this background.
Kitchen Island
[id=6035,10850,12948,14550,15318]
Having additional counter space can never hurt unless there is a space crunch.
In a large kitchen with L-shape, you can have a center island for informal dining experiences with family and friends. Cooking and other daily chores should remain restricted within the L, while the rest of the free space can witness get-togethers.
You can make this space personalized with unique curios and signage.
Work Storage
Contemporary-style tiling and rustic country-type wooden vibe can combine to create a massive decoration effect. You can use light and dark tiles to divide cooking and prep zones. Plus, the stark contrast can also be an excellent addition to the traditional cabinetry.
However, a small kitchen can include wood shelves near the sink area onto the corner walls. These always look stylish and practical. You can equip them with glassware, china, etc.
Under the shelf, you can add a rail to hang saucepans.
Window
Proper ventilation has to be there, be it your kitchen, bathroom, or any other corner. It makes things healthy and beautiful also. So, you can take advantage of L-shape to build a window on one side of the L. It can provide balance to the other leg of the L housing your cooking hood, cabinets, etc.
Plus;
Window designs can act as a statement for the wall. You can elevate the entire appearance by using different styles of blinds.
If you select an L-shaped layout for your kitchen, you know how to use its design to your advantage now. Since the possibilities are immense, there is no need to limit your imagination.
You only have to see that your small kitchen doesn't feel cramped or larger one wastes space that could serve your purpose in so many ways. If you can achieve this, implementing any contemporary, rustic, traditional, or modern theme will not be out of reach.
You can justify your options hassle-free.
Of course;
Budget and time will be significant investments from your side. But after the work gets completed, you can enjoy your new kitchen look with pride.
Make sure you hire a trustworthy modular kitchen designer or contractor for this job, as it can be difficult to achieve perfection without professional assistance.