Designing your kitchen can be a fun activity as you get to be in control of how you'd like the entire space to look in the years to come. You can use minimal, monochrome, sleek and modern, artistic, rustic, or any theme to spruce up your kitchen based on your needs, preferences, or even your personality.
Along with choosing your kitchen theme, you should also prioritize your kitchen countertops. They'll be your most used surface, defining the comfortability and attractiveness of your kitchen as you cook delicious meals for your family and friends.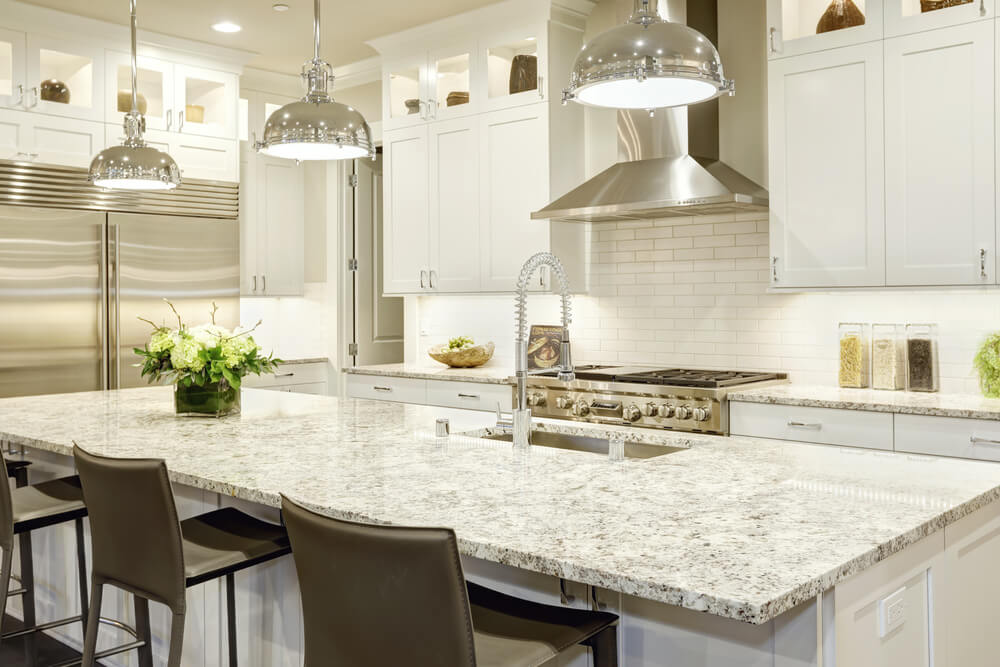 Although it might seem like a small thing, your countertops can highlight the beauty of your entire kitchen. It helps give off the vibe and mood you'd like your kitchen to have. While there are plenty of options you can choose from, using Orlando granite countertops or those from other suppliers near you should be your best choice as they can provide your home with plenty of benefits. With that, here are some reasons to prefer kitchen granite countertops for your home:
Durability
One of the main reasons for the popularity of granite in kitchens is its durability, perfect for your kitchen environment. Even if you don't plan on breaking your countertops intentionally, you know the area is prone to accidents, which can cause your entire slab to break. This can be unfortunate because you'll need to replace the entire countertop as they come in one piece, thereby burning a hole in your pockets.
Luckily, you can count on granite's durability as a hard stone. They're resistant to any possible damage, keeping your countertops intact even with some intense actions. Moreover, granite is heat-resistant, making it a safe option if you frequently forget to place pot holders on your countertop. This way, you can prevent cracks that can damage your entire countertop.
Cost-Efficiency
Because of granite's durability, you can expect them to last long inside your home, making them a perfect material to consider for your kitchen countertops.
Except for severe damage, the only time you'll replace your granite countertops is when you decide you'd like to remodel your kitchen. While they may be costly, this sturdy material is worth every penny as it can provide timeless beauty to every home.
Easy To Maintain
When choosing a kitchen countertop, you should always consider the maintenance they need to keep them in their best shape. No matter how beautiful any material is if you're not too comfortable with maintaining it regularly due to your hectic schedule, look for another one elsewhere.
Fortunately, granite countertops are easy to maintain if you seal them properly. You can easily wipe away dirt and water, helping you keep your granites looking new. However, they might require some regular resealing from your end, which can be once a year or more often, depending on your countertop's exposure to water. Thus, you should hire a professional to seal your countertops so they can provide maximum benefits for your home.
Unique Design
Unlike man-made countertops, such as laminate, porcelain, and metal, granite is from natural materials. No matter how many granites you put together, you won't see the same slab with the same color, shade, and pattern. Hence, you can guarantee that your granite would be unique, helping elevate your kitchen's appearance.
Besides, you might need to go on a small adventure to look for the perfect granite to match your kitchen's interior. You might base it on color, shade, and how the patterns play well on their surface. You can go for a large mix of black or choose one with a lighter hue that looks a bit marble, making your kitchen appear brighter and lighter.
Increases Home Value
If you're planning to sell your home in the future, investing in a granite countertop would be an excellent option for your property. As you install them inside your home, you can expect to attract more people, helping increase your resale value.
Additionally, because your home already has an existing granite countertop that matches your kitchen's interior, people are most likely to pay more for your house as they no longer have to worry about new countertop installation. With this feature, you create a solid impression among buyers, allowing them to view their soon-to-be home as sturdy and appealing.
Beautifies Your Kitchen
As you choose between the various shades of brown, black, and white, you should be able to see the appropriate color that will match your kitchen's interior, completing its look. Likewise, because granite is already textured and contains a unique pattern, you can allow it to be your kitchen's highlight and center point. Your lovely granite countertops will be the main attraction among your cutlery, pots and pans, and other kitchen essentials.
High Resistance to Dirt and Bacteria
Maintaining your countertops through a quick reseal annually can help protect your granite further from dirt and bacteria. So, you can guarantee that your kitchen countertops are safe for your food and meals as you prepare them throughout the day. However, don't forget to give them a quick wipe during spills to ensure they're thoroughly clean.
Thanks to the sealant you put on your granite countertops, you can expect them to be free of harmful elements that may hurt you and your family. It will be the perfect choice of material for your kitchen countertop, especially because hygiene should be a priority when handling food in any environment.
Takeaway
Picking granite tiles for your kitchen countertops should be a no-brainer choice that will work to your advantage in the long run. With the benefits they can bring to your home, including making it aesthetically pleasing and increasing its value, you can rest assured that they'll do wonders for you for many years. Therefore, they are a worthwhile investment that you'll never tire of looking at whether you're cooking or just lazing around the dining area. Furthermore, with their durability and longevity, you can no longer ask for a better alternative.