There are only a few people who consider organizing an enjoyable chore. Busy homeowners can't spare enough time to organize their homes, which often leads to clutter and disorganization. One area that easily gets crowded and cluttered is your kitchen. Hence, it's essential to find ways to improve its organization by applying easy steps.
A tidy kitchen can make a big difference in your household. Your children would love to spend more time with you while preparing meals. Not to mention, you can easily access everything you need while cooking without having to check every drawer and nook. Needless to say, you can take advantage of the many benefits when your kitchen is well-organized.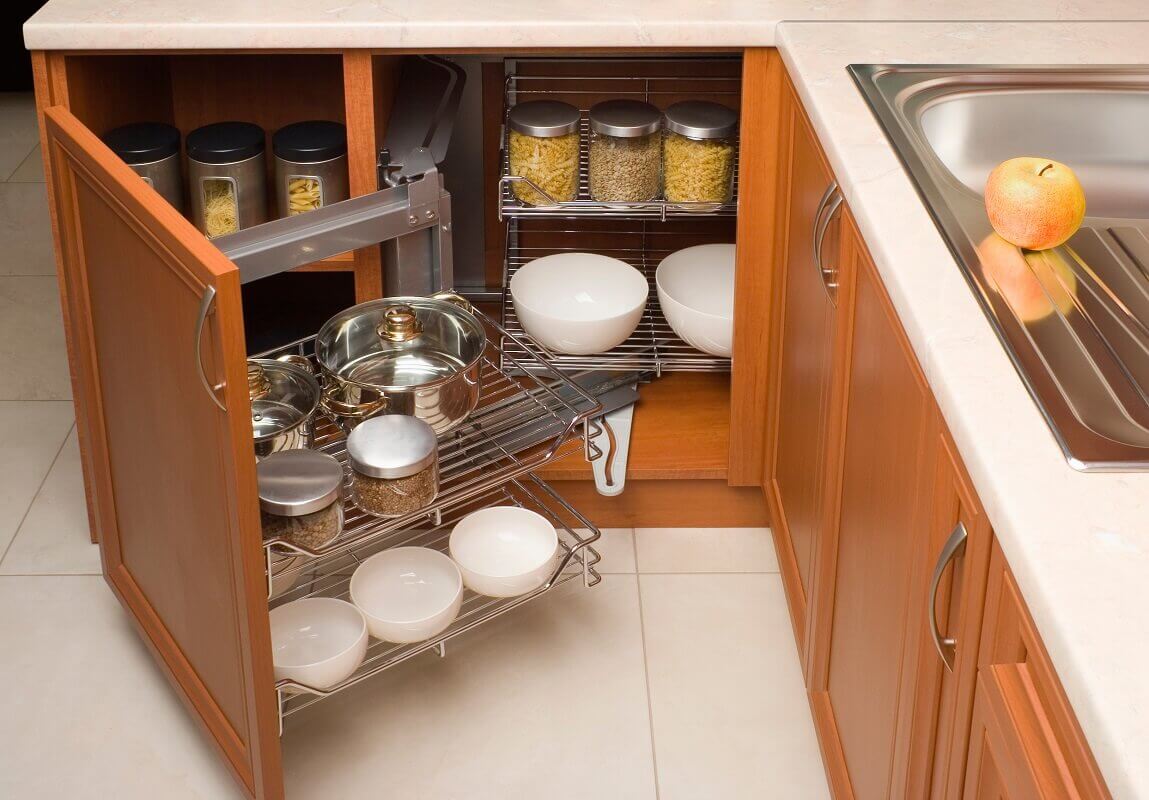 Having said that, here are some easy tips to improve your kitchen's organization:
Organize Cabinets According to Contents
Kitchen Capital says that there are many kinds of cabinets and cupboard styles to choose from. The key is to designate every cabinet to its rightful contents. If you want to organize your kitchen, you should delegate a cabinet specifically for your baking needs, a separate one for your kitchen utensils, and another for stoves and spots. You may have many appliances, ingredients, herbs and spice, and more. The key to keeping them organized is to group them into categories.
By doing this organizing tip, it would be easier for you to access what you need. You'll be familiar with which cabinet contains what. This also helps the rest of the family members to learn where to place things in the kitchen. You can prevent misplacement and disorder.
Consider Using Rolling Carts
If you have ample floor space in your kitchen, but narrow cabinets and cupboards, one great alternative storage solution is to use rolling carts. In most instances, homeowners use them typically to hold condiments, essential ingredients, or ready-to-eat snacks. Because they come with rollers, you can easily access them while cooking or preparing snacks for the family.
Some rolling carts have more storage space so that you can add kitchen appliances and utensils. They can easily be moved around, so you can easily choose where to place them. This is a great idea to improve organization in your kitchen. Rolling carts are perfect for storing small items that may clutter your kitchen counters.
Install Rollout Drawers in Cabinets
When you install rollout drawers in your cabinets, you can avoid the inconvenience of bending so low and hurting your back just to get something in the innermost part of the cabinet. You can easily access your favourite small appliances with this pullout drawer. This saves time and prevents hurting your body while bending too low. Roll-out drawers are easy to install and are usually sold in kitchen and home improvement stores. Just follow the installation guide, and you can use the drawers to organize your kitchen better.
[id=252,459,554]
Try to Label Everything
Organizing your kitchen can be achieved effectively by using labels. They're ideal for labeling food, ingredients, herbs, utensils and appliances. The key is to print them out using a consistent font type, colour, and size. Before printing, roam around the kitchen and study what labels you need to print.
Everything will stay in its place if you do that; it'll all look neat and systematic. It's easier for others to put things away if there are labels instead of simply storing the items anywhere. You can consider adding labels, even inside your fridge too.
Create Kitchen Segments
A valuable part of this process is determining where certain items belong. When your kitchen comes with enough floor space, it would be ideal for creating kitchen segments. While there's already a given layout, it would be best to do it strategically. For instance, the cooking area should be where you store utensils, pots, stoves, herbs, and ingredients. Your dishwashing station should be where your dishes, glasses, bowls, cutlery, and cups are placed.
Keeping these items within reach is helpful as you'll need them frequently. As for things you don't use daily, storing them in vertical spaces would be best as you don't have to access them a lot.
Finally, make sure not to overcrowd your counters. The only place the appliances or things that don't consume a lot of space and that you frequently have to use. Store them on the counters in an orderly fashion to look organized and neat. By applying the right ways to segment your kitchen, you can even make your kitchen look more spacious.
Make Use of Airtight Canisters
One great way to organize your tiny kitchen trinkets and ingredients is to use canisters. When storing herbs, spices, and other ingredients, go for airtight containers to retain the freshness and quality of the contents. Go for stackable canisters to save space as well. Don't forget to label them too.
The good thing about canisters is that there are many designs and shapes to choose from. In fact, they can also work as kitchen decors. Go for designs that look great with your kitchen theme. It's ideal to select transparent canisters to easily see their contents. You should design your kitchen in such a way that it'll be both aesthetic and functional. In this way, supplemental decor won't even be necessary.
[id=15144,15000,7918,5412,3168]
Take Advantage of Vertical Space
Another effective way to maximize and organize your kitchen is to take advantage of vertical space. You can store your supplies by using floating shelves, vertical racks, hooks and hanging cabinets to save more space. This is the perfect area to store kitchen utensils and items you don't typically use daily.
The key is to keep everything balanced, so find a blank wall and install your vertical space solutions there. When installing hooks and shelves, ensure their safety as they hold heavy items. Go for quality shelf materials that will last long and withstand heavy weights.
Conclusion
There are many kitchen décor ideas to keep a well-organized kitchen. Organizing your kitchen takes time and creativity, so be extra patient with this task. Hopefully, you can follow all of the tips recommended in this article. There are no set rules in your kitchen, so as you get started, you can make changes as you go about organising.