A roof deck is a great place to entertain guests or spend time with family members. However, it risks exposure to the elements and causes internal and external damage due to moisture.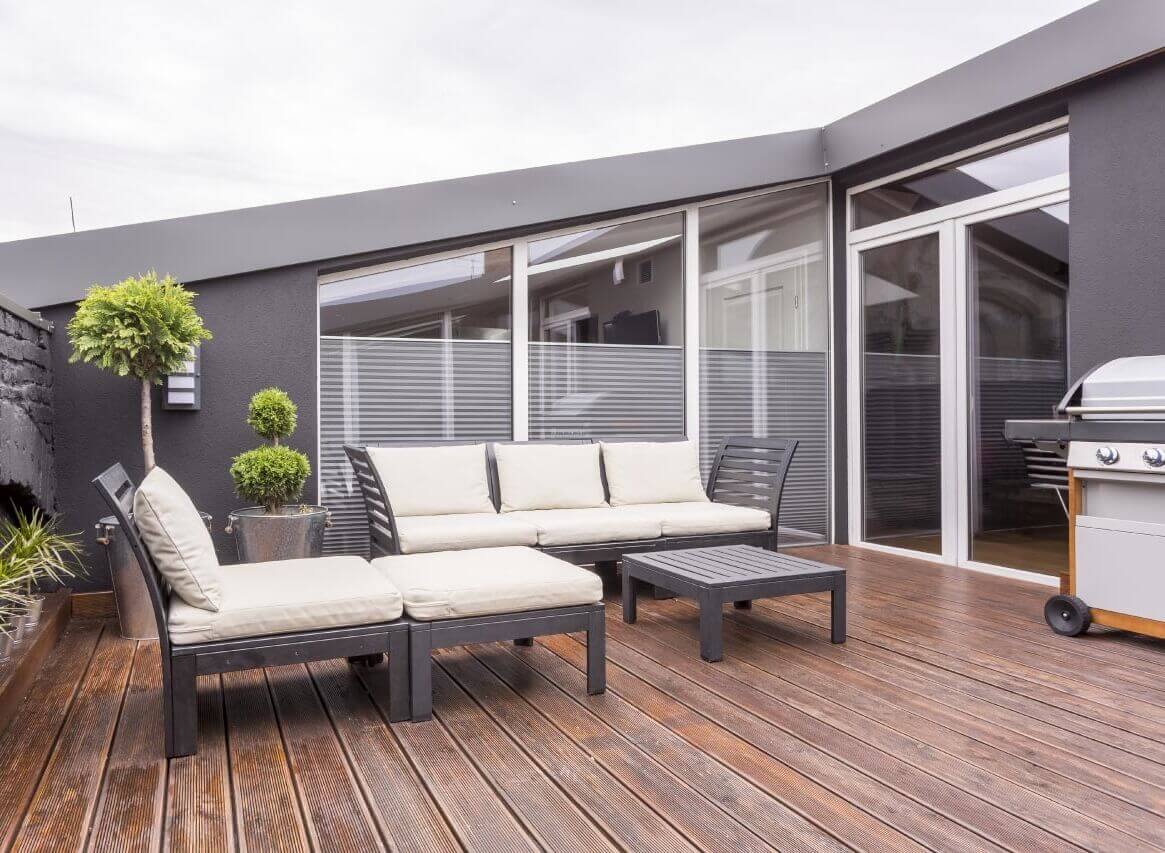 Keep on reading to learn how to keep your deck dry and safe in the future.
Considerations Before Investing in Deck Waterproofing
a) The best way to waterproof your deck is to understand the differences between paint, sealer, and stain.
b) Before staining or sealing the deck, spend time cleaning and preparing it.
c) Do not apply deck sealer on a hot, sunny day because it may evaporate before the wood has absorbed the sealer.
d) When preparing and applying a protective coating to the surface of your deck, it may be necessary to have the foundation repaired first.
e) Consider hiring a mold removal service if you detect mold on the deck.
f) Protect your skin by wearing gloves, safety goggles, and rubber boots when working with deck waterproofing materials.
g) Consider having a face mask to avoid inhaling any sand or other debris that may be present.
h) Protect nearby plants from any deck cleaner or sealer by covering them with a drop cloth before cleaning or sealing the deck.
i) Plan to complete a waterproofing project over a few warm, dry days to avoid accidentally trapping moisture on the wood surfaces.
How to Waterproof your Deck?
Roof decking is a popular addition to many homes. It can provide additional living space and is perfect for hosting parties or enjoying the outdoors. However, if not correctly waterproofed, your roof deck can quickly become a source of water damage.
The best approach to keep your deck dry is to install roof hatches. The installation of a roof hatch provides an extra degree of protection against water damage. You may get a variety of roof hatches in varying sizes and designs, so pick one that best suits your needs.
Another helpful tip is to seal any cracks or gaps in your deck. By sealing these areas, you can prevent water from seeping through and causing damage. Applying a waterproof membrane or coating to the spaces beneath a roof deck is necessary to keep them dry and protected from the changing seasons. Wind, rain, ice, and snow can wear down and prematurely age the deck's waterproofing over time if not maintained correctly.
Waterproofing your deck may seem daunting, but it's pretty simple, and you can do it yourself. The following steps will help you enjoy your outdoor space without any worries!
Getting the Area Ready for Use
Start by clearing your deck of all furniture and grills to have a clear working space. Once the surface is clean, inspect for any loose boards or damage, and fix them if necessary. For any minor cosmetic imperfections, use sandpaper to smooth them out and sweep up any debris. After that, use a stiff scrub brush and water to clean the deck thoroughly. Let the wood air dry entirely after rinsing with clean water. Remember that even though the top of the decking may appear dry, it can take up to two days for the inside to dry.
Apply a water-resistant sealant
Plan this step for a string of clear days and keep an eye on the weather. Pour the sealer into a paint tray lined with a tray liner after thoroughly mixing it with a paint stirrer. As you would when painting, apply a sealer to the wood with your 1/2-inch lint-free nap roller. Put a thin, even coat of sealer on two to three sections of the board. For the corners and railings, use a fine-toothed paintbrush. Always apply several thin layers rather than fewer thick ones to ensure proper adhesion to the wood.
Distribute the sealant
After applying the sealant, use a lamb wool pad to review each section and ensure that distribution is even. It will also give the final product a more polished appearance.
Apply Additional Coats
While the first coat of waterproofing is still wet, apply a second coat. Applying two coats at a time is much easier when you work in small sections. Continue applying the sealant in this manner until you've used up all the sealant, and you'll need to protect the wood adequately.
The sealant needs to dry before you bring your furniture or grill back onto your deck. Even if you've used a different product, read the instructions carefully to ensure that you've given it enough time to dry.
Conclusion
Have you ever had a deck? If so, you know that they can be fun. But if you're like most people, you also know that decks can require much upkeep. One thing that often needs attention is waterproofing the deck. This process helps protect your investment and keep your deck looking great for years to come.
So, what are your options for waterproofing your roof deck? You can get all the information you need right here. This article on roof deck waterproofing should help you understand the process better.