A roof deck is a great place to entertain guests or spend time with family members. However, it risks exposure to the elements and causes internal and external damage due to moisture.
Waterproofing your roof deck is essential for homeowners. It is more expensive to fix a roof leak than waterproofing your deck. Waterproofing a rooftop protects and adds longevity to your roof.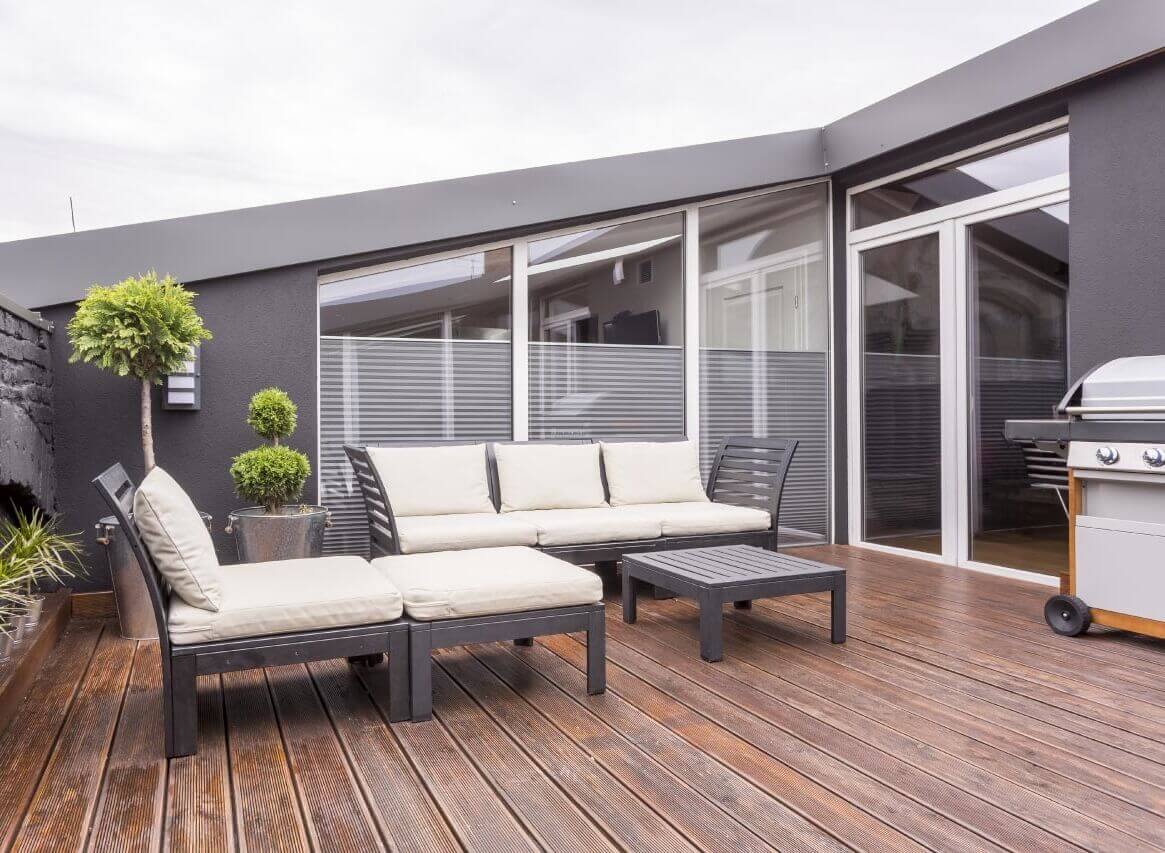 This article will discuss rooftop waterproofing, how to waterproof a roof, and decks over a living space. Keep on reading to learn how to keep your deck dry and safe in the future.
Deck Over Living Space
A deck over your living space is a great way to get out without leaving home. A rooftop deck gives you a secluded space where you can relax and enjoy the world. Before adding a deck over your living space there are a few things to consider.
Check Local Building Codes
Do not get too excited about adding a deck over your living space before checking your local building codes. This includes zoning restrictions that restrict you from adding a flat deck. Knowing your local building codes ahead of time will save you money.
Be Sure Your Roof is Up to It
The roof must be able to handle the structural load and capacity to handle the extra weight. You can ask a builder or remodeler to help determine the loading capacity of the roof. Fifty-five pounds per square foot is strong enough to support the weight. A builder can also assess whether your roof is past its prime.
Determine the Roof Access
You have to start by deciding how you will access your rooftop deck. You will need to decide whether or not you want access from the interior or exterior or both. Next, you will have to figure out how the builders will have access while building the rooftop deck. Both the workers and the scaffolding need access to the space.
Consider the Design and Material Options
If you have been thinking about adding a rooftop desk, you most likely have a design in mind. You have probably thought of the feel and look you want the space to have. Perhaps you want an overhead element like a pergola or built-in seating. You may want to build stairs to give you access to the backyard from the new rooftop deck. You must also consider the existing trees and plants. This will help give you the ambiance you desire.
Generally, a rooftop deck is more exposed to the elements. It is also crucial to think about the materials you will be using to build the deck. Be sure to stay away from materials that get too hot. PVC is just one example of a material to avoid.
Lastly, if you do not have a lot of your own ideas, a full-service builder or remodeler who works with a professional design team can help you plan your space wisely and beautifully.
Keynotes Before Investing in Deck Waterproofing
a) The best way to waterproof your deck is to understand the differences between paint, sealer, and stain.
b) Before staining or sealing the deck, spend time on cleaning and preparing it.
c) Do not apply deck sealer on a hot, sunny day because it may evaporate before the wood has absorbed the sealer.
d) When preparing and applying a protective coating to the surface of your deck, it may be necessary to have the foundation repaired first.
e) Consider hiring a mold removal service if you detect mold on the deck.
f) Protect your skin by wearing gloves, safety goggles, and rubber boots when working with deck waterproofing materials.
g) Consider having a face mask to avoid inhaling any sand or other debris that may be present.
h) Protect nearby plants from any deck cleaner or sealer by covering them with a drop cloth before cleaning or sealing the deck.
i) Plan to complete a waterproofing project over a few warm, dry days to avoid accidentally trapping moisture on the wood surfaces.
How to Waterproof your Roof Deck?
Waterproofing your roof is applying a liquid waterproof membrane to the surface. A main benefit of waterproofing a roof is the fact that it protects the roof from the sun's ultraviolet rays. Without waterproofing your roof, it may crack from the sun's constant heat on the roof. There are many things you can do yourself to slow the degradation of your roof.
Roof decking is a popular addition to many homes. It can provide additional living space and is perfect for hosting parties or enjoying the outdoors. However, if not correctly waterproofed, your roof deck can quickly become a source of water damage.
The best approach to keep your deck dry is to install roof hatches. The installation of a roof hatch provides an extra degree of protection against water damage. You may get a variety of roof hatches in varying sizes and designs, so pick one that best suits your needs.
Another helpful tip is to seal any cracks or gaps in your deck. By sealing these areas, you can prevent water from seeping through and causing damage. Applying a waterproof membrane or coating to the spaces beneath a roof deck is necessary to keep them dry and protected from the changing seasons. Wind, rain, ice, and snow can wear down and prematurely age the deck's waterproofing over time if not maintained correctly.
Waterproofing your deck may seem daunting, but it's pretty simple, and you can do it yourself. The following steps will help you enjoy your outdoor space without any worries!
When waterproofing your roof deck, it's essential to consider reliable materials for long-lasting protection. One option worth exploring is G&B quality cedar products, which offers durable and aesthetically pleasing cedar siding solutions for added durability and appeal.
Fluid-applied Roofing System
Fluid-applied roofing is a cost-effective way to waterproof a roof. Flat roofs have a torch-applied bitumen roofing membrane. This is also known as ethylene propylene diene terpolymer (EPDM) rubber on the surface. These types of roofs are excellent candidates for liquid waterproofing solutions.
Check the Roof and Material Compatibility
The liquid product you use on your roof should be compatible with the existing roof. An acrylic elastomeric-coated roof and a urethane liquid coating aren't compatible. The acrylic will soften and blend with the urethane. Silicone is another waterproof roofing material. Silicone coating is necessary on silicone surfaces. The greatest benefit of silicone is that it resists ponding and can help with preventing water damage. The drawback is that once you use silicone, you must stick with it forever.
Properly Clean the Roof's Surface
Before waterproofing a roof, it is essential that you clean the roof's surface properly so that the liquid material will adhere well.
Start by clearing your deck of all furniture and grills to have a clear working space. Once the surface is clean, inspect for any loose boards or damage, and fix them if necessary. For any minor cosmetic imperfections, use sandpaper to smooth them out and sweep up any debris. After that, use a stiff scrub brush and water to clean the deck thoroughly. Let the wood air dry entirely after rinsing with clean water. Remember that even though the top of the decking may appear dry, it can take up to two days for the inside to dry.
Pressure Wash the Roof
Pressure washing is an efficient and effective way to clean the roof's surface. It will bring damaged shingles to light. Any damaged shingles should be replaced before waterproofing.
Prime the Roof
Primer should be used whether you are a novice or professional. Priming the roof will give you the best waterproofing results. After you prime the roof make sure it is completely dry before continuing the waterproofing process. Using a blow torch or air blowers will speed up the drying process.
Reinforce Areas to Avoid Leaks and Improve Liquid Membrane Adhesion
Vents, pipes, and drains are considered "detailed areas." Also, corners are considered a detail which are both inside and outside of your building structure on the roof and near the roof. Treat these areas by reinforcing the fabric that has a sealant of flashing grade or embeds the fabric in the liquid membrane. Caring for these details helps prevent bond-breakers which cause roof leaks. Use a water repellent for masonry walls or cap up the parapet, low building walls.
Apply the Liquid Membrane
First, be sure to make a plan before applying the coating. Some liquid applied membranes require using a fabric mat. Be prepared to coat your roof with at least two layers of the liquid membrane. Also, be aware of the application method, temperature, waste, and porosity of the substrate. All of these factors affect the consumption rate of the product.
Make Each Phase of the Application Process Inspection Ready
Applying liquid membrane takes thought throughout the process. From the cleaning phase to the application phase, inspection is important. Visual examinations of the cleaning, repairing of the single-ply, and application are all essential to the process. Finally, make sure you buy enough liquid membrane material. Skimping on the product can lead to failure. Inspection by the roofing contractor at various phases impacts the project's success.
Apply A Water-resistant Sealant
Plan this step for a string of clear days and keep an eye on the weather. Pour the sealer into a paint tray lined with a tray liner after thoroughly mixing it with a paint stirrer. As you would when painting, apply a sealer to the wood with your 1/2-inch lint-free nap roller. Put a thin, even coat of sealer on two to three sections of the board. For the corners and railings, use a fine-toothed paintbrush. Always apply several thin layers rather than fewer thick ones to ensure proper adhesion to the wood.
Distribute the Sealant
After applying the sealant, use a lamb wool pad to review each section and ensure that distribution is even. It will also give the final product a more polished appearance.
Apply Additional Coats
While the first coat of waterproofing is still wet, apply a second coat. Applying two coats at a time is much easier when you work in small sections. Continue applying the sealant in this manner until you've used up all the sealant, and you'll need to protect the wood adequately.
The sealant needs to dry before you bring your furniture or grill back onto your deck. Even if you've used a different product, read the instructions carefully to ensure that you've given it enough time to dry.
Final Thaughts on Waterproofing a Rooftop Deck
Finally, a rooftop deck is the perfect space to hang out with friends and family. You want to get the most out of this space. Taking care of your rooftop deck properly will make it last longer and create a more enjoyable atmosphere.
Have you ever had a deck? If so, you know that they can be fun. But if you're like most people, you also know that decks can require much upkeep. One thing that often needs attention is waterproofing the deck. This process helps protect your investment and keep your deck looking great for years to come.
So, what are your options for waterproofing your roof deck? You can get all the information you need right here. This article on roof deck waterproofing should help you understand the process better.