No other surface in commercial spaces gets as much wear and tear as the floor.
With people going in and out of your office, retail store, or clinic, your floor can easily look shabby and even get damaged quickly if you fail to choose the right flooring material.
Out of the different flooring materials, carpet tiles are often an excellent choice for commercial spaces. They come with several advantages and are considered the best options for business premises.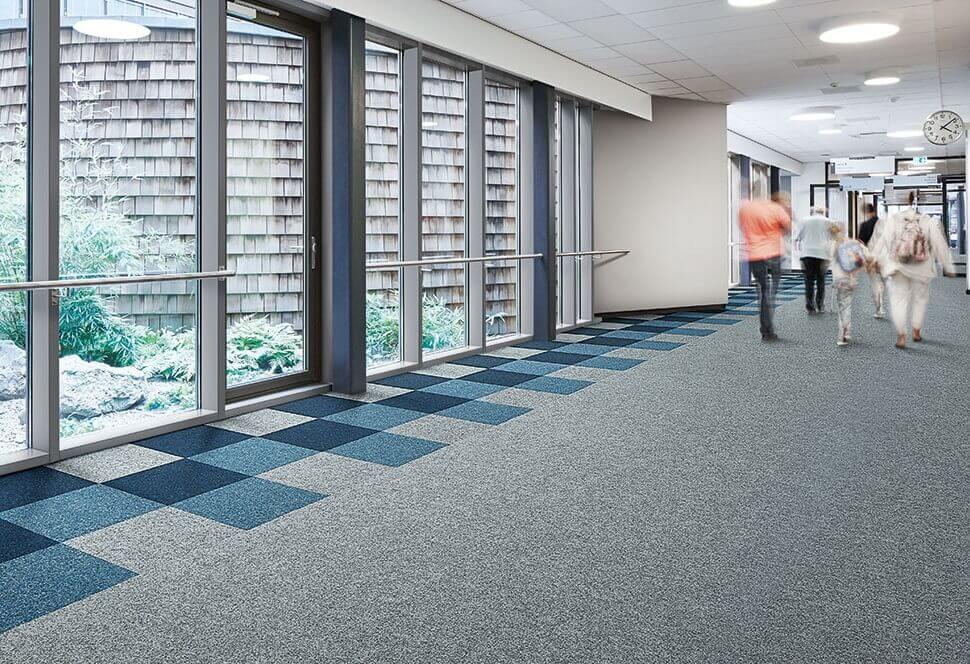 Advantages of Carpet Tiles for Commercial Areas
Carpets tiles come with many benefits as flooring materials. For commercial spaces, these are the specific advantages that this flooring option offers:
Adds a touch of class to the space
Carpet tiles, and carpets, in general, add beauty and style to any space.
Modulyss Millennium Nxtgen carpet tiles, in particular, can make your business premises look and feel modern and stylish. They are a type of designer carpet tiles that won't fail to boost the aesthetics of any room.
Moreover, when you choose the right design, your floor covering can enhance the appeal of your furnishings, whether they are brand-new or not.
If you want to have a more appealing, professional-looking space to complement and strengthen your brand identity, opt for carpet tiles when you are renovating or having your commercial space constructed.
Quick and easy to install
Carpet tiles are incredibly easy to install. Homeowners can take on this project if they are interested in going the DIY route.
Carpet tiles do not need glue or adhesive and any underlay. They can be placed directly on top of concrete surfaces and vinyl and secured with tape.
If you are only renovating your floor, workers can install the tiles around the existing furniture without the need to clear out the entire room.
Because of this, you and your team can continue with your regular activities while installation is ongoing with minimal disruption to the workspace and in a relatively short time.
Offers versatility and more creative options
The ease of installing carpet tiles makes them highly versatile products. Moreover, they come in so many different materials, styles, and designs that you are sure to find something to suit all areas in your premises.
If you want a unique floor design, you can mix and match tiles to come up with something eye-catching and suitable for your brand.
You can opt for stripes, checkers, or random color blocks, or whatever inspires you for design. You can also combine different carpet tiles for a floor with a truly unique look.
Carpet tiles can also be installed as a center rug, an entry mat, or even a hallway runner.
With carpet tiles, you can style them any way you want.
More durable
Carpet tiles are one of the high-performing flooring options.
Most carpet tiles are low-pile, looped, and very tight. Because of this, they are known for their long lifespan and their ability to withstand heavy traffic in busy areas.
Also, many carpet tiles have improved stain protection. As such, they can withstand stains and dirt more effectively.
Lastly, good-quality carpet tiles can hold up well with rolling office chairs and allow them to roll smoothly.
Low maintenance
Due to the make of modern carpet tiles, maintaining the appearance and condition of carpet tiles is easy and simple.
Since most carpet tiles are low-pile, they tend to accumulate less dirt and debris. They also respond well to regular vacuum cleaning, meaning you don't have to spend hours vacuuming it.
If you choose the right color, your carpet can also hide dirt and stains, which means they won't show easily and you can maintain their appearance more easily.
Easy to repair and replace
Ceramic and porcelain tiles are two flooring options that look appealing and elegant and, therefore, are popular choices for commercial spaces. However, they tend to chip and break easily.
Replacing broken tiles can be a time-consuming and expensive task, too.
This is a problem you won't deal with when you have carpet tiles.
Carpet tiles are easy to replace since they are not glued to the floor. No matter how many tiles are damaged or look dirty and unappealing, you can remove and change them with new ones quickly and easily.
You can do this without having to redo the entire floor.
You can also move tiles that are already starting to show signs of wear and tear to another area to prevent them from getting more damage.
If a particular tile needs a thorough cleaning, you can also take it out and put it back into place without too much hassle.
Cost-effective
Carpet tiles are usually more cost-effective than other flooring options, especially if you have a large floor to cover.
Carpet tiles require little storage space and are easy to transport. They are also low on waste since you don't need to cut large amounts to fit the space.
These qualities make carpet tiles truly cost-effective.
Additionally, since installation is quicker and does not require expensive specialized tools, equipment, and adhesives, you will save money on the whole process.
The speed of carpet tile installation also means there is a reduction in disruption and downtime, which translates to lower associated costs.
And if you have grown fond of your carpet tiles and they are still in good condition, you can take them off and use them when you are moving premises. You will save money on your floor covering in your new workspace.
Sustainable and reusable
Broadloom carpets require plenty of trimming to fit the space. As a result, there are plenty of leftover materials that often end up being thrown away.
Since you can order the exact amount of carpet tiles for your space, they won't need plenty of cutting or trimming. This allows you to minimize the amount of waste coming from this project.
You also reduce waste whenever you need to replace a particular area of your floor; you don't have to remove the entire flooring, only the damaged or unsightly tiles.
Additionally, old carpet tiles can be reused in many cases. Even if they no longer meet your requirements in terms of appearance or condition, they can still be used somewhere else.
If you want a more attractive commercial space, invest in carpet tiles. They are quick and easy to install, they offer versatility in terms of design and style, and they are low maintenance.
Also, they are easier and more cost-effective to repair and replace compared to other flooring options.