You will want to provide the best when you consider your pet a member of your family. This includes the toys you buy, the dog food you offer, and the shelter that you provide when your pet ventures outside.
Spoiling your canine companion by providing them with their own, personal habitat can give them protection from harsh exterior conditions, while also offering them a sanctuary when needed.
Find out why it is imperative to craft a kennel out on your lawn instead of the interior, and take a couple of required notes before starting the construction of your dog house.
[id=14947,11451,12351,9463]
Benefits of Building an Outdoor Doghouse
You can design and implement the specific needs of your canine if you are constructing the dog house. These houses will offer your pooch protection from the outside elements to remain well both in hot or cold temperatures because they will be built with insulated materials. You can also provide an area for the pet to rest after running and playing outside.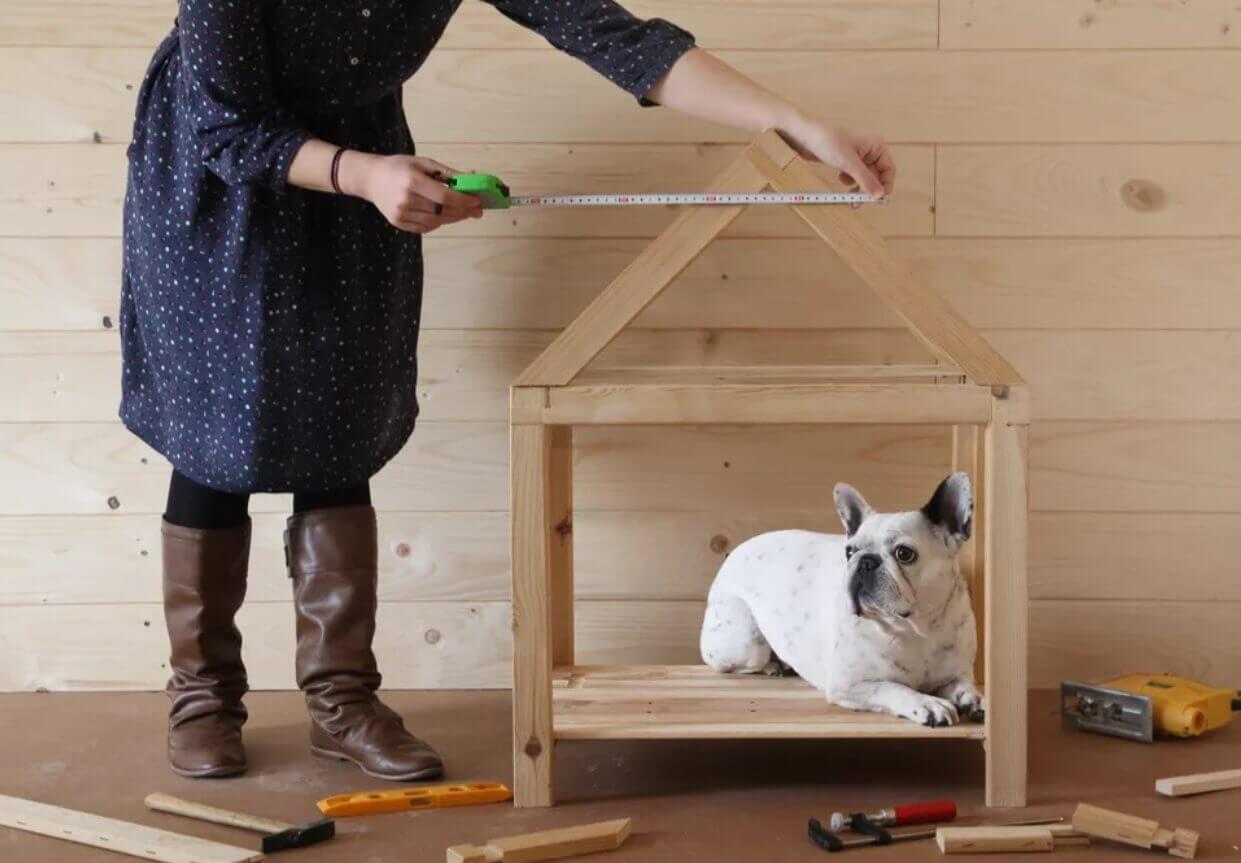 Things to Keep in Mind Before Building the Outdoor Doghouse
You do not need to have a workshop full of tools or years of construction experience to build an outdoor doghouse. Constructing a DIY doghouse is a project that only requires basic building skills with a devoted few hours or maybe a weekend. There are lots of DIY doghouse styles to go with. Visit woodworkingtoolkit.com for various creative ideas. When you are looking into some dog house building plans, consider the following need-to-know to ensure your pet gets a house that fits and offers a safe space in the vast outdoors.
Get the Size Right
Before starting to build, you will need to consider the size of the doghouse so that your dog can be comfortable in it. Your dog should be able to lie down, turn around, and stand up comfortably inside. A properly sized house will allow your pup to lay on his side too. To match your pet's measurements to the interior dimensions of the house, make sure to measure the length as well as the height of your dog.
If you have a puppy, keep in mind your dog will grow as time passes. Build a house so that you do not have to spend time and money constructing another dog house just after a few months. A good size would have the length of your dog plus 18 inches, the height of your dog plus 9 inches, and the width of your dog plus 12 inches.
Know Your Pet's Habits
If your pet likes to keep tabs on the surroundings, make sure to build a dog house with a flat roof rather than an overhang or eaves so that it can ensure full visibility. If your dog tends to overheat or pants a lot, avoid shingles for the roof. You can utilize planks of plywood as the roof, treating them with a non-toxic stain to avoid heat from the summer sun. Pay attention to your pooch's preference by providing the best doghouse.
Consider the Weather
You should put a door on the doghouse to give your pet some extra warmth in the winter. When it's summer, you can remove the door for some extra ventilation. As dogs do not care about ducking in their house, you can build the door smaller to offer privacy as well as protection from severe weather. To prevent water from entering the doghouse on the rainiest of days, make sure to place the house off the ground.
Find an Ideal Location
If you want to make your doghouse last longer, place it in the shadiest and coolest part of your yard. To give protection from the wind, try to build it against a wall of your garage or house. Place the doorway east if it has a door to ensure protection from the approaching storms.
Make It Mobile
If you do not find a suitable place for the doghouse in your yard for all the seasons that visit throughout the year, make it mobile. It will help you to change its location as per the climate. You can provide the house with proper sunshine in the winter and heavy shade when it's summer if it is easily movable when necessary.
Insulate the Walls and Roof
Include insulation in your dog's house to provide proper warmth in winter and cool in summer. Traditional home-building products such as fiberglass insulation in rolls, foam board, and a more streamlined product like aluminum foil can give your dog house the required insulation.
Elevate the Floor
Build a doghouse with legs or a simple stand to make it higher, a few inches above the ground. This little space will help with climate control. Air movement beneath the floor can help it to stay cooler in summer. And in winter, you can just stuff the open space with some natural insulation like straw to keep the house warm. It will also be helpful to prevent any flood in the dog house when it's raining.
Add Vents and Accessories
Adding ventilation with the opening and closing option will help to cool the doghouse in the summer and to retain heat in winter. You may cover the window, and attach vinyl flaps inside the door along with the vents to hold in the heat that comes from a heated bed, or your dog's body, or even a dog house furnace.
When adding accessories to your dog's house, instead of using blankets or towels for extra cushion, use straw or wood shavings. Make sure to change the bedding weekly to provide your pet with proper comfort. It will help to keep the bedding away from pests and molds.
Try to be creative and use a few simple tweaks when planning to build your outdoor dog house. Make sure you go through the tips discussed here before constructing your beloved pup's doghouse to give him the best DIY dog house possible.
Best of luck!