Securing the plumbing system is essential to residential or commercial buildings. To ensure the plumbing system's efficiency, it needs to have proper and regular inspections and maintenance. It helps to detect some plumbing system issues before it gets worse and prevent costly service repair of the system.
While some plumbing issues need a professional plumber to address or fix the issue correctly, a plumbing project is ideal for some minor plumbing problems. The best way to save time, effort, and money on plumbing projects is to have exterior aluminum access panels to the primary control of the system, as you can quickly isolate the line during plumbing works.
Instead of breaking the exterior floorings or walls for the main valve of the plumbing system, it will be easier for contractors to perform the plumbing jobs with convenient access doors or panels. Additionally, it can extend the lifespan of the plumbing system without requiring a wall or flooring renovations. There are various types of access panels that are available in the market nowadays.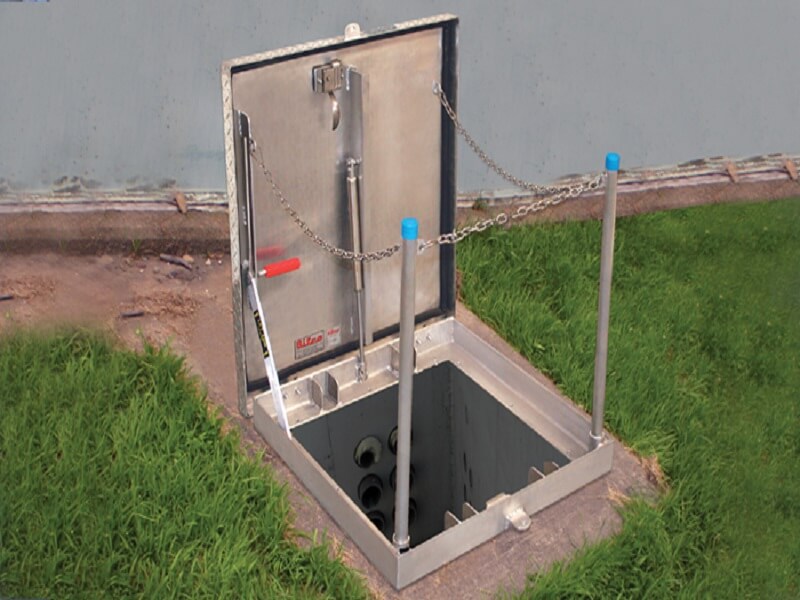 Exterior access panels offer various benefits in plumbing, including:
Conceal Plumbing Components
The plumbing access panel will safely conceal plumbing control and connection while it blends seamlessly with the lawn surface. Some plumbing controls might bring an unpleasant look to your lawn spaces and become a protruding hazard if not properly concealed.
Make the Inspection and Maintenance Easier
Plumbing typically consists of a variety of interconnections of pipelines. During regular maintenance of the plumbing system, exterior access panels will help the professional plumbers or yourself during DIY plumbing projects quickly isolate all the channels as you can easily access those shut-off valves to perform the task.
Dramatically Help Increase Plumbing Components Lifespan
Exterior aluminum access panels for lawn plumbing ensure durability and are highly resistant to corrosion. They help increase the lifespan of the plumbing components. These panels will protect them from outside elements such as hail that might cause leakage or breakage and very corrosive rainwater. It also prevents early replacements of plumbing components.
Provide Safety
During plumbing emergencies like a pipe burst or broken fixtures, you need to close the line immediately before it can cause damage to your property and might cause injuries. Incorporating lawn plumbing access panels can prevent this from happening as you can easily access and isolate the valve.
Provide Security to Main Control Valves
Access panels will secure and protect the plumbing valves from unauthorized access, vandalism, damage to mowers, and string trimmers in your lawn area. Main plumbing valves control several factors such as flow rate and water pressure. Not securing this valve might affect the plumbing system's efficiency; worst, you might prematurely replace those essential plumbing components due to damages. There are lawn plumbing access panels available in the market that incorporate rigid hinges and padlocks and are suitable for exterior applications.
Aluminum exterior lawn access panels are available in various sizes and are highly resistant to corrosion. Incorporating these relative to height and grade will provide protection and safety in operating the main plumbing valves. The plumbing valves can prevent unauthorized opening, free from outside elements, and potentially increase essential plumbing components' lifespan.