For many of us, once March rolls around, we're dreading our yearly outdoor chores.
While some of us love a good do-it-yourself project, it can be overwhelming to tackle landscaping, home maintenance, and all of the other big responsibilities that come around once the snow starts to melt.
If your to-do list won't stop growing, you may consider neglecting one or two points that don't seem as important or pressing. While that may save you some time in the short-term, there's no denying that procrastination can be pretty detrimental.
On the flip side, getting ahead of your landscaping chores can have some huge benefits you may not have even considered. And this year, why not take the extra step and look into techniques that could save you time and money in the future?
The bonus?
These landscaping tips are designed to incorporate some eco-friendly living into your outdoor space. That means you'll not only be saving some serious cash, but you can also help reduce your lawn's impact on the environment.
If you're thinking your lawn doesn't impact the environment, think again!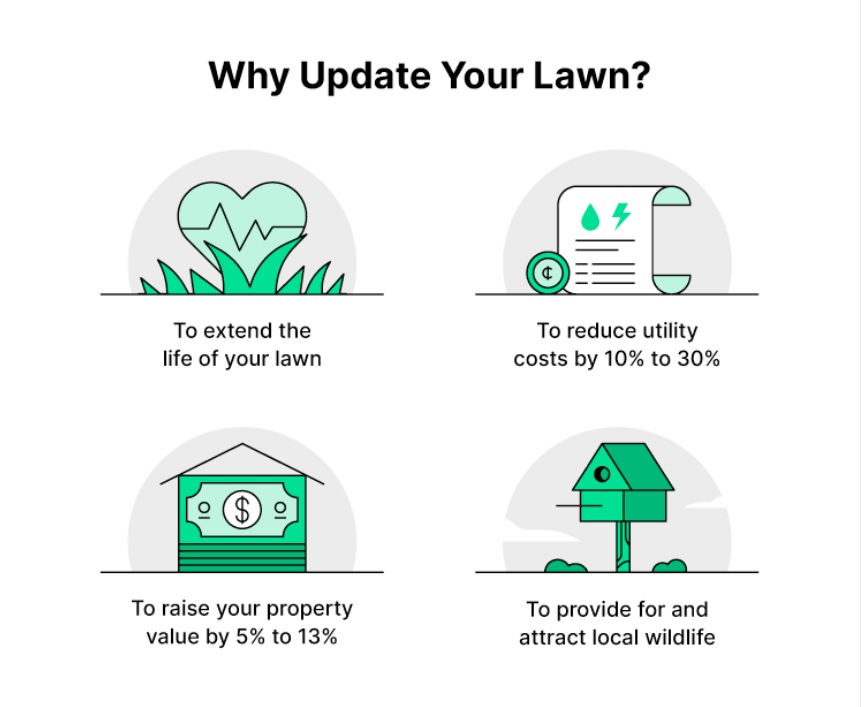 Grass, exotic shrubbery, and other landscaping go-to's might make your lawn look elegant and interesting. But many of these traditional landscaping standbys consume valuable resources that end up costing you more in utility bills than you've hoped for.
Ways to Create an Eco-friendly Outdoor Space
[id=15458,7441,6384,5609,2925,2427]
Cut Grass Out of Your Lawn
Depending on where you live in the world, you're probably not accustomed to seeing lawns that aren't filled with grass. Even more likely, you've seen a neglected lawn full of grass that's simply begging for gallons and gallons of water. It takes quite a bit of water to maintain a green lawn. That's why it's a smart idea to explore grass alternatives that don't require so many resources.
Rocks, mulch, and sand are all go-to grass alternatives that require zero additional watering. Not only are they less resource-demanding, but they also provide a sleek, modern look to your front yard.
Combine this idea with xeriscaping - an eco-friendly way to reduce the resources your yard is consuming.
The Grass is Greener on the Top Side
If you're really motivated to reduce your heating and cooling costs and get a creative look your neighbors will envy, a Green Roof may be in your future! What is a Green Roof? Simply put, it's a garden that covers your roof.
Installing a Green Roof has some major benefits (besides looking unique and futuristic). Green Roofs provide extra insulation, which helps cut heating and cooling costs by maintaining a comfortable temperature in your home. They also protect the surface of your roofing, which can extend its lifespan dramatically and reduce the need for maintenance.
A Green Roof will also help reduce rainwater runoff, which lessens the impact this will have on the environment.
Automate Your Watering
If you love a lush, green lawn of grass, there's probably no chance that you'll ever consider replacing it with an alternative, no matter how trendy or cool it may look. That doesn't mean you can't be concerned about the amount of water it takes to keep your grass looking fresh. The answer? Install automatic sprinklers in your yard.
This may sound like a no-brainer, but your mind will be blown at how much water you can save by automating your lawn-watering.
Sprinklers can be set to deliver the perfect amount of water your lawn needs. No waste, no extra water bills, and no worrying about your lawn's water usage.
Plant A Pollination Station
If you pay attention to environmental news, you'll know that some of our most essential pollinating bugs and birds are becoming alarmingly scarce. Do your part in encouraging their wellbeing by planting a pollinator-friendly garden in your backyard. You can amplify the impact of your garden even more by working in some fruits and veggies.
Not only will your backyard become a haven for pollinators, but you'll need fewer trips to the grocery store to restock on produce that often comes with wasteful plastic packaging.
Invite Your (Plant) Neighbors Over
It can be tempting to get carried away with your plant choices in your garden. While it may seem appealing to plant a tree that thrives in Florida, your Vermont yard certainly isn't where it would like to call home.
While you can successfully maintain plants from different climates with some work, caring for exotic plants comes at a much greater cost.
Plants that aren't native to your climate zone don't thrive there naturally. That usually means that they demand much more resources than the plants that are native.
The solution? Research plants that already thrive in the environment you live in. They'll require a lot less maintenance on your part, and they'll be a lot less demanding when it comes to water usage.
Make Your Own Fertilizer Using Compost
Store-bought fertilizers certainly work, but there's no denying that they're not the greatest way to reduce our footprint on the planet. Creating your own compost out of food scraps, lawn trimmings, and other organic materials is a completely free way to repurpose your waste and use it to nourish your lawn.
If you're not already, save your scraps in a compost bin and use your compost for all of your gardening needs! You'll save money by reducing your need for store-bought fertilizers and reduce the waste that ends up in your local landfill.
Small Changes for Big Positive Impact
While some of these projects may take some time or adjustments in your daily life, the return on investment is huge - for you, and for the environment. It can be daunting to take on the challenges we're facing with our environment. It may not feel like the choices we make every day really help or harm our planet.
However, these small steps taken by many add up. Not only that, but we can take action to be responsible with our choices - in landscaping and otherwise - and see benefits that span outside of our care for the environment.
For more ideas on reducing your landscaping costs and becoming more eco-friendly, get connected with experienced landscaping pro or check out these great landscaping ideas.