Are you getting ready to sell your home? Perhaps you're downsizing, or upsizing, or moving away. Whatever the reason, you need to get your home ready for sale. Some things are worth saving money on during a renovation, but others are worth splurging for because they'll increase the resale value of your home.
Doing renovations of the entire house will increase the value of your home, but will cost a lot too. There are some effective options for increasing the home value without taking out a loan or consuming your savings. For example, re-grouting tiles, painting, or power washing the exterior of your home may not cost much, but such DIY (do-it-yourself) home projects can bring significant value to the home.
Buyers are more likely to purchase a home that is already renovated than go through the stress and hassle of renovating it themselves, so you should get ready to spend to make the money back.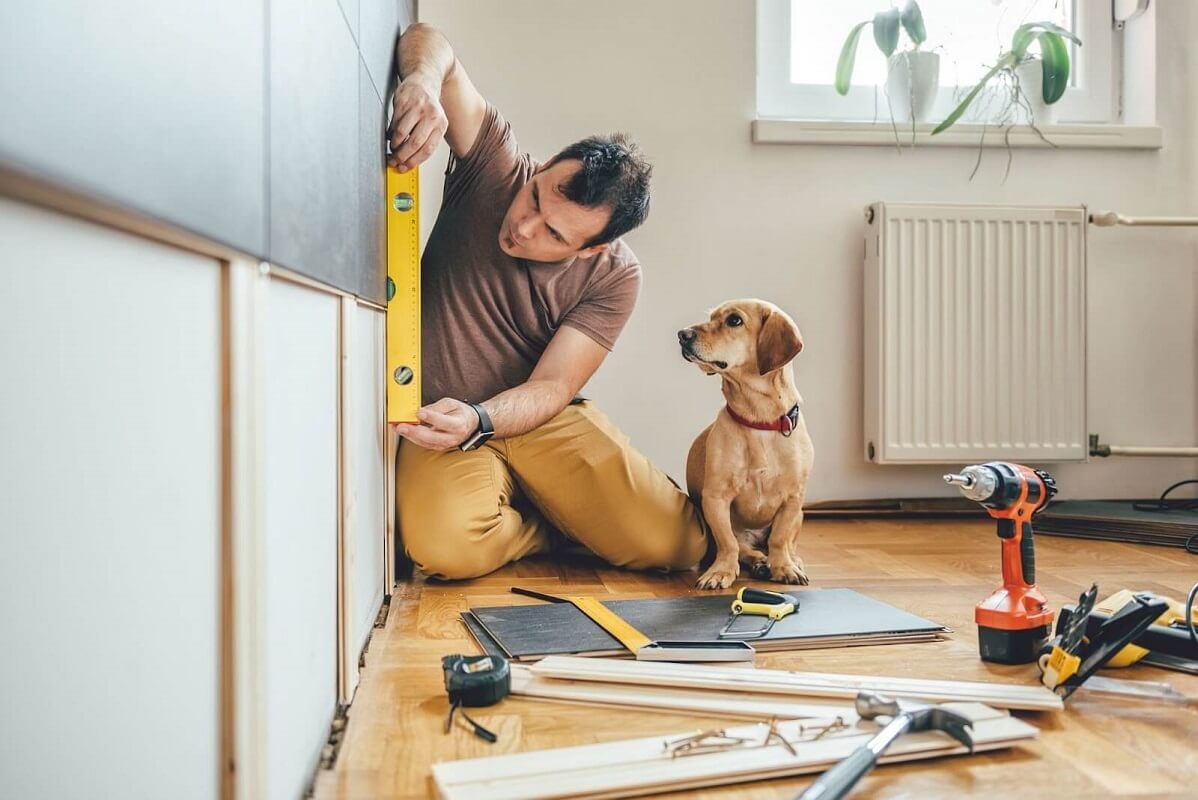 This helpful article will share most common things that you should go all out on for your next home reno project when getting ready to sell. Read on to discover all about expensive plywood upgrades, tiles, appliances and more.
Cost-effective Ways for Home Remodeling Projects that Increase the Home Value
Maintaining and Repairing on a Regular Basis
Create a list of everything that is defective or in need of repair while you walk around your house. Small fixes may not seem necessary in and of themselves, but if every room has only one flaw, those flaws may add up to give the appearance that your home has been rejected.
If you're not confident in your ability to do the repairs yourself, hire a repairman for a day and complete your "to do" list. If you keep track of maintenance now, you'll have fewer issues later when you plan to sell.
Splurge on Flooring
One thing that you should definitely not cheap out on is your flooring. Depending on the rooms you're renovating, you will typically have to choose between floating, engineered, hardwood, tile, natural stone or polished concrete floors. There are benefits to each, but whatever you choose, you should make sure to choose premium materials as your flooring will see a lot of use, and you want it to stand the test of time.
For instance, hardwood timber is an excellent expensive flooring choice for your living and bedroom spaces that are sturdy and stable. When it comes to your kitchen, bathroom and laundry, you might opt for luxury tiles, polished concrete or even mason-crafted stone. Flooring is definitely worth breaking the bank over.
The Front Door
A modern-designed front door will fully change the look of your house entrance. A new door will improve the home's insulation as well as energy efficiency, which seems to be a major selling advantage for potential buyers.
If you don't want to spend the money on a new door, refurbishing it will ensure that new customers are welcomed by a fresh entrance.
The Garage Door
If your garage door has become dilapidated, I suggest repairing it. A scratched or damaged garage door may be a big turn-off for prospective buyers.
A new garage door shows that your house is well-kept and cared for. It will also offer customers comfort that they don't have to replace their garage door for the next few years.
Interior Walls Painted
Repainting a room is one of the most pleasurable home improvements. Although applying a new coat of paint to a room may only require a few hours, it can fully transform your space and add significant value and quality.
Matte paints are more elegant and tend to avoid eggshell finishes. Also, using two colors to contrast (one for the walls and another for the doors, trims, and ceiling), will bring depth and dimensions to the room.
Invest In A Great Kitchen
The next thing to splurge on is your kitchen. Thinking about the standard rooms of your home, the kitchen is up there for having the most use. Can you think of a day when you didn't use your kitchen?
[id=16049,15739,15264,15144,11396]
Many customers are drawn to the kitchen. So, if they can't think of themselves working in yours, it may be the first area they want to renew. It's no wonder that 65% of owners redecorate their kitchens before selling their homes. You may not be wealthy enough to afford a completely new kitchen, but there are plenty of ways to make it look better than what you have.
Paintings or repairing cupboard handles or doors is a cheaper option to upgrading kitchens on a limited budget. The look of the house can be greatly improved by good lighting and clutter-free, clean floors.
Buyers may be interested to pay a premium amount to avoid the hassle of getting a new kitchen.
Install a Water Softener
Consider investing in a water softening device to improve the appearance and functionality of your home. It helps prevent mineral particles from corroding the plumbing and removes rust stains and limescale deposits formed by hard water.
A home with a water softener is more likely to demand a higher price from prospective buyers who want to save money on cleaning and energy costs.
Home Automation Technology
In today's marketplace, smart home technology is in high demand. People of all ages enjoy the simplicity and comfort of using Wi-Fi powered devices, so, it's not just the younger generation that wants these home automation features.
Because of the convenience and user-friendly capabilities, gadgets that use voice commands are always at the top of prospective buyers' lists. The more gadgets available, the more impressive your home will appear.
These advanced technologies will help you get a higher listing price:
a) Smart home systems like Amazon Echo or Google Home
b) Filtration and softening devices for water
c) Lighting
d) Scope for entertainment
e) Other safety features such as locks or other security protocols
Bring New Life to Your Artwork
Home decor and paintings have a significant influence on the overall appearance and value of your home.
Wall hangings can be rearranged or replaced with new artwork. Swapping out the dated family picture for something fresher will often increase the value of your house.
Amusement Space
An unused room can be transformed into a focal point of gathering for a game night, book club, or cultural events. Make a space fully complete with a big screen TV, small kitchen, and sitting space out of your spare living room or basement area. This home renovation will be used a lot and increase value to your home, whether it's a kid-friendly environment or a space for elderly people.
Grow a Garden
A garden will add 10% to the beauty of your house according to household experts. However, in order to do so, space must be in excellent condition.
Weeds and out-of-control bushes aren't going to attract anyone, so pull weeds out, trim back those bushes to make the area feel tidy and clean. Also, sweeping the paths alone will make a huge difference to your front yard!
[id=15458,15267,7441,6384,5609]
Landscape Design
Landscaping will improve the curb appeal of your house, which can result in a 5.5% improvement in your house value. The best return on the investment comes from mature plantings. So, start landscaping well before you place your house up for sale. And if you can't afford to employ a skilled landscaper, you should design your new landscape before planting it.
Splurge on Natural Lighting and Artificial Where Required
If your home and designs allow, you should ensure that your renovation allows heaps of natural light in your home. This has a range of benefits. For instance, buyers will save money on heating in winter as natural light will warm the home. Also, no one wants to live in darkness and shadows, so ample natural light will mean buyers can enjoy being home during the day and relaxing without worrying about turning on the lights all the time.
[id=441,440,439,435,380]
It's probably also worth splurging on artificial light in a room with little natural light. For instance, if a room doesn't have good natural light, splurge on a light fitting and lighting that will make up for it.
Spend Money on Storage
It is worth spending the extra cash to create lots of storage space. We all accumulate stuff over the years, whether it's books, clothing, shoes, collectable items, or other knick-knacks. When renovating, you have a unique opportunity to create storage solutions that will entice buyers.
For instance, if you're renovating your bedrooms, you can opt for a walk-in wardrobe if space allows. If not, built-ins are the way to go.
If you think a buyer might need more storage space in your living or dining areas, then you can have custom-designed and built cabinets that allow them to store their books, games, puzzles, pottery or whatever you need. This is well worth the extra expense.
Spend More on Insulation, Heating and Cooling
No one wants to live in a stuffy hotbox of a home, or a freezer for that matter. During your renovation, you can insulate your home and invest in heating and cooling systems to help sell your home.
Proper insulation will work to keep the home cool in summer and warm in winter. It will work perfectly in conjunction with a new heating and cooling system. For this, split systems are pretty affordable and energy efficient. Still, it is also worth looking at heat pumps or evaporative cooling, depending on your local climate. No system suits all climates, so decide based on the local weather and what will best suit your newly renovated home.
Remodel Your Bathroom
Finally, the last thing to splurge on is your bathroom. If you have an old, mouldy or worn-out bathroom, you probably don't enjoy bathing or getting ready for work in the morning. Prospective buyers won't either. A lovely bathroom is an absolute pleasure to relax in, whether for a long steamy shower or a piping hot bath at night. It is worth spending extra to design and renovate a gorgeous, breathtaking bathroom. This is a major selling point for potential buyers.
[id=11719,6620,16651,16706]
A Reno Wrap Up
You have a variety of home improvement projects to choose from that are cost-effective and will increase the value of your home. If you're planning a remodel, focus your attention on smaller projects that will tend to budget-conscious buyers. Concentrate on energy conservation, convenience, and comfort to add value to your home.
Additionally, if you are a healthcare worker, educator, first responder, law enforcement, or military member. SCCU offers hero loan to help heroes achieve affordable homeownership.